The Peoria Innovation Alliance and their Peoria on Purpose initiative along with the Peoria Area Convention and Visitors Bureau are excited to announce 309 WEEK to take place the week of March 9-13, 2020.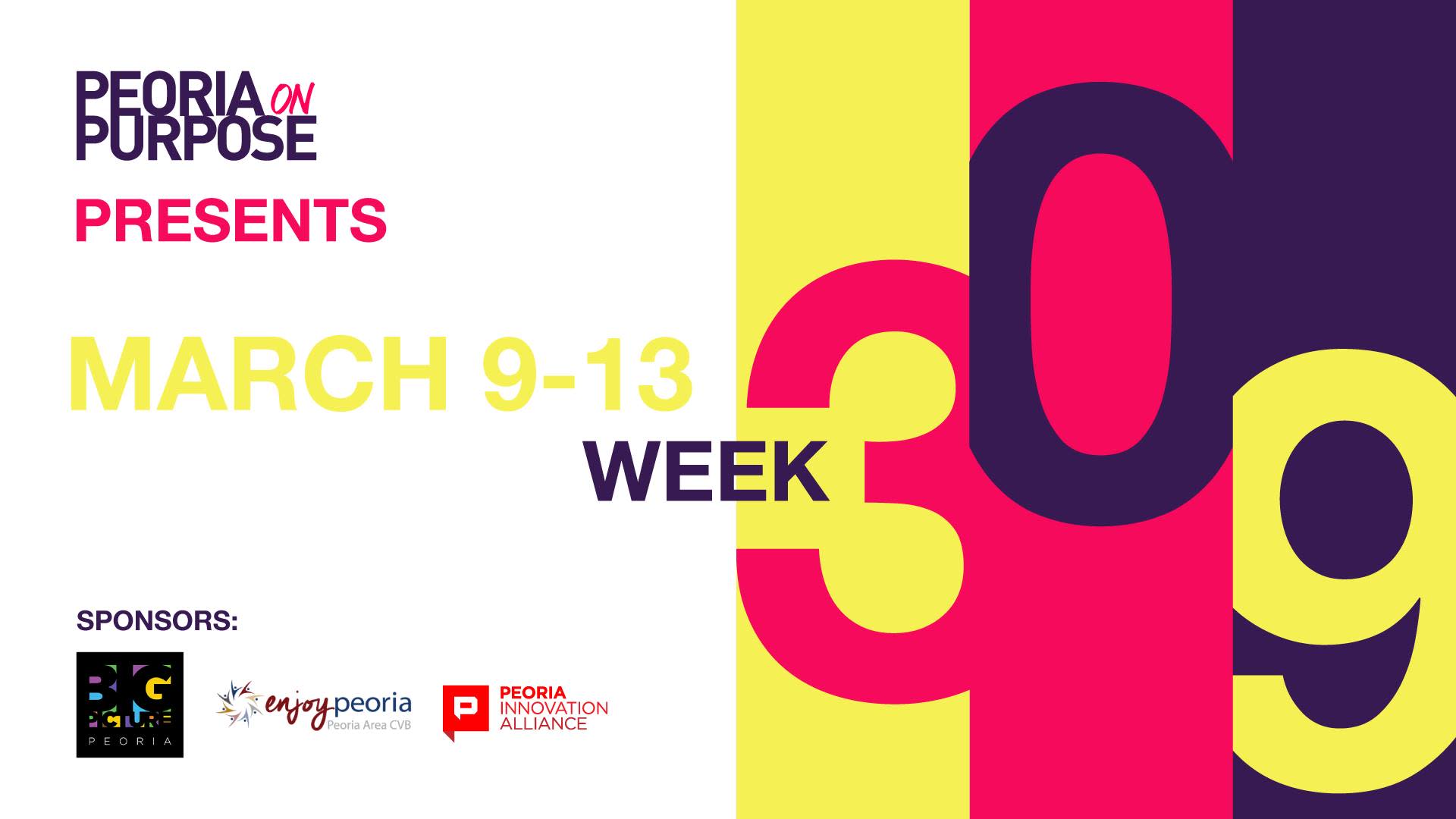 Josh Albrecht, CMO for the Peoria Area Convention and Visitors Bureau said: "Revitalization is also about rediscovery. Understanding who we are, where we came from and where we are going. It is important to step back and assess ourselves. Whether it is our local citizens or the travelers that visit, a thriving community is of paramount importance. The Destination cycle goes - a place people want to visit is a place people want to live and if they want to live there, they will invest there and if they want to invest, great things will be built and developed and in turn, those developments will make people want to visit again and again. Revitalization - Rediscovery - and tourism and quality of life all walk hand in hand. "
"So, as other noble communities have done, such as Milwaukee and Rockford and others throughout the country, we are embarking on our own celebration of hometown pride, themed on our region's area code of 309. And the Peoria Area Convention & Visitors Bureau is excited to be a part of this community effort." said Albrecht 
Through a series of free and public events, 309 WEEK is intended to energize and spark community pride, provide tools and techniques to combat apathy and shine a spotlight on many of the great initiatives and activities happening in the Greater Peoria region. 
The week will kick-off with a day-long civic pride workshop presented by Jeff Siegler from Revitalize, or Die. The Civic Pride Workshop educates community members on the devastating effects of apathy and how it came to grip our cities. Attendees will gain an understanding of how in cultivating pride, we can counteract the effects of apathy and restore people's relationship with their community. This event was designed with the entire community in mind. The success of the workshop is dependent on local participation and engagement. Attendees should include elected officials, property owners, business owners, the non-profit community, local residents, community organizations, tourism officials and economic development officials. 
"309 WEEK is not just about creating a series of events that happen only once a year. The goal is to highlight and bring positive attention to many of the great activities, initiatives and organizations already making positive contributions to our region on a daily basis," said Jake Hamann, Executive Director of the Peoria Innovation Alliance. 
Additional events for 309 WEEK including Business Listing Workshop from 11:00 a.m. - 12:00 p.m. on Tuesday, March 10; A Concert & Workshop with Nathan Peterson from 6:00 p.m. - 8:00 p.m. on Tuesday, March 10; Smart Mobility Working Group from 10:00 a.m. - 2:00 p.m. on Thursday, March 12; Branding Workshop from 11:00 a.m. - 12:00 p.m. on Thursday, March 12; and Peoria Made Panel & Movie Screening from 5:30 p.m. - 8:30 p.m. on Thursday, March 12. 
For more information and a full list of events, please visit https://www.peoriaonpurpose.com/309week.
Media Contacts: 
Jake Hamann, Peoria Innovation Alliance jake@peoriainnovationalliance.org
Joshua Albrecht, Peoria Area Convention and Visitors Bureau jalbrecht@peoria.org
Jeff Siegler, Revitalize, or Die jeff@revitalizeordie.com
About the Peoria Innovation Alliance: 
The Peoria Innovation Alliance is a 501c3 organization dedicated to fostering a collaborative movement to reposition the Greater Peoria region and change its narrative to one of inclusion, optimism and progress through the support and celebration of innovation, entrepreneurship and startup activity. 
The mission of the Peoria Innovation Alliance is to share our region's innovation history, promote our progress and vision for the future and empower the next round of innovators, entrepreneurs and startups that call Greater Peoria home. 
About the Peoria Convention and Visitors Bureau: 
Our Mission is to promote the Peoria Area as a destination and contribute to the economic growth of the communities we represent. Through our tourism department, convention sales, sports and marketing, we are a one-stop-shop for discovering everything the Peoria area has to offer. 
---
For full information on events going on in the Central Illinois area be sure to check us out at www.peoria.org or consult our Experience Guide.