Drip 4 Sell
Cameron Polansky, Owner
1020 W. Main Street Peoria, IL 61606
---
When you've got the drip or are dripping, it means in slang, that your look or style is extremely fashionable or sexy. Originally from Danville, Illinois, Cameron Polansky felt providing "drip" was a much-needed service in the Peoria area.
And what has been the most enjoyable part of starting his new businesses?
"Seeing people excited with a quality product for a good deal," said Cameron.
Since Cameron is new to the Peoria region, starting the business in June 2020, his biggest hurdle has been getting connected and marketing his business to the community.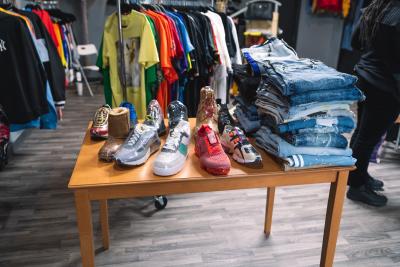 Drip 4 Sell offers fun and unique features like live entertainment and beverages for customers, shout outs and mentions on social media platforms and even posting pictures of customers. Store raffles are also provided with opportunities to win merchandise.
Cameron wants to expand into a larger storefront and will consider other locations in Peoria to do business. 
"I am a go-getter and I keep myself inspired," said Cameron. "Watch out for naysayers and try to focus your energy on the supply and demand relationship." 
Right now Cameron is watching sales amongst six or seven brands so he can narrow the choices down to two or three. He believes specializing in brands will set the shop apart from the competition in the area.
Drip 4 Sell's contribution to the Peoria community is offering two part-time personal shopper positions. According to Cameron, he is excited to partner with Discover Peoria and other community members. 
"Partnerships are great opportunities for exposure and well worth it," said Cameron.
Now, more than ever, Cameron says the marketing and resources that Discover Peoria provides is much needed as his business grows.
Though Cameron did not experience what normalcy in business felt like before the pandemic, this enterprising young man is selling fashion wear to those looking for something unique, trendsetting, and that brings some pressure - or positive attention!