Prestige Barber Shop
Jorell Glass, known as "Mr. Glass", Owner
456 Fulton St. Suite 180 Peoria, IL  61602
---
Professionalism. Respectability. Excellence. Service. Tenacity. Integrity. Greatness. Empowerment. Together they make Prestige.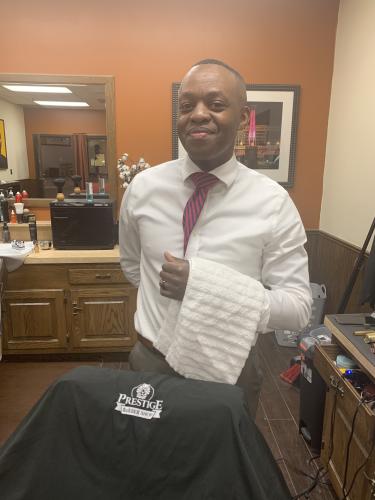 Mr. Glass opened his business based on these principles in June 2018. Being a first-generation business owner in the industry for the past 10 years, he has faced many challenges, including building his business from the ground up with little help and experiencing every challenge in the book. However, with a little blood, sweat and tears, Glass learned to face these challenges head-on and handle them constructively to become the community leader he is today. 
Not only does Glass exude this passion and determination at work, but at home as well. With inspiration from his father and grandfather, he created Glass Legacy Corporation, his barbershop and school, which he hopes to pass down through his family's future generations. 
Prestige Barber Shop offers unique experiences including a wash before every cut, straight-edge razor cuts and steam towels.
Glass wants potential customers to know there is a difference between a haircut and a barber. 
"There is a difference between a haircut and a barber, said Glass. "A barbershop experience is personable, it's sacred and it's a tradition that has stood the test of time".  
Mr. Glass takes pride in his contributions to the Peoria Black community by unapologetically being an ambassador and a standard for business through different perspectives and dialogues in places there hasn't been any before. 
With a smile on his face, when asked what he enjoys most about his business, he answered simply the people!
Be sure to check out Glass' book "Prestige" on Amazon and be on the lookout for more information about the opening of his new barber school.