Relaxed N Refreshed
Virginia Clark, Owner
2128 W. Rohmann Avenue Peoria, IL 61604
---
To ensure Virginia Clark's massage therapy clients feel safe and leave better than they came, she will pack up her equipment and travel as far as Chicago or St. Louis to share a sense of wholeness and caring.  
After years of working at CAT, Virginia attended Illinois Central College (ICC) for two years to become licensed and insured as a massage therapist.  
"My passion is to teach people to relax and pamper themselves," said Virginia. "I love meeting people and seeing the results of my care when they leave."  
Virginia also provides basic facials and pedicures. She does many different types of events, from one-on-one sessions to parties. She shared that she even spends every Christmas Eve with an enviable Peoria family, providing massage therapy to both the parents and children.
If Virginia knew then what she knows now, she would have started at an earlier age in business.  
"Age is nothing but a number and the best is yet to come," said Virginia. 
Virginia is a mother of two boys ages 29 and 21 and a grandmother of ages 5, 1 and one-month. Ms. Clark's long-term plans include building on her sales of healthy salads and eventually bringing in other therapists. 
"Massage therapy is basically cheap healthcare – drink water, stretch and change your thinking patterns," said Virginia.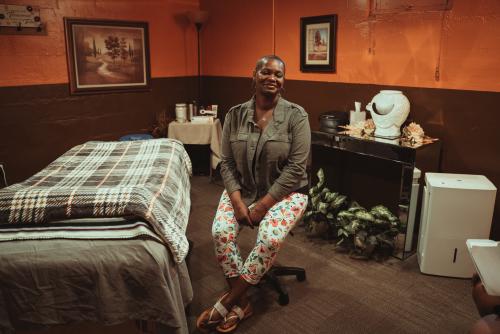 Virginia shared that starting off in business was hard because she began operating out of her home and she needed more privacy, plus, the massage therapy business generally goes up and down.  Her cousin, Tawana Wyatt, inspires her every day.  
When asked who her biggest supporter is, Virginia, paused before she quietly showed her confidence.  
"Most of all, I encourage myself," said Virginia. "I also like to encourage the Black community by ministering to families in bereavement, offering fund-raisers and prayer."
When you meet her, it is apparent that Virginia Clark is a woman of faith. Simply sitting in her business listening to the sounds of soft music will relax you. There is an abiding sense of peace. Virginia says she is always willing to add prayer to her therapy sessions upon request.