Riley's Vegan Sweets and Eats
Riley Greenwood, Owner
1233 W. Brons Ave Peoria, IL 61604
---
When you meet Riley Greenwood, this young lady's demeanor and presence demand respect.
She has been heavily influenced by her mom, Rachel Parker, to be professional and fierce in business. Riley's business opened in March 2017 and she has loved every minute of it. 
"Total creative freedom to create my own recipes, it's like magic and chemistry," said Riley. 
Riley wants everyone to know that she caters to everyone – vegan, soy-free, nut-free - whatever your dietary needs.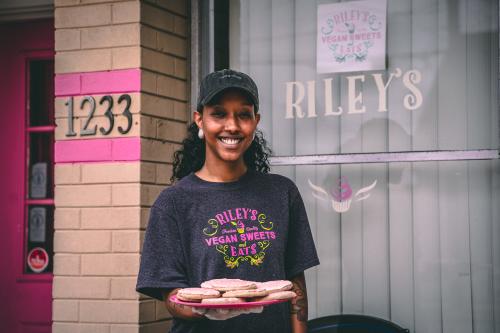 Her unique vegan offerings also feature family-sized meals. Riley's business location boasts a cupcake and coffee lounge. She would love to expand her business to offer a totally vegan quick pick menu that would rival national fast-food offerings.
Riley says her mom is her biggest inspiration.  
"I watched her work when she was tired, happy, sad, frustrated, through all of it, she kept going," said Riley.  
Ms. Greenwood gave advice about business ownership. 
"Your business won't turn into what you see. It will turn out to be what it is supposed to be," said Riley. "Give it time, at least three to five years."
Riley's biggest contribution to Peoria's Black community is, being an example and being a young entrepreneur who sets a new trend, creating yummy vegan items.
Riley Greenwood is a successful, young Black female trendsetter to watch in business.