Smo-King Pit
Michael and Michelle Citchens, Owners
Northwoods Mall 222 W. War Memorial Dr Suite 206 Peoria, IL 61613  
---
The Smo-King Pit will be closed for construction starting August 7th and will reopen as a newly expanded restaurant early October.
Michael Citchens has come a long way in business. From his start as a River Station bus boy fresh out of high school to the owner of one of the best Black-owned businesses in Peoria, he has gathered a lot of wisdom along the way.
Michael, along with his wife, Michelle, owns their business. He says Michelle never questioned and jumped right in with him. Michael's dad was a farmer of 250 acres in Clarksdale, MS. Michael says working with family works. Three children and his son-in-law round out his staff.
Though he is sometimes faced with 'isms', Michael relies on his faith to get through it. 
"The impact because I am Christian is minimal," said Michael. "I want potential customers to know that we are family owned and local. We enjoy what we do and want to build relationships."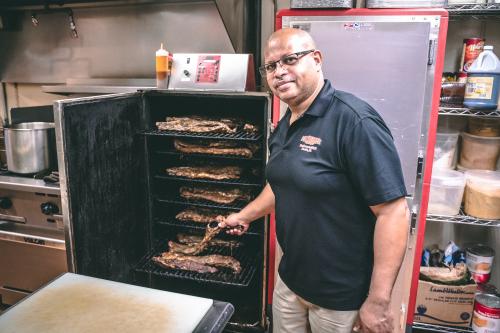 The Smo-King Pit offers its original bar-b-que sauce that is bottled and sold in Chicago. Everything is made fresh, on-site.
 Mr. Citchens would advise younger people in business to listen to their elders.  
"They know it and they lived through it,"  said Micheal. "I have never bought an advertisement in 15-years. Face-to-face and word-of-mouth have helped my business thrive." 
Michael enjoys helping Peoria's Black community. He grew up benefitting from the South Side Mission and now gives back. He is a Board Member of Youth for Christ – Urban Sector.
Now, Michael says he is looking forward to what he can offer as a member of Discover Peoria.