Sweet Cakes by Rachael
Rachael Parker, Owner
1233 W. Brons Ave Peoria, IL 61604
---
This determined, successful Black woman has been in business for 18-years. She began with just an oven, a folding table and a mixer but has grown into a thriving business.  
"I love that it is my business. I am the only baker, so there is less chance for error. I like being small, there is more control over everything," said Rachael.
Potential customers should know that Rachael will cater to your needs.  
"Just tell me the idea and we will try it," said Rachael.  
There is also no cookie-cutter menu selection and will deliver from one dozen to hundreds.
Rachael feels the best feature of her business is the ability to create your own.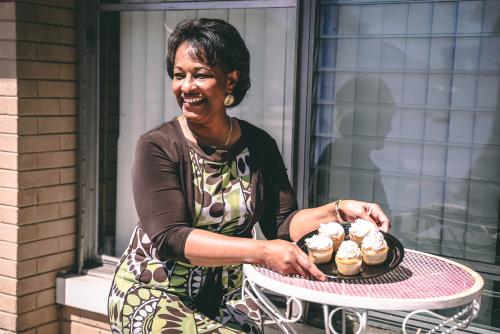 Ms. Parker likes feeling inspired by tapping into other successful people and mimic them. For example, she says she once had a supervisor who told her not to dress or act for the job you have, but for the one you want.
She would advise future business owners to start purchasing things you will need a little at a time or reinvest in your business by until you have enough money saved up. Having everything in place versus piecemeal is the ideal situation.  
In addition to being a successful entrepreneur, Rachael Parker is the current Peoria County Clerk. She is also a member of The Black Business Alliance and a member of the Minority Business Development Center.
From a savvy Black female who is doing great things in business, she offers this advice about following your passion and examining your motives. 
"If you won't do it for free, don't do it," said Rachael. "As a business, you have to love what you do because it comes across in your product."