The Heir Cigar Lounge
Anthony Harris Senior, Owner
9901 N Knoxville Suite B Peoria, IL  61615
---
After spending time in Atlanta which has a vivid and diverse cigar culture, Anthony Harris Senior grew a passion for cigars, which led him to open The Heir Cigar Lounge in late June of 2020.
"I fell in love with the culture, the comradery, the brotherhood, and everything that the cigar culture had to offer," said Harris.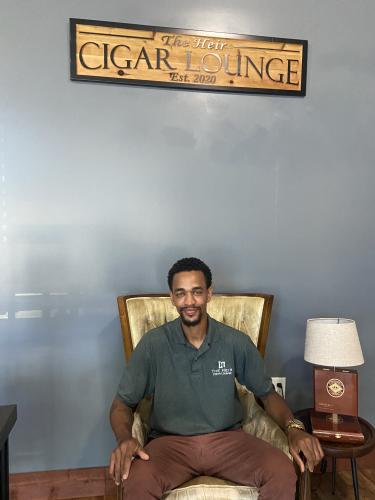 The Heir Cigar Lounge is the only Peoria cigar lounge and provides the perfect place to sit back, relax, and take your mind off all your worries. With no clocks in sight, customers are encouraged to come for the cigars but stay for the relaxing atmosphere where they can lose track of time. The lounge is an inclusive environment where the weights of what you're going through are alleviated when you come through the door.
Customers can come in and purchase a cigar or bring their own for a cut fee. Harris also offers memberships that include a storage locker.
Starting his business during the COVID year was an uphill battle, and Harris has also dealt with many who were skeptical of him. However, he was able to overcome these struggles and follow his passion.
He encourages others to strive towards their passions and not just money. Harris believes this will bring self-gratification and satisfaction as opposed to following social standards. 
"Have faith in yourself and chase your passion," said Harris.
Harris also contributes to the Peoria black community by coaching track and field at Peoria High School. In addition to the examples he has set for his own children as they have witnessed the time, dedication, and work he has put into the lounge, he also uses his passion for his business to mentor and set an example for the kids he coaches.
Harris plans to open a second location in the near future, and to one day pass his business to his sons.