Wing Work
Azadia and Alicia Boyd, Owners
Northwoods Mall                                        COMING SOON! 2200 W. War Memorial Avenue               617 Main St. Peoria, IL  61613                                        Peoria, IL 61602
---
Want to talk about being new? How about opening your Peoria business on June 1, 2020?
Azadia and Alicia Boyd, along with the rest of the world, never anticipated the circumstance of a pandemic, but they followed through with their dream to open a great wing business.
Their number one seller is the Buffalo Ranch Wings. Chicken fries, nachos and taco fries are also popular. The Boyds own a bright and inviting spot in the Northwoods Mall Food Court. The Boyds want potential customers to know that they are there, and Northwoods Mall is open for business. 
They inspire each other as a couple in business and their children are their biggest supporters. They try to take their own advice when giving it to other business owners.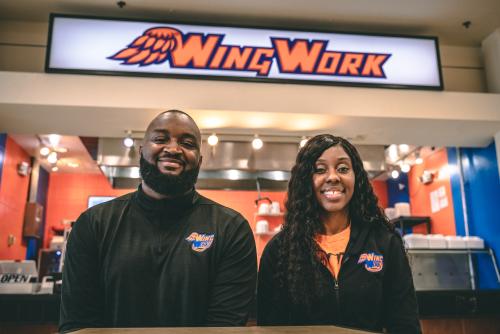 "Keep at it. Don't stress, some things are out of your control. Find yourself always learning and do not limit yourself," said Azadia.
Coming soon is a second location for Wing Work in downtown Peoria that is projected to open in early July 2021. Featuring a late-night menu, Wing Work's downtown location will be open till 5:00 a.m. on Friday through Sunday to serve Peoria's late-night crowd. The new location will also feature special items that won't be available at the Northwoods Mall spot. 
Their couple's long-term goal is to expand to other Illinois college towns like Edwardsville and Bloomington-Normal.
They want to contribute to the Peoria black Community by inspiring and motivating others from their example of marriage and family as a vital facet of doing successful business.
Watch out for this young power couple sporting blue and orange bringing the heat in the kitchen!