wRap City
Branden Jackson, Owner
400 Riverside Dr. East Peoria, IL 61611
---
Even a pandemic didn't stop Branden Jackson from hitting the ground running when he opened wRap City in November 2020. When opening wRap City Brandon wanted to honor Peoria basketball as a staple of our city's culture, give a shout out to his legacy as a local rapper with The Block Burners and stand tall on a foundation of cooking for over 25 years.
wRap City is a first-generation, family-owned business and Brandon says what he enjoys most is the feedback and constructive criticism from his customers.
"It is valuable to me," said Brandon. "Good food makes good people."
Brandon says his biggest challenge is taking advantage of his physical location in a strip mall with limited parking. One look at the interior and decor of wRap City will tell you he is dominating the battle.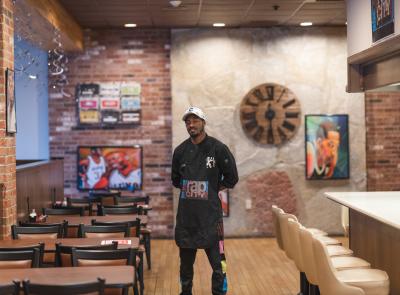 He wants potential customers to know that he is here to bring new flavors - comfort food to make you smile. All menu items are made fresh daily, including smoked meat. Brandon invites you to try his wraps and various wing choices as well as rotating weekly specials.
Future goals include opening locations in the East Bluff and South End communities of Peoria. His inspiration to dream big and plant roots as an entrepreneur in the Heart of Illinois began with his mother who encouraged and taught him to cook from an early age. He honored her by stating, it starts with a strong woman in the kitchen.
And he has learned a few tips along the way while becoming a successful business owner.
"Be hands-on with everything, don't be scared to ask questions, and never take the first offer," said Brandon.
In the near future, Brandon will offer game nights and live music for his customers to enjoy. He wants to continue contributing to Peoria's Black community by providing opportunities and jobs. Brandon currently mentors Woodruff High School students with a weekly internship.
For Brandon, being connected to the community he serves is the biggest asset he has, including partnering with organizations like Discover Peoria, to best spread the word about his unique restaurant.