"T. rex: The Ultimate Predator," presented by CEFCU, has just begun its worldwide tour with its first stop being the Peoria Riverfront Museum. This exhibit reveals the amazing story of the most iconic dinosaur in the world through stunning life-sized models, fossil casts, interactives and an immersive shadow theater re-creating an epic battle. Here are some reasons why you and your family should make visiting the T.Rex exhibit at the Peoria Riverfront Museum next on your summer to-do list!
This is the exhibit's first time on the road!
 The Peoria Riverfront Museum is the first location that "T. rex: The Ultimate Predator" will be displayed since arriving from its home, the American Museum of Natural History in New York City. Now is your chance to see these dinosaurs before the rest of the world! And, if that isn't cool enough, the T. rex in Peoria for the exhibit is none other than "Rexy" from the popular movie "A Night at the Museum." Fun fact, for all those super dino-fans out there, the American Museum of Natural History's Barnum Brown was the lead fossil hunter that discovered the T. rex back in 1902, and a reproduction of that original fossil discovery is included in the exhibit!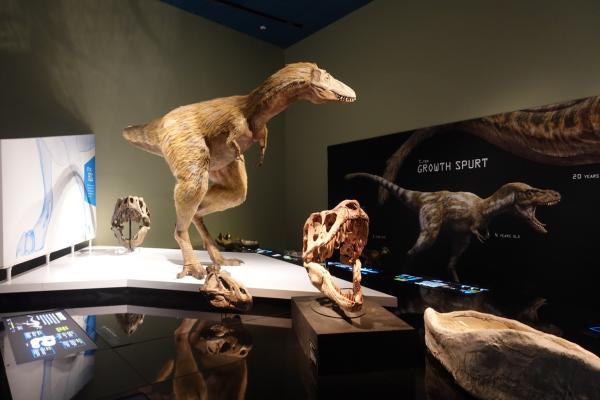 The exhibit presents an entire family of redesigned Tyrannosaurus rex and other full-size Tyrannosaurus. 
Full-scale and feathered models of the world's most iconic dinosaur will be on display, from a hatchling that resembles a turkey to a bus-sized adult T. rex that's capable of crushing prey with a 7,800-pound bite force. This exhibit is based on the latest research, and in addition to the T. rex, you will have a chance to see the Proceratosaurus bradleyi, and the Dilong paradoxus with fossilized feathers, which was discovered in China.
Interactive features give many opportunities for a fun experience.
The exhibition's interactive features allow for visitors of all ages to have many fun encounters. Throughout the exhibit, the "roar mixer" uses animal sounds to recreate the T. rex roar, a shadow theatre projects onto an adult T. rex skeleton and makes it come to life, and a life-sized animation of T.rex responds to visitors' movements. 
Peoria Riverfront Museum will also be featuring "Summer of T. Rex" programming.
Peoria Riverfront Museum will be playing dinosaur films on the Giant Screen Theater including the "Jurassic Park" series and the documentary "Walking with Dinosaurs," as well as presenting a Dino Lab maker space on Saturdays, an art contest, a live lecture series, and more.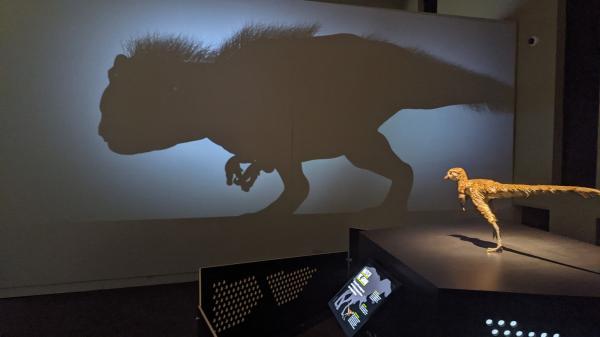 If you don't visit now, you might miss out!
After its time at the Peoria Riverfront Museum is up, "T.Rex: The Ultimate Predator" will leave the country and travel to Canada. Now is your chance to see this amazing exhibit before it's gone! 
---
Make sure to stop by the Peoria Riverfront Museum by September 6 for a prehistoric adventure your whole family will love.