Ballet 5:8 returns to the Caterpillar Performing Arts Center on Saturday, October 2 at 7 p.m. ($20-$30) as a part of its tenth anniversary season featuring a new full-length work on human trafficking by Artistic Director Julianna Rubio Slager.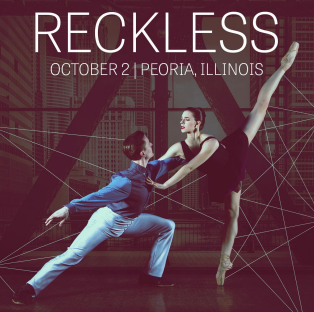 The Production:
For too long, the stories of those in sex trafficking have been shaped by those with power to control the narrative. The survivor's multifaceted voice is stifled and she becomes a disposable object for consumption. In her new work Reckless, Artistic Director Julianna Rubio Slager tells the story of a trafficked woman who is rescued from the industry and yet returns as a willing participant. History repeatedly flattens and dismisses these women as provocateurs who receive the outcomes they deserve. Reckless grapples with the effects of abuse and trauma while centering the humanity of Gomer in every scene. 
Reckless tells the story of Gomer through three characters, each portraying an aspect of her person. The physical body, the subconscious, and the intellect seek to give a voice to a woman whose story has been silent for millennia. Reckless takes place in modern day Chicago, with costuming by Lorianne Robertson that captures the iconic imagery of the Windy City. Vivid projections by Sarah L. Freeman and a sleek set design evoke iconic images of Chicago public transit and city life. Slager uses the corps de ballet as a Greek Chorus that unites and fractures at critical junctures in the story to give the audience a complex picture of the world Gomer inhabits. 
Reckless debuted March 13, 2021 at Chicago's historic Studebaker Theater to an exclusive audience as one of Chicago's first live performances in the wake of the pandemic. Reckless will be toured nationally for the 2021/22 season.
Principal Casting: 
Young Gomer: Lezlie Gray 
Intellect: Lorianne Robertson Subsconscious: Libby Dennen Married Gomer: Valerie Linsner Hosea: Sam Opsal 
International Blue: James Wainwright
Note From The Choreographer:
"Reckless is a ballet that deals directly with the objectification of women as sexual objects. In the creating of Reckless and in telling Gomer's story it was incredibly important to me that we neither glorify, nor downplay the trauma experienced by women in the sex trafficking industry. After hours and hours of listening to survivor testimony it became very clear that Gomer's story was not going to be neat and tidy. There was no place in the story for cliches or for pushing a modern agenda about sex work. The story dutifully, compassionately and truthfully brings the voice of survivors to the stage through the character of Gomer. No other agenda could compete with my desire to tell those stories with tenderness and nuance." - Julianna Rubio Slager 
Ticket Information: 
● Date of Performance: Saturday, October 2, 2021 at 7 p.m. 
● Location: Caterpillar Performing Arts Center (Five Points Washington), 360 North Wilmor Road, Washington, IL, 61571 
● Tickets to Reckless ($20-$30) are available through Ballet 5:8 or calling the Box Office at (312) 725-4752 
● Lobby, Box Office, and Will Call open at 6 p.m. 
● Performance is from 7-9 p.m. including a 20 minute intermission 
● Talk Back with the Artists (open to all audience members) is from 9-9:20 p.m.
About Ballet 5:8: 
Founded in 2012 by Julianna Rubio Slager and Amy Kozol Sanderson, Ballet 5:8 isa 501(c)(3) nonprofit arts organization based just outside of Chicago, IL. The mission of Ballet5:8 is to engage communities in Chicago, the Midwest and across the nation in conversation of life and faith through innovative storytelling and breathtaking dance.