Downtown Peoria is home to many restaurants, coffee shops and destinations where you can easily stop in to get some work done. A comfortable atmosphere is important for being productive, and we guarantee you will both enjoy your environment and be productive at any of these locations. At many of these spots, you can also add to your experience and enjoy a coffee or meal. If you're traveling for business, trying to find a hiding spot or looking for a change of scenery, Downtown Peoria has a spot for you. Must-Visit Downtown Peoria Work Locations 
Peoria Public Library
Enjoy some peace and quiet at Peoria Public Library. Surrounded by books, this relaxing environment will set you up for success and help you focus on knocking out your to-do list for the day. If you need a private space, take advantage of their meeting rooms by reserving one online. You never know, you might leave with a book that catches your eye!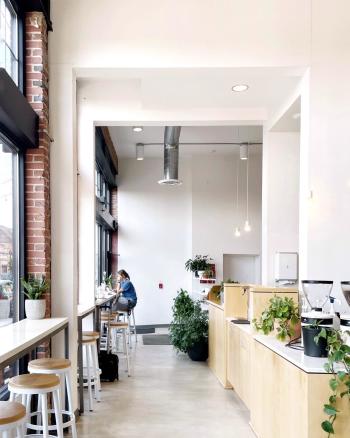 Zion Coffee Bar
Located in the historic Warehouse District, Zion Coffee supports small coffee farmers by purchasing their coffee through a direct trade model. Not only is the coffee delicious, but the inside of this shop is so aesthetically pleasing you won't want to leave. Locals know the must-try item on the menu is the avocado toast with an egg on top, which pairs perfectly with one of their many specialty lattes.
Meet me on Madison
If you're coffee obsessed, Meet me on Madison needs to be your next destination to visit. We promise you will love the inside of this shop, tastefully designed with fun decor to provide a memorable experience. Not to mention, their delicious menu features super unique options to snack on while working like mini strawberry banana pancakes on a stick or a bacon pb&j panini. 
Great Harvest Bread 
Fuel up with a sandwich or panini and see how much you accomplish at Great Harvest Bread. With locations in Downtown Peoria and Morton, Great Harvest is known for their fresh breads, sandwiches and goodies that are baked from scratch. This casual atmosphere is a great spot to work, plus you can enjoy the scent of their exquisite bread made from flour that's milled daily.
Cultured Grounds
Cultured Grounds has a great, relaxing ambiance and provides a quiet spot to work or study while also getting your caffeine fix. Get some work done while snacking on a sweet treat. If you get hungry for something more, we recommend you try the naan pizza, a Discover Peoria staff favorite!
thirty-thirty Coffee Co.
Take life one sip at a time! Check out thirty-thirty Coffee Co, a popular coffee shop in our region with a unique and modern atmosphere that has plenty of tables to sit down and work or study. This shop devotes themselves to coffee education and excellence with the finest customer service. Don't leave without trying the miel latte, not only is it tasty but it will give you the fuel you need to be productive!
CxT Roasting Company
Cxt Coffee roasts their own coffee in small batches, guaranteeing high quality coffee that's rich with flavor, and their rotating seasonal menu ensures you can always try something unique and different. With two different locations in our region, CxT Coffee can provide you with a midday pick me up as well as a relaxing environment to work. Try something new and order the beetroot or turmeric latte!
Peoria Riverfront Park
Tired of working indoors? Spend some time enjoying the outdoors with views of the Illinois River while you work! Find a bench underneath a tree or lay out a blanket. Whichever you choose, it's the right decision. Take in the breeze and soak up some vitamin D.
Ardor Breads and Provisions
Focusing on fermentation, vegetation and old-fashioned cooking techniques,  Ardor Breads & Provisions is a popular artisan bakery located in Peoria's Warehouse District. In addition to serving lattes and other drinks, Ardor sells the most delicious naturally leavened breads, hand laminated pastries and sandwiches that melt in your mouth. You're also sure to love the aesthetic atmosphere and positive vibes of the shop.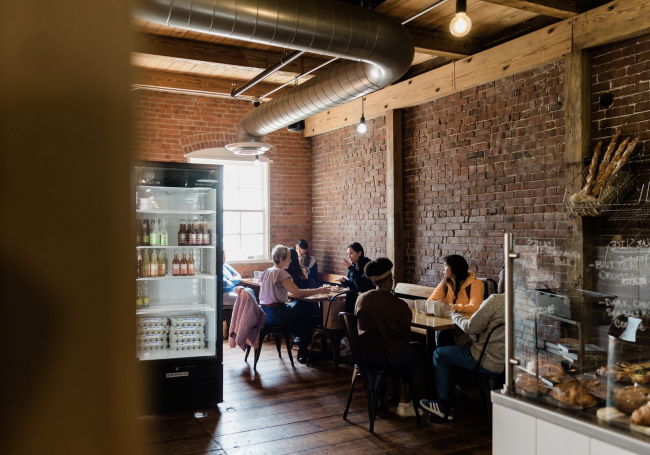 Peoria understands it's important to have locations where you can escape and be productive. Break away from the convention space or office and stop into any of these local places to work and discover an enjoyable experience.
Photo References: thirty thirty Coffee co., Zion Coffee Bar