One of the largest lighted holiday events in the Midwest, the East Peoria Festival of Lights is celebrating its 35th anniversary in 2019, running from November 23 through December 31.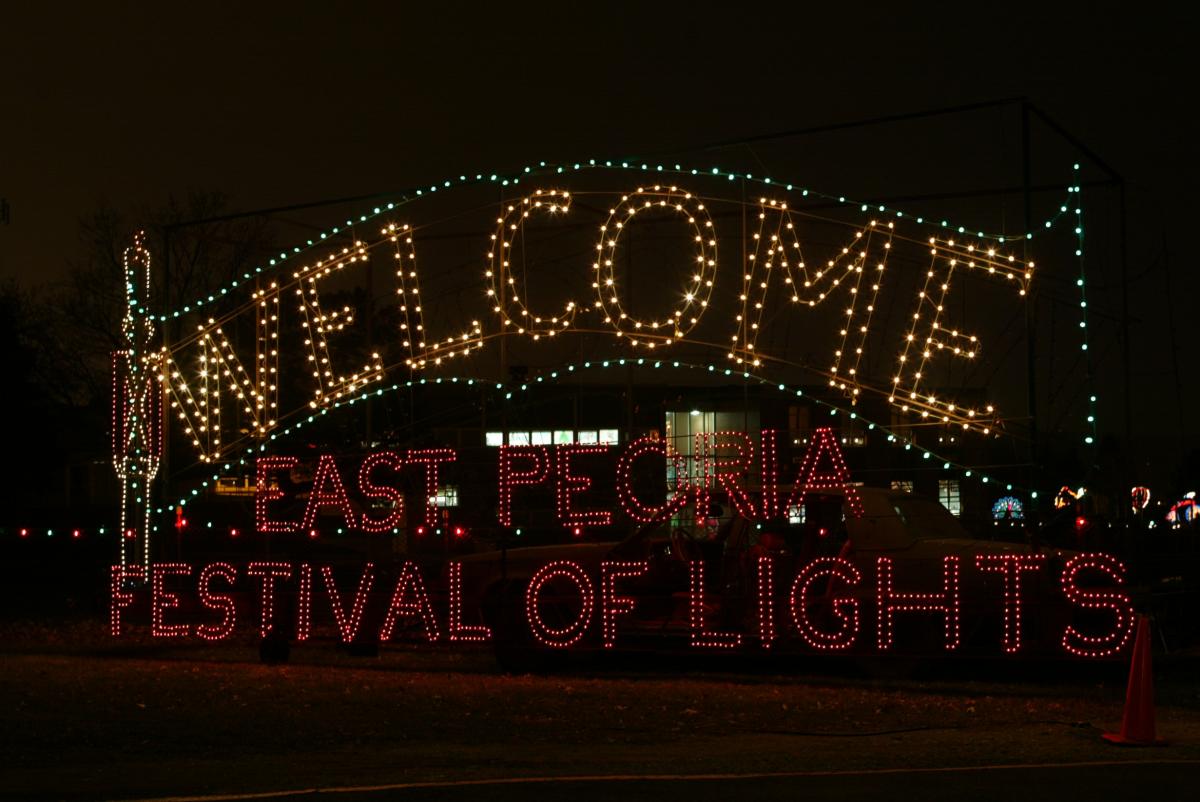 Millions of lights will sparkle during the Festival of Lights this year and many of the festival events are named for Folepi, the festival's toy soldier mascot and an acronym for "Festival of Lights East Peoria Illinois." 
Those coming to the 35th annual Parade of Lights on Nov. 16 will see not only the popular lighted Clydesdales float but the real horses as well. The Budweiser Clydesdales will make a special appearance, weather permitting, in the 2019 Parade of Lights. 
The parade starts at 5:45 p.m. and spectators will see approximately 30 lighted floats gliding along the parade route. The parade starts at the intersection of East Washington Street and Dolans Lane, where Auto Zone is located. It will continue along East Washington Street, turning left at the intersection with Camp Street. The parade will then turn right from Washington onto Taylor Street at Gerber Collision and Glass, continue along Taylor in front of Central Junior High School, and end at Taylor Street and Springfield Road at the U.S. Post Office. A map of the parade route is available at www.folepi.org.  
In the days following the parade, the floats will be moved into a city park in preparation for the opening of the Folepi's Winter Wonderland drive-through display. 
Folepi's Winter Wonderland
Folepi's Winter Wonderland drive-through display opens at 5 p.m. Nov. 23 and will remain open through New Year's Eve, including Thanksgiving, Christmas Eve and Christmas night. Featured are lighted parade floats and themed display areas such as the Western Town, Circus Land, Space Travel, and the Prehistoric Area. Winter Wonderland hours are 5 to 9 p.m. Sunday through Thursday and 5 to 11 p.m. Friday and Saturday. Admission is $10 for regular vehicles (cars, trucks, and vans), $30 for a small bus (party, shuttle, mini, and school), and $150 for full-size charter buses. Entrance wait times Sunday through Thursday nights are usually significantly less than on Friday and Saturday night, so visitors should plan appropriately. 
Those who go to Folepi's Winter Wonderland on Monday nights can get a sweet treat during Chick-fil-A Mondays at the Festival of Lights. Every vehicle through the drive-through display on Mondays from Nov. 25 through Dec. 31 will receive a free dessert at Chick-fil-A East Peoria. Two free dessert offers per vehicle will be available while supplies last. Visit www.folepi.org for more details. 
Special Appearance by the Budweiser Clydesdales
The Budweiser Clydesdales will make a special appearance, weather permitting, in the Parade of Lights occurring at 5:45 p.m. Nov. 16.
The 35th parade is a great opportunity to see the Clydesdales, making an appearance for the first time in 15 years. They were previously in the parades of 2004, 2002, and 2000 when the festival's Clydesdales lighted float made its debut. Brewers Distributing is sponsoring the Clydesdales appearance. 
The Budweiser Clydesdales make hundreds of appearances throughout the country and have been a part of Anheuser-Busch for more than 80 years. When traveling, 10 horses, the famous red, white, and gold beer wagon, and other equipment are transported in three 50 foot tractor-trailers. Cameras inside the trailers allow handlers to watch the horses, whose trailers have air-cushioned suspension and rubber flooring. Their handlers include groomers and a team that oversees the horse's diet. Each hitch horse consumes as much as 20 to 25 quarts of whole grains, minerals, and vitamins, 50 to 60 pounds of hay, and up to 30 gallons of water on a warm day. 
The hitch drivers undergo a lengthy training process to ensure they have the expertise and physical strength to drive the combined 12 tons of wagon and horses. In addition, the 40 pounds of lines held by the driver plus the tension of the horses pulling creates a weight of more than 75 pounds. 
A Dalmation mascot also travels with each of the Clydesdale hitches, perched on top of the wagon seated next to the driver. 
The turn-of-the-century beer wagons have been meticulously restored and are equipped with two braking systems, a hydraulic pedal device that slows the vehicle for turns and downhill descents, and a hand brake that locks the rear wheels when the wagon is at a halt. 
Joining the live Clydesdales and the lighted Clydesdales float will be approximately 30 lighted floats gliding along the parade route. 
Folepi's Enchanted Forest
A popular place for taking selfies or photos of the Kids is Folepi's Enchanted Forest at 401 W. Washington St., in East Peoria's Levee District shopping area. Folepi's Enchanted Forest features the festival's 35-foot tall Christmas tree, lighted trees and displays, and the Terry the Tractor parade float. The display will open for the season during an official lighting event, featuring carols by the Caterpillar Employees Mixed Chorus, from 5:45 to 6:15 p.m. Nov. 30. Santa will be at the lighting event and visit with children from 6-7:30 p.m. and will also be at the forest from 5:30-7:30 p.m. Fridays Dec. 6, Dec. 13, and Dec 20. 
Narrated Nativity Display
The Narrated Nativity, located at the intersection of Taylor Street and Springfield Road, has a three-dimensional appearance at night and details the "reason for the season". Those tuning to radio station 16010 AM will hear a 2-minute narration. Admission is free. Unlike the rest of the festival displays, the Narrated Nativity is funded by private donations through the Nativity Display Association. 
Holiday Light & Sound Spectacular
This new display, presented by Eastlight Theatre, is an approximately 25-minute 360-degree indoor light show featuring dazzling and flashing lights on the walls and ceiling and timed to holiday music. It takes place inside the Fon du Lac Park District Administration Building, 201 Veterans Drive, from Nov. 29 through Dec. 30. There will be no shows on Christmas Eve and Christmas. Shows occur on the hour from 6 until 9 p.m. Sunday through Thursday and 6 until 10 p.m. Friday and Saturday. Admission is $5 for adults and $3 for students. 
Other Festival of Lights Events
The lights are the star of the show, but there are many other events that comprise the Festival of Lights. 
Find Folepi - The ornament hunt will begin with the release of the first clue on Nov. 20. Clues will be posted each Wednesday at www.folepi.org, on Facebook at East Peoria Festival of Lights, on Instagram at folepi_ep_festival_of_lights and in the Times-News Reporter newspaper. The winner will receive a package of prizes from local businesses, and they can keep the ornament. The hunt is open to everyone. 

FOLEPI River Trail Classic - The FOLEPI River Trail Classic competitive run and non-competitive walk is Nov. 30 on the River Trail of Illinois. The run starts at 9 a.m., preceded by the walk at 8:30 a.m. and this year features new awards and a post-race pizza party. There are several ways to enter, including online entry and payment. Visit www.folepi.org for details. 

Folepi's Gifts Galore Shop and Stroll - Set in East Peoria's Historic Four Corners District and adjacent areas, this event runs from 1 until 4 p.m. Nov. 30 and features shopping in locally owned stores, free horse-drawn carriage rides with Santa, carols by the East Peoria Community High School Chorale and free balloon art by The Unique Twist. Many of the participating businesses will offer door prize drawings and holiday refreshments. Those spending $25 or more at the participating businesses will receive a free pass to the Folepi's Winter Wonderland drive-through display. 

Theatrical productions - Eastlight Theatre's Joseph and the Amazing Technicolor Dreamcoat will be presented for its 29th year. The musical is set for 7:30 p.m. Dec. 6, Dec. 7, and Dec. 11-14, and 2 p.m. Dec. 8 and 15 at the Bryon Moore Auditorium at East Peoria Community High School. The Festival of Lights Cruises on the Spirit of Peoria paddle-wheeler features the show A Civil War Christmas. In addition, Central Illinois Ballet will present The Nutcracker at the Illinois Central College Performing Arts Center at 7 p.m. Dec. 6, and 2 p.m. and 7 p.m. Dec. 7. 

Historic Holiday Traditions - A look back at the holiday traditions of the 1800s will occur during two open houses presented by the East Peoria Historical Society. The open houses will occur from 1 until 3 p.m. and by candlelight from 4 until 6 p.m. De. 7 at the 139-year-old Doering Homeplace, 326 Pekin Ave. Admission is free. 

Breakfast & Photos with Santa - Children can join Santa for a breakfast from 9 until 11:30 a.m. Dec. 7 at EastSide Centre, 1 EastSide Drive, during this event presented by East Peoria St. Jude Runs. Photos will start at 10 a.m. those wanting photos should bring their own camera. Registration is required by Dec. 3 and can be done by calling EastSide at (309) 698-5437 to register and pay by debit or credit card or visiting www.folepi.org to download a registration form. All proceeds will go to St. Jude Runs. 
For more information about the Festival of Lights and event registration, visit www.folepi.org, East Peoria Festival of Lights on Facebook, folepi_ep_festival_of_lights on Instagram, Festival of Lights - East Peoria on Twitter, www.epcc.org or call toll-free at 1-855-833-5327.