Enjoy Peoria is pleased to announce the renewal of City Cycle by Zagster bike share program for the third year! Launched in May 2017, the City Cycle program offers a unique and affordable way to get around the Peoria Area.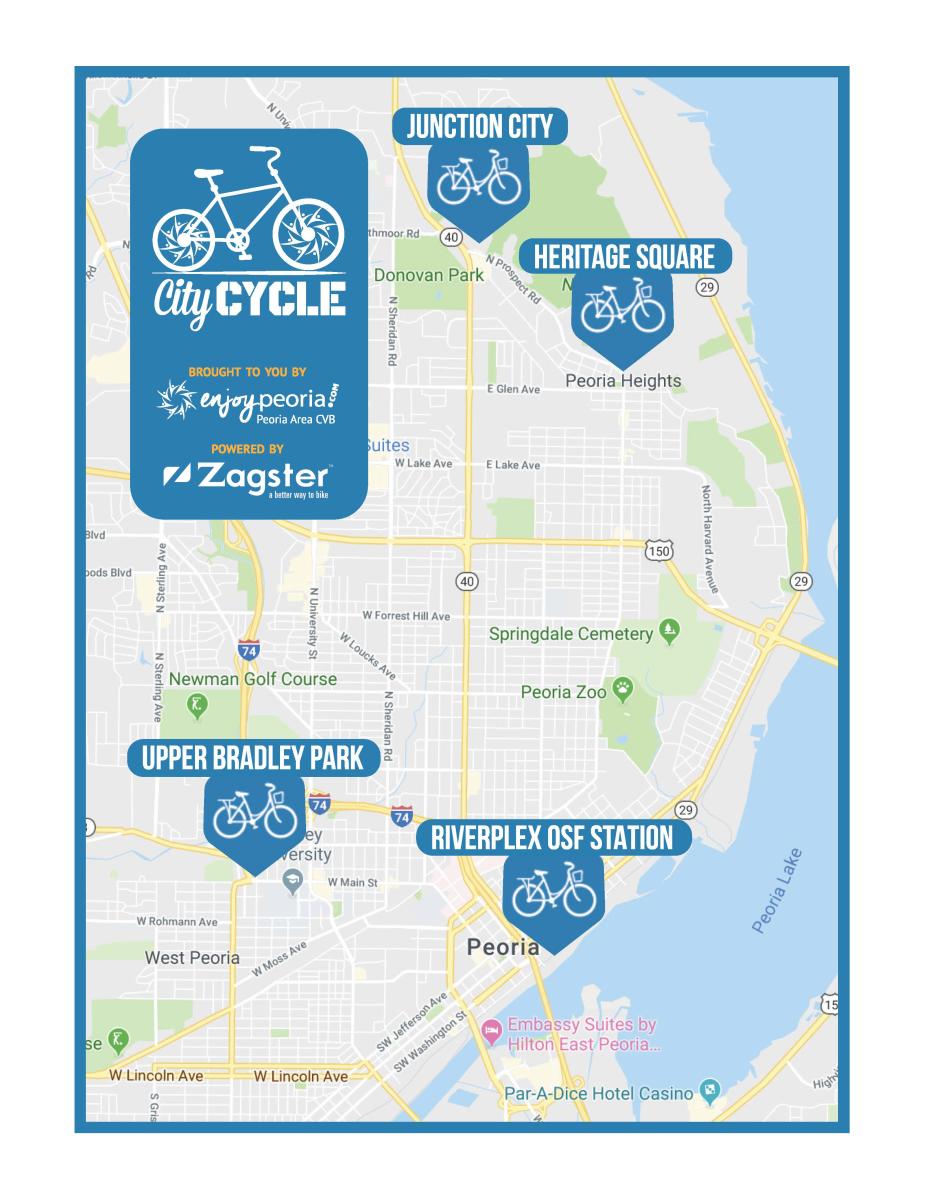 Since City Cycle's arrival in Peoria in 2017, nearly 1,800 riders have utilized this service. Bike rentals are only $3 per hour and memberships are available. Peoria is proud to say that four locations around the Peoria area that house the bikes thanks to our amazing sponsors. 
City Cycle by Zagster Locations:
Bradley Park sponsored by Enjoy Peoria & the Peoria Park District 

The RiverPlex sponsored by OSF Healthcare

Junction city sponsored by the City of Peoria 

Heritage Square sponsored by UnityPoint Health
"We are thrilled to renew the popular bike program," said J.D. Dalfonso, Enjoy Peoria President/CEO. 
"As the Peoria Area's cycling community continues to expand, this is another way to get people active and a fresh way for tourists and residents to experience the area." 
Riding City Cycle is Easy!
Join

Download the free Zagster Moblie App - available for iPhone and Android - or online at zagster.com/citycycle.

Choose

Find your bike's number and enter it into the Zagster app to get a unique unlock code. 

Unlock

Enter the unlock code into the on-bike keypad. After the ring lock opens, remove the docking cable from the side of the ring lock. 

Return

Park your bike at the City cycle by Zagster station. 

Lock

On the right side of the bike, find the orange tab on the ring lock and slide it down. 

Mid-Ride Stops

For quick stops away from a City Cycle by Zagster station, you can lock to any public rack.
City Cycle by Zagster will be available this year for use until mid-November, weather permitting, and will return in March 2020. You can learn more and download a map of locations at enjoypeoria.com/citycycle.
About Zagster
Founded in 2007 and headquartered in Cambridge, Mass., Zagster is the leading provider of private and public-private bike-sharing systems in the United States. Zagster works directly with more than 150 communities in more than 30 states to make bike sharing available in areas where traditional bike-share providers can't reach. Its efficient business model allows the company to successfully deploy in multiple markets, including cities, suburbs, universities, commercial campuses, and residential properties. Zagster manages all aspects of its programs - from bikes and technology, to maintenance and marketing - enabling Zagster's partners to create and deploy scalable bike-share systems that best suit their communities. The company's goal: To make the bike the most loved form of transportation. More information about Zagster and its programs can be found at www.zagster.com.
---
For full information on events going on in the Central Illinois area be sure to check us out at www.enjoypeoria.com or consult our Experience Guide.