Join Five Points Washington on Saturday, July 10 for a charity concert featuring the Matt Eckberg Band, benefiting St. Jude Children's Research Hospital. This concert will immediately follow the 'Bike for A Cause,' 12-hour charity bike relay which is also benefitting St. Jude.
Gates for the event open at 6:30 pm and the performance is scheduled to begin at 7 pm. The event will be held in the new Five Points Washington outdoor patio and adjacent parking lot area, located on the south end of the facility. Food trucks and a cash bar will be available once the gates open until the conclusion of the event. Happy hour will be 7-8 pm and will consist of $1 off all drinks.  A portion of all ticket sales will be donated to St. Jude. 
Ticket prices are $5 for General Admission and $10 for a Reserved Ticket which includes Reserved Seating (A minimum of 4 tickets must be purchased for reserved seating). Limited seating and tables will be provided, and attendees are encouraged to bring lawn chairs.  In the event of rain, this concert will be moved to the Live@Five Points Event Center.
The Matt Eckberg Band, formerly Pocket Mouse, is a Peoria-based acoustic rock-n-roll act...they rock the 60s, 70s, 80s, 90s and 2000s like nobody else! Features Matt Eckberg on Lead Vocals and Guitar, Chris Koller on Bass and Vocals, & Bryan Vicary on Drums and Vocals.
The concert is made possible by sponsorships from headline sponsor MTCO Communications; Live@Five sponsors Hometown Community Banks, Trane, Uftring Automotive, Ameren Illinois, I Do Events, Create A Scene, Washington Dentistry, and Nicole Miller Edward Jones Agency.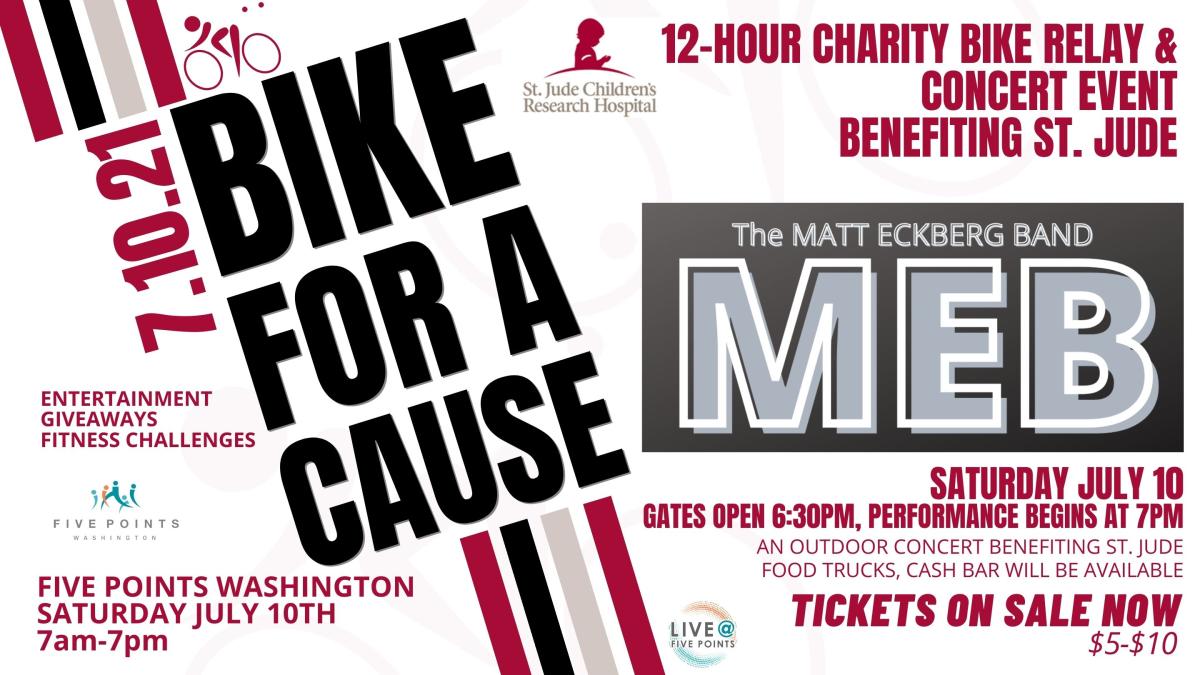 About Five Points Washington
Five Points Washington opened in 2007 and is a self-sustaining, not-for-profit complex that uses fitness center user fees, rental revenue, and event admission sales to finance day-to-day operations. In addition to its new outdoor event space, the facility houses a 1,020-seat performing arts center, event/banquet/meeting rooms, a fitness center/gym and an aquatics center.
A full listing of events is available on the Live at Five Points Facebook page or by visiting FivePointsWashington.org. For more information, call (309) 444-8222.