If you've got game, it's officially your season to show off. Spring is quickly approaching, bringing with it warmer weather and the season of golfing. Peoria and its surrounding communities are packed with beautiful golf courses that are absolutely tee-rific! As we say goodbye to winter and welcome spring, let your golf skills blossom. We're here to help you get into the swing of things, with 15 fantastic courses in our region, read on to discover where you'll tee off next. 
WeaverRidge Golf Club- Peoria
Enjoy views of rolling hills, valleys and beautiful homes at WeaverRidge Golf Club in Peoria. This 18 hole championship public golf course is rated 4.5 stars by Golf Digest and is great for players of all ages and abilities, featuring fast and true greens, elevations and practice facilities.
Kellogg Golf Course- Peoria 
With bent grass fairways, sand bunkers and a putting green, Kellogg Golf Course in Peoria is a
18 hole championship course that is sure to putt you in a good mood!  If you get hungry, stop by their snack shop. You can also visit the pro shop to browse the latest golf gear. 
Madison Golf Course- Peoria
Work on your swing at Madison Golf Course in Peoria. This location features an 18 hole course, practice field, putting green, pro shop and snack shop. This destination is ideal for a carefree, relaxing round!
Timberlake Golf Club- Peoria
Enjoy this hidden gem of a course at Timberlake Golf Club in Peoria. This 9 hole course is for players of all skill levels, featuring small and challenging greens and tight undulating fairways. The par 3's will surely test you, and the par 4's play on the idea of risk and reward which makes for an exhilarating game! 
Arrowhead Country Club- Edelstein 
Just nine miles north of Peoria, Arrowhead Country Club offers golf, swimming, fishing, camping, and picnicking on over 200 acres of rolling countryside, lakes and streams. The current 18-hole golf course is accompanied with a two story clubhouse that overlooks the ninth green and the adjoining lakes.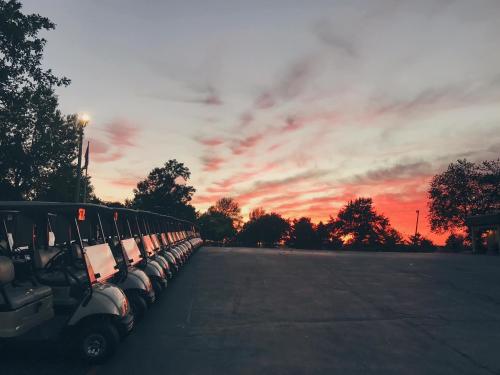 Lick Creek Golf Course- Pekin 
Enjoy some spring sunshine at Lick Creek Golf Course in Pekin. This course opened in June of 1976 but has since been renovated and reopened in 2007 with new greens, cart paths and bentgrass. Rated 4 stars by Golf Digest, Lick Creek is considered one of the best courses to play at in Central Illinois.

 
Parkview Golf Course- Pekin
Putt putt and away! Parkview Golf Course is an 18 hole course open year round and seven days a week with twilight fees available. Enjoy this course and its added hills for extra challenge at any time! Season passes are also available to enjoy both Lick Creek and Parkview courses in Pekin.
Sunset Hills Golf Course- Pekin
With expertly manicured greens and lush scenery, Sunset Hills Golf Course in Pekin is an 18-hole course in an exceptional environment that also provides challenge to more experienced players. This location features a disc golf course and Mashie's Pub & Eatery, a restaurant with tasty American eats and a rotating beer selection. Yum!
Pekin Country Club- Pekin
Known for having one of the best courses in Central Illinois, Pekin Country Club is a pristine 18-hole course with four sets of tees and a state of the art practice facility. The club  includes a full sized swimming pool and clubhouse dining, plus members can discover 11 other courses around the state. 
Coyote Creek Golf Club- Bartonville 
With scenic lakes and creeks, bridges, and waterfalls, you're sure to soak up some nature and beauty at Coyote Creek Golf Club in Bartonville. This premiere, signature championship course is made up of bent grass fairways, dramatic elevation changes and breathtaking views. Grab some post-game fuel at Coyote Creek Pub and Eatery after playing this unique and challenging course.
Country Club of Peoria- Peoria Heights 
Head out to the Country Club of Peoria in Peoria Heights and experience a traditional private golf experience. This 18-hole course is the area's oldest course, designed in the early part of the 20th century. It has since been redesigned and evolved to include lush hills, valleys, new bunkers and bent grass fairways. 
Kaufman Park Golf Course- Eureka
Enjoy a day that is up to par at Kaufman Park Golf Course in Eureka. This beautiful course is great for players of all skill levels, and gives you the chance to adventure out past Peoria into one of the area's surrounding cities!
Quail Meadows Golf Course- Washington 
Get ready to spot some wildlife at Quail Meadows Golf Course in Washington. You will surely enjoy your game on this course featuring beautiful scenery, water, and many naturalized areas that are home to a variety of birds and animals. While you're there, get some extra practice at the golf simulator or driving range.
Pine Lakes Golf Club- Washington 
Located just 10 minutes from downtown Peoria, Pine Lakes Golf Club in Washington is an 18 hole public golf course featuring tree-lined fairways. Celebrate post-game by grabbing a drink on the deck of the clubhouse bar, which overlooks the 18th hole. 
Hillcrest Golf Center- Washington 
Located near the heart of Washington, Hillcrest Golf Center is a staple to the community. With manicured greens and surprises around every corner, this simple yet beautiful course is great for players of all ages and abilities. 
Metamora Fields Golf Club- Metamora 
Looking for another traditional course? Pay a visit to Metamora Fields Golf Club, a 8 hole championship course located just east of Peoria. This course features a blend of holes for all levels of players, with a design believing in the themes of straight forward shots and traditional play. While you're there, grab a bite to eat at The Fields Restaurant.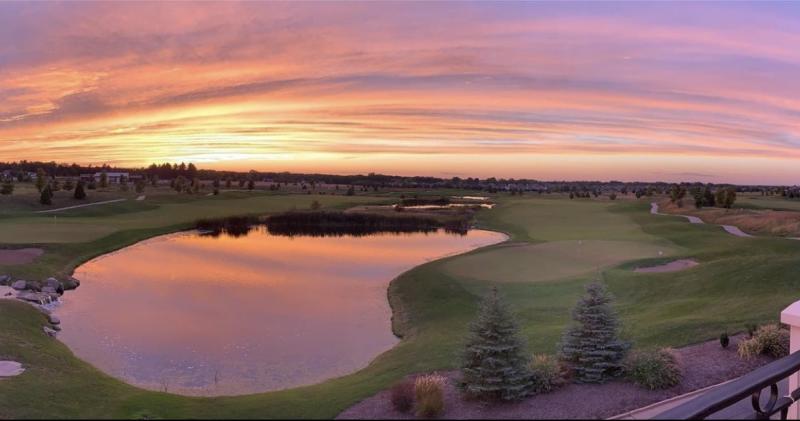 You know what they say, a day on the golf course is a day well spent! Visit any of these locations to get outdoors and soak up some sunshine. No matter if you're passionate about the game of golf or just a fan of clubhouse snacks and golf cart rides, a game of golf is the perfect way to expand your skills, discover our area and experience the beauty of spring.