Heart of Illinois Hospitality Association (HOIHA) in partnership with Enjoy Peoria presents "Ignite the Guest Experience". A hospitality training seminar scheduled for October 28.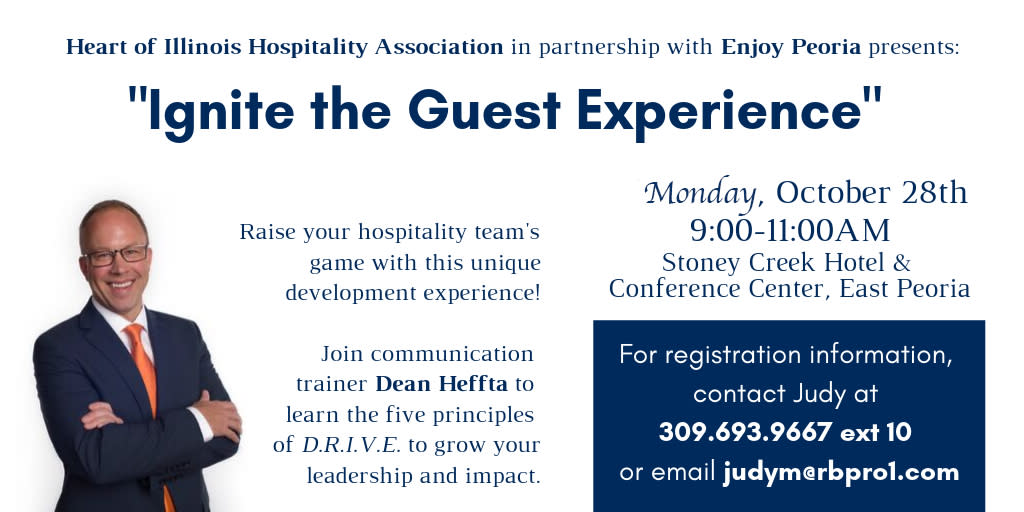 The Heart of Illinois Hospitality Association (HOIHA) in partnership with the Peoria Area Convention and Visitors Bureau (Enjoy Peoria) presents "Ignite the Guest Experience" hospitality training seminar on Monday, October 28 at the Stoney Creek Hotel & Conference Center in East Peoria. 
Seminar participants will learn insights to improve performance from communication and leadership development trainer Dean Heffta. Heffta boasts an extensive background in sales and consulting, as well as a master's degree in Business from Drake University. 
"High-performance hospitality starts with building a solid foundation that can be built upon. This training is all about that foundation," Said Heffta. "Success in hospitality means building a great reputation, and great reputations rely on well-trained staff. this is a tailor-built experience designed exclusively for Peoria area hospitality professionals thanks to hours of round-table insights. 
"We are happy to host this seminar with a speaker of Dean's caliber," said Carl Bunker, HOIHA Executive Board/Association Manager. "A positive guest experience is vital to any company's success in today's competitive business climate." 
"Every business is an ambassador of the Peoria area and that begins and ends with front line team members," said J.D. Dalfonso, Enjoy Peoria President/CEO. "As online services and crowd-sourced business reviews continue to impact performance and profits, excellent guest service is the most essential tool a company has to strengthen its foothold in the community." 
Registration is open until October 22 and is free for HOIHA members and Enjoy Peoria partners. Non-members are invited to attend for $75 per company. To register, contact Judy at (309)693-9667 ext. 10 or e-mail judym@rbpro1.com. 
The Heart of Illinois Association's mission is to provide leadership for the members by developing and maintaining a most favorable public attitude toward the hospitality industry in Central Illinois. To collect, analyze, discuss and disseminate information concerning affairs of the area hospitality industry. 
---
For full information on events going on in the Central Illinois area be sure to check us out at www.enjoypeoria.com or consult our Experience Guide.