The Peoria Area Convention and Visitors Bureau (Enjoy Peoria) and the Peoria Innovation Alliance are excited to announce the opening of a retail incubator, learning lab, podcast studio and Downtown Visitor's Center coming to the newly formed Innovation District in Downtown Peoria called Peoria Made.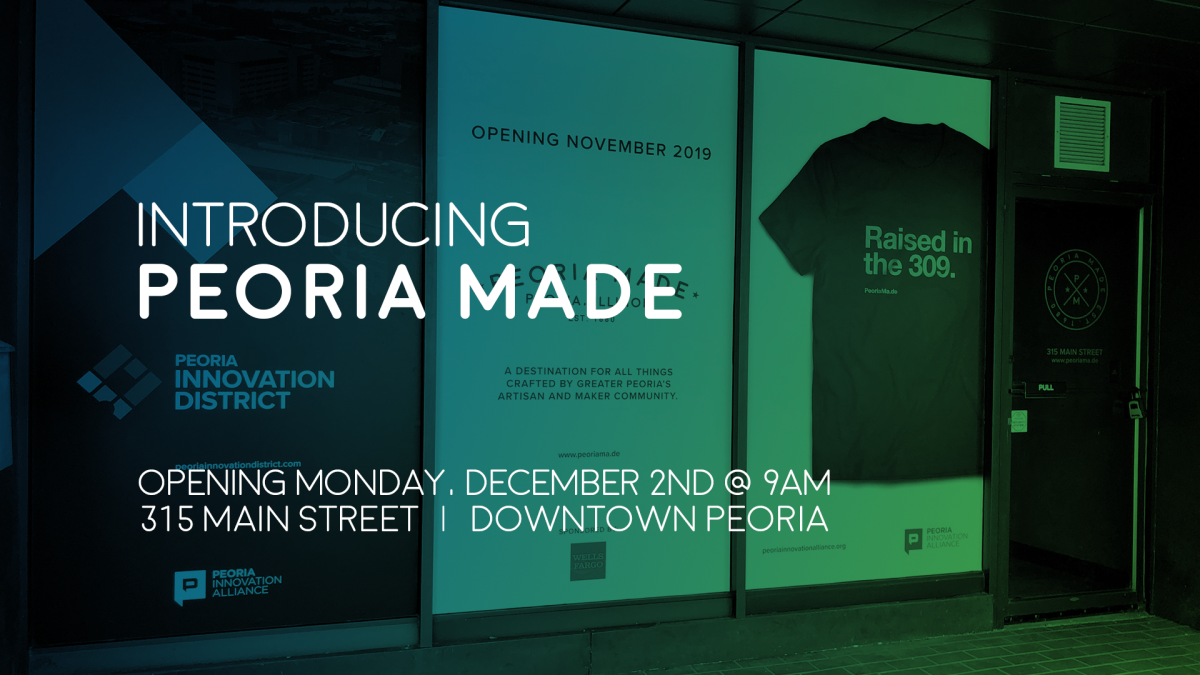 In celebration of Global Entrepreneurship Week and thanks to a partnership with the Peoria Innovation Alliance as well as a generous sponsorship from Wells Fargo, Enjoy Peoria is excited to announce the launch of Peoria Made at 315 Main Street in the recently established Peoria Innovation District. 
"Wells Fargo is proud to support the Peoria Made initiative created by the Peoria Innovation Alliance," says Jason Clay, Vice President of Commercial Banking at Wells Fargo. "Peoria Made will give local makers and artisans the resources to reach both local and national audiences to showcase all the amazing things being created and crafted right here in Peoria. We look forward to continued support of the collaborative efforts of the Peoria Innovation Alliance that better position the Greater Peoria Region for our future economy." 
"The retail storefront previously occupied by Riley's Cupcakes will serve as a catalyst for all of downtown Peoria by bringing increased food traffic to a key city corridor, serve as a convenient and centralized location for regional visitors, and most importantly provide visibility and continued positive momentum for our regions artisans, makers, and entrepreneurs" says Peoria Innovation Alliance Executive Director, Jake Hamann. 
The newly revived and redecorated 315 Main Street location will house the following components: 
Peoria Made Retail Incubator: Led by a group of local artists and artisans, the retail incubator will launch with nearly 15 merchants displaying a wide range of tangible goods that are inventive, original, artisan and authentically Peoria. 
"How exciting to see an eCommerce platform emerge that will be available to showcase local artists and artisans," says Jenn Gordon, Executive Director of ArtsPartners. "Couple this with Peoria Made's retail incubator and storefront and you have a project that can really offer some tangible benefits and supports to entrepreneurially-minded artists in the area." 
Downtown Peoria Visitors Center: Enjoy Peoria is excited to announce the new Downtown Peoria Visitors Center which will feature visitor information and literature, as well as a branded photo opportunity for guests to experience and capture their visit to Peoria. 
J.D. Dalfonso, President of the Peoria Area Convention & Visitors Bureau says, "The Peoria Made space will be a wonderful meeting of the historic, innovative, and cultural elements of our community. The Peoria Area Convention and Visitors Bureau is excited to help with this new adventure in the heart of downtown Peoria, along one of the original blocks on Main Street. The space will showcase area talent and be an incubator for how the community will continue to evolve and flourish. 
Without a doubt, the space is a perfect location for Enjoy Peoria to bring back - on a small scale - a storefront visitor information location, where visitors and residents alike can learn more about our communities." 
Podcast Studio: In collaboration with Widecast, the Peoria Made space will feature a small podcast studio aimed at providing early-stage entrepreneurs affordable and convenient access to the tools and resources needed to record and produce a simple podcast. Through the Widecast partnership, users will then have an opportunity to enhance their recordings and explore options for wider distribution through various media channels. 
Learning Lab: Entrepreneurial education is an additional strategic initiative of the Peoria Innovation Alliance. the physical learning lab at the Peoria Made space will offer entrepreneurs the opportunity to attend and actively participate as well as creating valuable and practical mentorship opportunities for both mentors and mentees across the region. 
Peoria Made will be hosting the Greater Peoria Homecoming event on Friday, November 29th from 4:30 p.m. - 6:30 p.m. as part of Yule Like Peoria. The space will officially open to the public on Monday, December 2nd at 9:00 a.m. Operating hours are TBD. 
For additional information, please email info@peoriama.de. 
---
For more information about the Peoria Area or events going on check out www.peoria.org or consult our Experience Guide.