St. Jude has a long, storied history in Peoria. When the St. Jude Midwest Affiliate opened in 1972, it was the first domestic affiliate for St. Jude Children's Research Hospital in Memphis, Tennessee. Today, their vision to eradicate childhood cancer is thoroughly embedded in the Peoria community through the St. Jude Runs.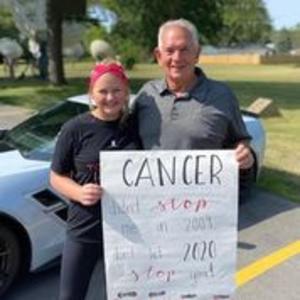 In 1981, Gene Pratt and Mike McCoy began talking about ways to raise more money for St. Jude. After great deliberation, they decided on a 465-mile, relay-style run from Memphis to Peoria. The following year, 21 brave souls agreed to take part in the first annual St. Jude Memphis to Peoria Run. The event coincided with the 1982 St. Jude Telethon, where the runners presented a check for $22,500. 
Auxiliary runs were born in 1984, allowing those who couldn't commit to the five-day Memphis trip to participate. There are now 35 auxiliary runs, in addition to the flagship Memphis to Peoria Run. To date, the Peoria Runs have raised nearly $67 million and made a life-saving difference for the children of St. Jude.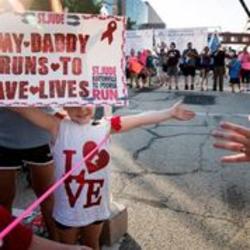 St. Jude conducts more clinical trials for childhood cancer than anyone else and has the world's best survival rates. It freely shares its discoveries, so every child saved at St. Jude means doctors and scientists worldwide can use that knowledge to save thousands more. Thanks to generous donors and fundraising efforts like St. Jude Runs, families never receive a bill for treatment, travel, housing or food.
With thousands of volunteers and runners every year, a community has grown up around the St. Jude Runs. Much has changed in 40 years; but one thing has not--why the runners do this. They run to give every child a chance to grow up, and to remember those who didn't.
---
Other Runs & Races
The Peoria area is a hotbed for races and runs! Here are some more popular options:
The Steamboat Classic attracts runners from around the world and around the block. It is an equal-opportunity event, welcoming walkers, joggers and runners of all ages and ability levels.
Hosted by ShaZam Racing, the Whiskeydaddle features a Boston-qualifying marathon, downtown flat, fast 5K and more.
The Illinois Valley Striders' Fall Classic 12K winds through lower Glen Oak Park and continues through historic Springdale Cemetery and Steamboat Classic 15K hill.
Many other charity runs provide opportunities for people of all ages and abilities to hit the pavement and give back to the community.