The Peoria Symphony Orchestra is proud to announce HerStory: A Tribute to Betty Friedan. This concert is a once-in-a-lifetime opportunity and an historic occasion for Peoria, taking place November 20, 2021 at 7:30 PM at the Peoria Civic Center Theater. Hear the world premiere of music composed in honor of the internationally famous Peorian Betty Friedan for the centennial of her birth. Credited with starting the second wave of feminism, Friedan authored The Feminine Mystique and co-founded the National Organization for Women.
The program will be narrated by Deborah F. Rutter, President of the John F. Kennedy Center for the Performing Arts in Washington, D.C. and sung by the internationally renowned mezzo-soprano Michelle DeYoung. Rising star violinist Sirena Huang will collaborate with them and the Peoria Symphony Orchestra conducted by George Stelluto. Peoria's Mayor Rita Ali will make opening remarks.
The concert features the music of the PSO's 2021-22 Composer-in-Residence Stephanie Ann Boyd, as well as the world premiere of her piece, Everywoman: A Friedan Centennial Memoire, written in honor of Friedan.
Regarding the concert, Maestro George Stelluto comments:
"The work that Betty Friedan began over sixty years ago is still being carried on today. It's exciting that we will celebrate her centennial birth year with the beautiful music of the PSO's first woman composer-in-residence Stephanie Ann Boyd.
And to have international celebrities like singer Michelle DeYoung and Deborah Rutter, President of the Kennedy Center for the Performing Arts in Washington, DC joining us for the performance underscores the importance of Betty's legacy!"
Deborah Rutter, the President of the Kennedy Center and global cultural leader, notes:
"Betty Friedan's iconic work and powerful voice catalyzed the women's rights movement nearly 50 years ago. Her influence remains poignant today as we gather in Friedan's hometown for her centennial celebration. I'd like to thank the Peoria Symphony Orchestra and George Stelluto for inviting me to be part of this wonderful program created by composer-in-residence Stephanie Ann Boyd. I'm proud to add my voice to the chorus of many in lifting up the important and inspirational stories of women past, present and future."
The concert features three works by Boyd: Sybil, a lush, vivacious violin concerto Boyd wrote at 19; Sheltering Voices, a hauntingly beautiful cantata for voice and orchestra that the Boston Globe praised for its "ethereal dissonances"; and Everywoman: A Friedan Centennial Memoire, a work that treats its audience as an intimate being told a series of personal triumphs and tribulations as it traces moments of gravity in Betty Friedan's life from her college-age musings to the world-changing victories in her call for equality.
About the Featured Artists
Stephanie Ann Boyd · Composer
PSO 2021-22 Composer-in-Residence Stephanie Ann Boyd's music has been praised as "a racing, brassy score" (New York Times), "attractive lyricism" (Gramophone), "[with] ethereal dissonances" (Boston Globe), "[music that] didn't let itself be eclipsed" (Texas Classical Review), "arrestingly poetic" (BMOP), and "wide ranging, imaginative" (Portland Press Herald).
Boyd's music has been commissioned and performed by concertmasters of the BBC Symphony Orchestra, Singapore Symphony, New York City Ballet Orchestra, Des Moines Symphony, Faroe Islands Symphony, Anchorage Symphony Orchestra, Fort Smith Symphony, Arkansas Philharmonic Orchestra, and principal players in the Colorado Symphony Orchestra. Her music has been commissioned and/or played by the Boston Modern Orchestra Project, New England Conservatory Philharmonic, Cape Cod Chamber Orchestra, New York Jazzharmonic, River Oaks Chamber Orchestra, Roosevelt University Orchestra, Eureka Ensemble, JVL Festival Orchestra, Texas State University Symphony, Cremona International Academy Orchestra, UW La Crosse Symphony, Detroit Civic Orchestra, and the El Paso Youth Symphony.
Stephanie's work has been presented by the Thalia and her Sisters concert series, the Moirae Ensemble, and Sandcastle New Music in New York City; Æpex Contemporary Music in Michigan; Juventas New Music, Collage New Music, and the New Gallery Concert Series in Boston; Cincinnati Soundbox, and others. Stephanie has worked with conductors such as Andrew Litton, Lina Gonzales, Earl Lee, Nathan Aspinall, Cliff Colnot, Gill Rose, Julian Benichou, Kristo Kondakci, and Kevin Fitzgerald. For more information, visit stephanieannboyd.com.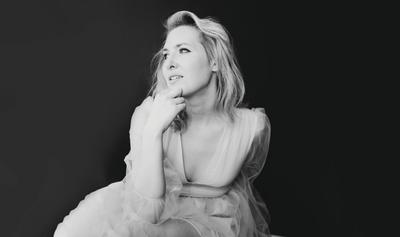 Deborah Rutter · Narrator
In an age marked by social and technological change, Deborah Rutter has emerged as one of the nation's most adroit leaders in the arts, combining artistic daring with fiscal sustainability, inclusivity, and responsiveness to the needs of the community. Ms. Rutter began as president of the John F. Kennedy Center for the Performing Arts on September 1, 2014, and serves as curator of the Kennedy presidential memorial, and artistic and administrative director to the world's busiest performing arts center. In an ever-expanding celebration of JFK's legacy, the Center presents theater, contemporary dance, ballet, vocal music, chamber music, hip hop, comedy, international arts, and jazz, alongside dynamic seasons with the Kennedy Center's world-class affiliates: the National Symphony Orchestra and Washington National Opera.
As the work of a living memorial is never finished, Rutter is advancing the Center's commitment to 21st-century programming. After breaking ground in her first year at the Kennedy Center, Ms. Rutter launched a transformative arts facility in 2019, the REACH, which provides flexible indoor and outdoor performance space to nurture new art, community, innovation, arts education, and informal encounters between the artist and the public. Designed by renowned architect Steven Holl, the REACH graces the southern end of the campus and connects the Kennedy Center to the popular pedestrian and bicycle trail along the Potomac River.
Working at the vanguard of community engagement, Ms. Rutter manages one of the nation's most extensive arts education networks, reaching millions of people of all ages across all 50 states with live performances, as well as providing multidisciplinary arts training and support to schools, students, children at risk, teachers, artists, and civic leaders. Today, Ms. Rutter is reshaping Kennedy Center offerings to include more artist-led programming while challenging people across the industry to reimagine creative expression through the lens of cross-disciplinary collaborations.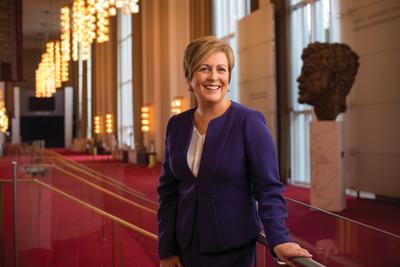 Michelle DeYoung · Mezzo-Soprano
Mezzo-Soprano Michelle DeYoung continues to be in demand throughout the world, appearing regularly with the New York Philharmonic, Boston Symphony Orchestra, Chicago Symphony Orchestra, Cleveland Orchestra, San Francisco Symphony, Pittsburgh Symphony Orchestra, London Symphony Orchestra, BBC Symphony Orchestra, Vienna Philharmonic, and the Concertgebouworkest. She has also performed at the prestigious festivals of Ravinia, Tanglewood, Saito Kinen, Edinburgh, and Lucerne. In Australia she has appeared multiple times with the Sydney Symphony and recently sang Kundry in concert performances of Parsifal at Opera Australia.
Equally at home on the opera stage, Ms. DeYoung has appeared with the Metropolitan Opera, Lyric Opera of Chicago, Teatro alla Scala, Bayreuth Festival, Berliner Staatsoper, and Paris Opera. Her many roles include Fricka, Sieglinde and Waltraute in The Ring Cycle; Kundry in Parsifal, Venus in Tannhäuser, Brangäne in Tristan und Isolde, Eboli in Don Carlos, Amneris in Aida, Santuzza in Cavellaria Rusticana, Ježibaba in Rusalka, Marguerite in Le Damnation de Faust, Dido in Les Troyens, Judith in Bluebeard's Castle, and Jocaste in Oedipus Rex. She also created the role of the Shaman in Tan Dun's The First Emperor at the Metropolitan Opera.
A multi-Grammy award-winning recording artist, Ms. DeYoung's impressive discography includes Das Rheingold, Die Walküre, and Götterdämmerung with the Jaap van Zweden and the Hong Kong Philharmonic Orchestra (Naxos); Kindertotenlieder, Mahler's Symphony No. 3, and Das Klagende Lied with Michael Tilson Thomas and the San Francisco Symphony (SFS Media); Les Troyens with Sir Colin Davis and the London Symphony Orchestra (LSO Live!); and Mahler's Symphony No. 3 with both the Chicago Symphony Orchestra and Bernard Haitink (CSO Resound) and the Pittsburgh Symphony and Manfred Honeck (Challenge Records International). Her most recent recording of Mahler's Das Lied von der Erde with the Shanghai Symphony Orchestra (Deutsche Grammophon) was released in July 2021.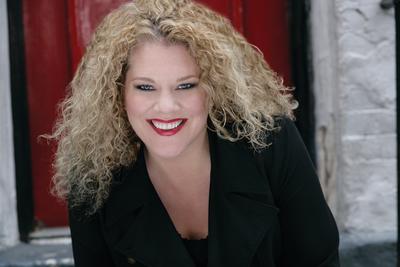 Sirena Huang · Violin
Praised by The Baltimore Sun for her "impeccable technique… deeply expressive phrasing… and poetic weight," Sirena Huang is one of her generation's most celebrated violinists. She brings not only technical brilliance and powerful artistry to the stage, but also a profound sense of connection to her audience.
Sirena has been the recipient of numerous accolades and awards. In 2017, she was awarded First Prize at the Elmar Oliveira International Violin Competition and later that year, she was the winner of the New York Concert Artist Worldwide Debut Audition. In 2009, she won First Prize Gold Medalist of the 6th International Tchaikovsky Competition for Young Musicians. She won First Prize and the Audience Award at the Cooper International Competition in 2011. That same year, she was also named the first Artist-in-Residence of Hartford Symphony Orchestra. In 2013, she was awarded the Hannloser Prize for Violin at the Verbier Music Festival in Switzerland. She is also a top prize winner at Singapore International Violin Competition, as well as the Shanghai Isaac Stern International Violin Competition.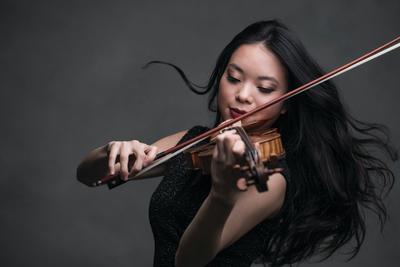 Concertgoers are invited to stay after the concert for a reception in the Peoria Civic Center Theater's lobby.
There will be a number of events surrounding the concert that are open to the public.
On Monday, November 15 at 7:00 PM, the Peoria Symphony Guild will host a Musical Monday entitled Women in Music. Guests will explore compositions by Stephanie Ann Boyd, who will perform with violinist Sirena Huang at 7pm. The event is free to Guild members and $5 for the general public.
In collaboration with the Peoria Riverfront Museum, the PSO presents 28 Minutes with Betty Friedan: Interview Screening and Q&A at the Peoria Riverfront Museum, Tuesday, November 16, 2021. Doors open at 5:00 PM with the screening at 5:30 PM. In 1999, PBS affiliate WTVP and Barb Drake, Peoria Journal Star reporter and Bradley alumna, interviewed Women's Movement icon Betty Friedan. The 28-minute interview discussed Friedan's childhood in Peoria, IL and how the community impacted her writing and actions that inspired a second Feminism wave in the United States. The screening will be followed by a Q&A with Barb Drake. Snacks, soft drinks, water, wine, and beer will be available to purchase from concessions.
On Wednesday, November 17, 2021, the public is invited to a Lunch and Learn event at the Peoria Symphony Orchestra Cube (101 State Street), with doors at 11:30 AM and program at noon. Join the conversation with Stephanie Ann Boyd as she talks about her new piece Everywoman: A Friedan Centennial Memoire. She will explore her composition methods and you will get a sneak peek of the new piece. Stephanie will be joined by Maestro George Stelluto and violinist Sirena Huang. Bring your lunch, beverages and cookies provided. Visit the PSO website for more information. 
Throughout the month of November, the public can view an exhibit entitled Peoria Women NOW at the Peoria Art Guild, 203 Harrison Street, Peoria, IL 61602, during the Peoria Art Guild's normal business hours. Peoria Women NOW is a Peoria Art Guild exhibit in collaboration with Big Picture Initiative. This exhibit celebrates the work of contemporary central Illinois women artists and what they have contributed to our local arts community. The exhibit will be on display through the month of November in the Peoria Art Guild's Project Space.
A special exhibit about Betty Friedan will be on display in the main-level display case at the Peoria Riverfront Museum. WTVP has condensed Barb Drake's 1999 interview with Friedan into a half-hour program which museum visitors may enjoy. In addition, the museum is offering supplemental educational materials for teachers, created by members of the PSO's Betty Friedan committee, aimed at students in grades six through 12. The lesson plan shares details of her life and how she influenced the world in seeking justice and rights for women. The 10-minute presentation is intended to encourage teachers to share in their classes and suggests activities that may be used for deeper discussion. The materials can be found riverfrontmuseum.org.
HerStory: A Musical Tribute to Betty Friedan is sponsored by Sid & Flo Banwart, Gilmore Foundation, Conductor's Circle, Barbara J. Glick, and The Meredith Foundation. This program is partially supported by a grant from the Illinois Arts Council Agency.
You can stay informed about the PSO by visiting peoriasymphony.org, the PSO's Facebook page (facebook.com/peoriasymphony), as well as our Twitter and Instagram accounts (@peoriasymphony). Those with questions can email patronservices@peoriasymphony.org or call 309.671.1096.
About the Peoria Symphony Orchestra
Founded in 1897, the Peoria Symphony Orchestra (PSO) is a 501(c)(3) tax-exempt, not-for-profit organization whose mission is to entertain, educate, and inspire through music. The PSO presents excellent live musical performances, innovative music education programs, and engaging community outreach efforts, which significantly impact the cultural and economic vitality of Central Illinois.