There's so much to do in the Peoria area, and plenty of places to see live music. Whether you've caught an afterparty show at Kenny's Westside Pub, or got your country music fix at Tailgates N' Tallboys hosted by the Louisville Slugger… There's no better place to see your favorite local and national acts than in the Heart of Illinois. In honor of National Music Day, Discover Peoria wanted to help you out with some details about some of our favorite places to see live music in Central Illinois.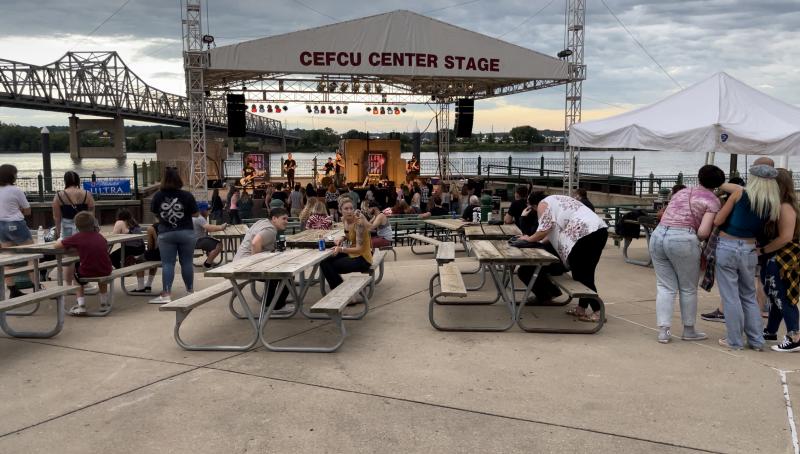 CEFCU Stage
The CEFCU stage @ The Landing on the Peoria Riverfront is the premier outdoor concert venue in Downtown Peoria. With the Illinois river behind the stage, it's the perfect backdrop for Spring and Summer music festivals. 
State and Water Street hosted by local PBS affiliate WTVP is a great place to see music… from the comfort of your own home! The station invites local and national bands to perform in their studio and after some production magic, broadcasts the shows live on television. If you miss the broadcast, be sure to check out their website and social media where you can find recordings of the concerts and watch them anytime you wish!
We love seeing shows at vineyards… the open air, the scenic views and great wine is the perfect recipes for a memorable night. We recommend checking out the stages at Kickapoo Creek Winery or Mackinaw Valley Vineyard for an unforgettable viewing experience.
Kenny's Westside Pub is synonymous with local music in Peoria, with owner Sean Kenny making his presence known not only in his own venue but at concerts and festivals across central Illinois. 
Touch of Grey Cafe is a Grateful Dead-inspired venue in West Peoria, offering coffee, donuts, paninis and more. The cafe offers a truly unique experience in terms of establishment decor, its theme hinging on the popularity of arguably one of the greatest Jam bands of all time. 
Peoria Civic Center Theater
And of course, the Peoria Civic Center, a jewel of the city that has featured major touring artists and circus performers alike, musicals and so much more. This incredible multipurpose event facility boasts a 2,196 seat theater and a separate arena with seating for just over 11,000 people. If you like live music and want to see the hottest acts visiting Peoria, be sure to keep a sharp eye on the Civic Center's website.
---
And as always, for more information on all these venues and more, be sure to check out our event calendar for all the upcoming shows scheduled in the Heart of Illinois.