"Current findings from a recent "Destination Analysts" Survey suggests that, while Americans historically fear travel through times of crisis, 66 percent of Americans agree they "cannot wait to get out and travel again." And in, the interim, 55.4 percent of American travelers have been taking action to support local businesses within their communities. To summarize, people miss traveling and our recovery begins here at home," says J.D. Dalfonso, PACVB President/CEO. 
While travel is still restricted throughout most of the country and the state of Illinois, due to the Coronavirus, what a better opportunity than to discover new places or rediscover a hidden gem right in your own backyard. Check out these 5 things you can to do for a staycation right here in central Illinois. 
Book a Tee Time at one of the 20 golf courses in the area
As of May 1, 2020, Governor J.B. Pritzker has allowed golf courses around the state of Illinois to reopen with Operational Restrictions. The Peoria area is fortunate to have many golf courses around the seven counties that Enjoy Peoria represents which feature beautiful native Illinois trees surrounding the courses and wildlife. Check out our golf section under Attractions on our website to decide which course to play at today or during your staycation. 
Work from Hotel Room or Stay the Night
Working from home can make it hard to focus or maybe you have a big presentation with the boss and you need to get out of the house so you can knock out it. Luckily, some central Illinois hotels are offering office day rates for locals who need a quiet place to work while practicing social distancing. Below is a list of local hotels that are offering day rates that you can work out of! 
The Embassy Suites by Hilton in East Peoria. Embassy Suites is also offering discounted rates for essential travelers including first responders and medical professionals. 

All the Petersen Hotels (Candlewood Suites, Country Inn & Suites, Hampton Inn & Suites, Holiday Inn & Suites, Holiday Inn Express & Suites and Wingate by Wyndham) starting at $50 for the day. 
All Petersen Hotels are also currently offering special staycation room rates, based on availability, so you don't have to wait until the Shelter in Place Order has been lifted to enjoy an extra special staycation and explore central Illinois like you never have before. 
Not ready for your staycation right now? You can still book a room now for later in the year! Did you know that more than half of people who plan their vacations or staycations in advance (56%) have taken a vacation in the last six months, compared to just 36% of nonplanners, according to the U.S. Travel Association? You can check out all of the great central Illinois hotels at our website under Accommodations. 
Hiking the Illinois River Valley
When the Illinois River Valley was formed thousands of years ago, it created amazing hiking trails and sites for central Illinois residents to discover. 
The Illinois Department of Natural Resources has partially reopened 24 state parks effective Friday, May 1, 2020, in conjunction with the Restore Illinois plan. In the heart of Illinois, two State parks have been included in that plan, Jubilee College State Park and the Rock Island Trail. The Peoria Park District has also opened up their parks and trails for hiking, walking and biking during the Shelter in Place Order with more than 50 miles worth of opportunity! But some of the Peoria Park District facilities remain closed including all playgrounds and basketball courts. 
With over three-thousand acres to explore, Jubilee College State Park is a great place to hike (the highest elevation is 660 feet), fish (smallmouth bass, bluegill, catfish and carp) or have a picnic to enjoy the warm weather. 
What was once a passenger and freight railroad trail is now more than 26 miles of uninterrupted nature on the Rock Island Trail. Located in the Grand Prairie Division, a vast plain formerly covered with tall prairie grasses, the trail has reverted back to nature, with much of the prairie returning. North of Princeville lies a dedicated Class B Illinois Nature Preserve with fourteen acres that have been restored to the native prairie at the Kickapoo Creek Recreation Area. 
Keep Calm and Carry Out 
With the current shelter in place order until May 30, date night or discovering a new restaurant looks a little different right now. But, our central Illinois local restaurants still need our support, more now than ever. So, Keep Calm and Carry Out from your favorite, or a new place you've always wanted to try, restaurant. A full list of restaurants participating in carryout and delivery can be found on the homepage of our website. 
Post a picture of what you order on social media by tagging us, @EnjoyPeoria, and also feel free to use one of the Keep Calm and Carry Out city graphics pictured below that matches where you ordered your food from. #EnjoyPeoria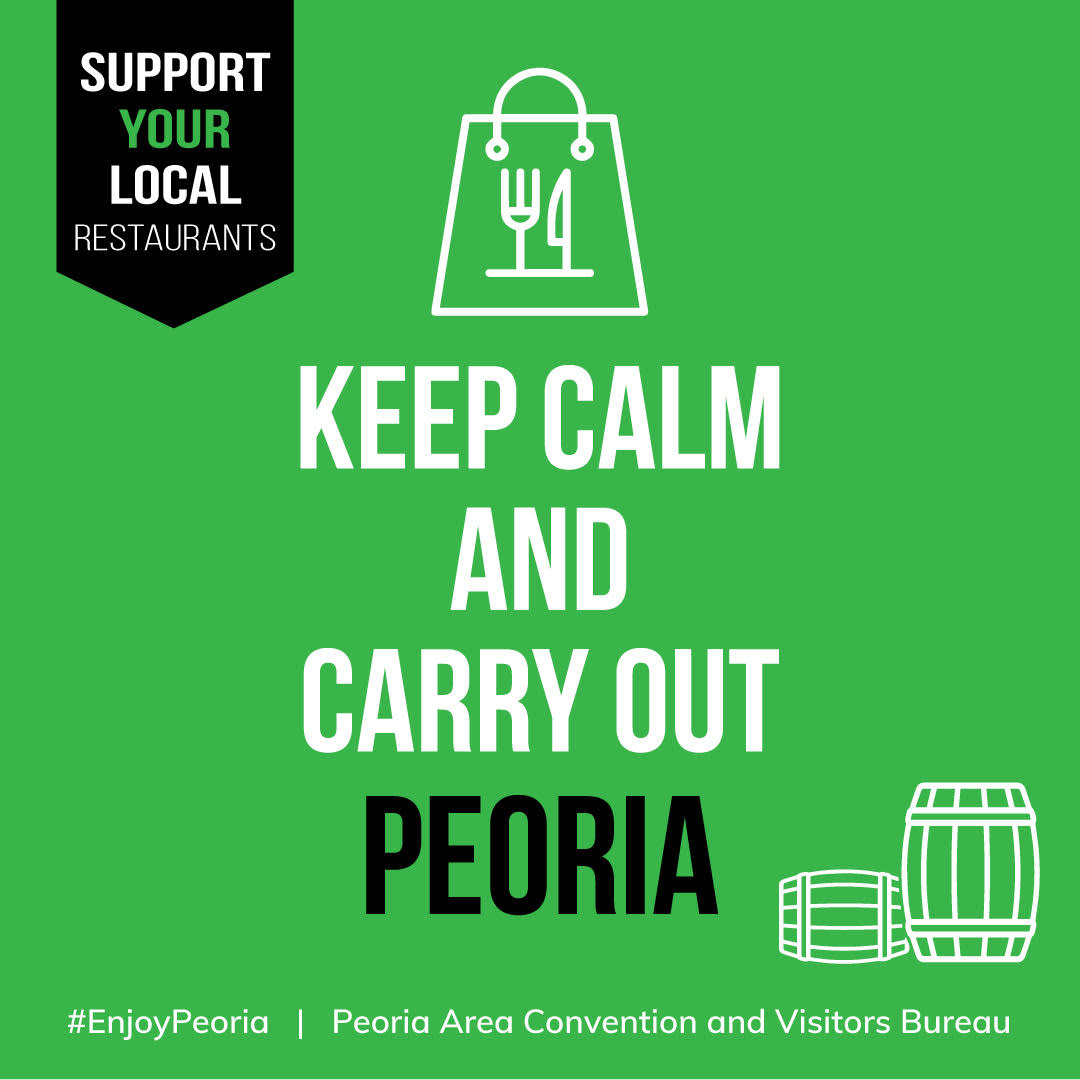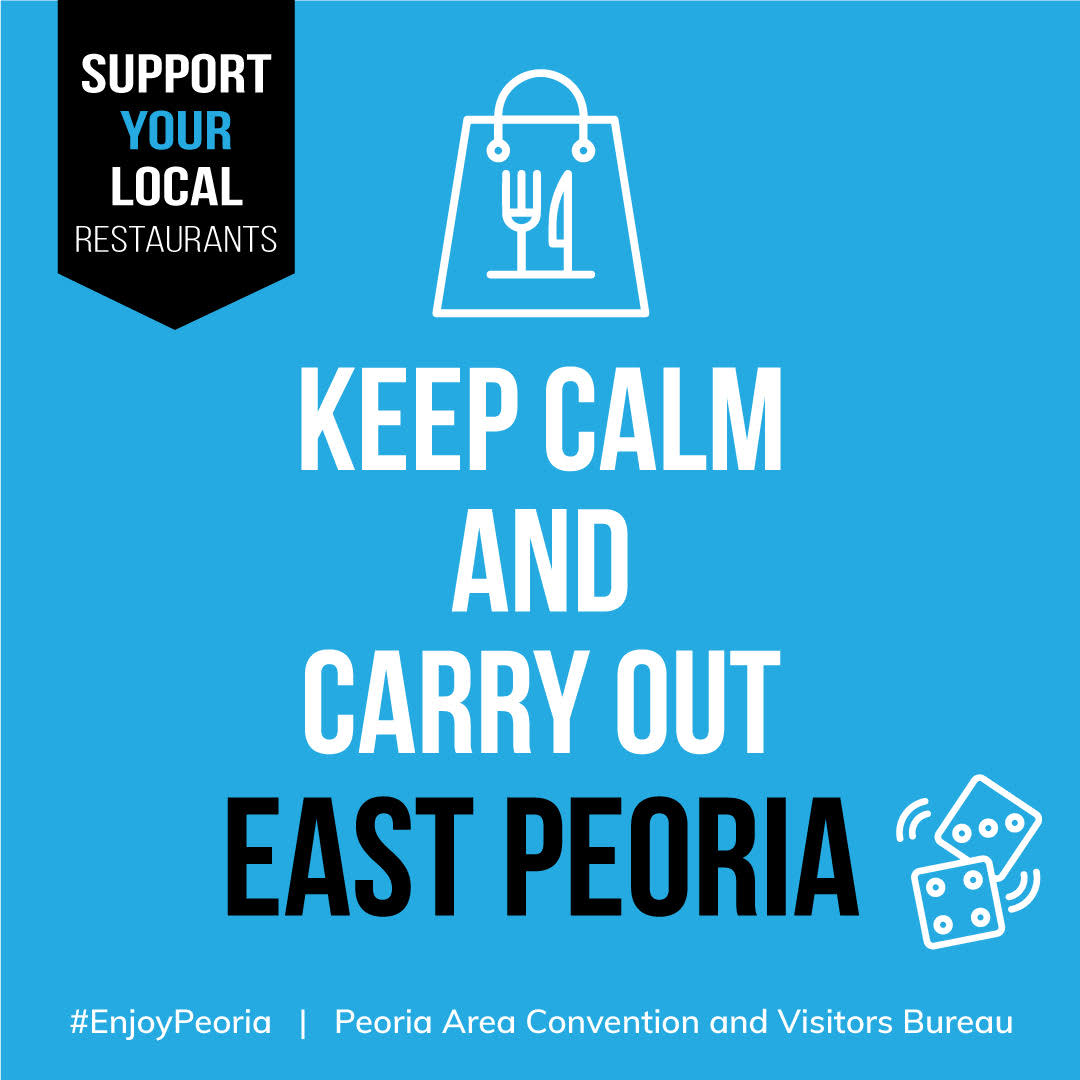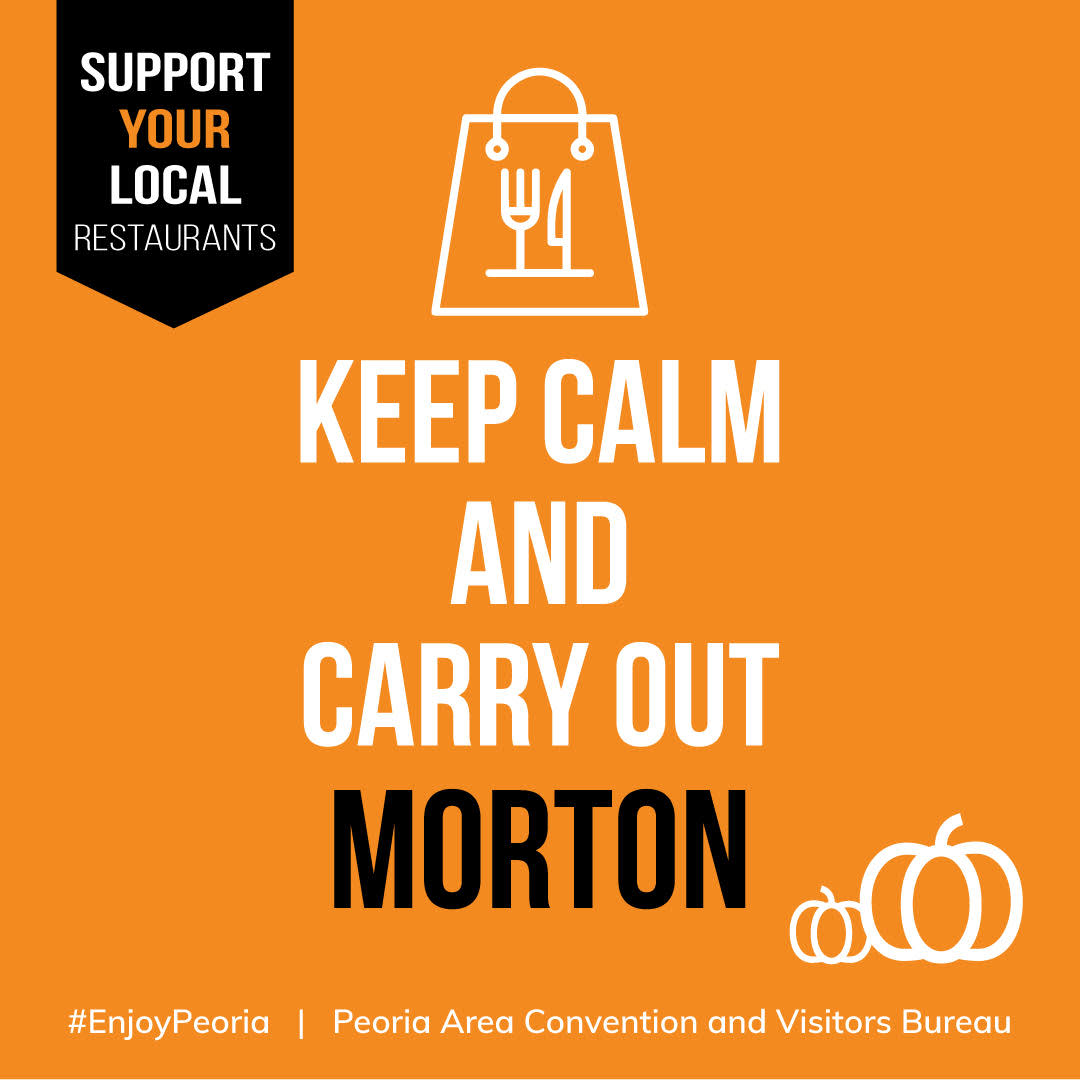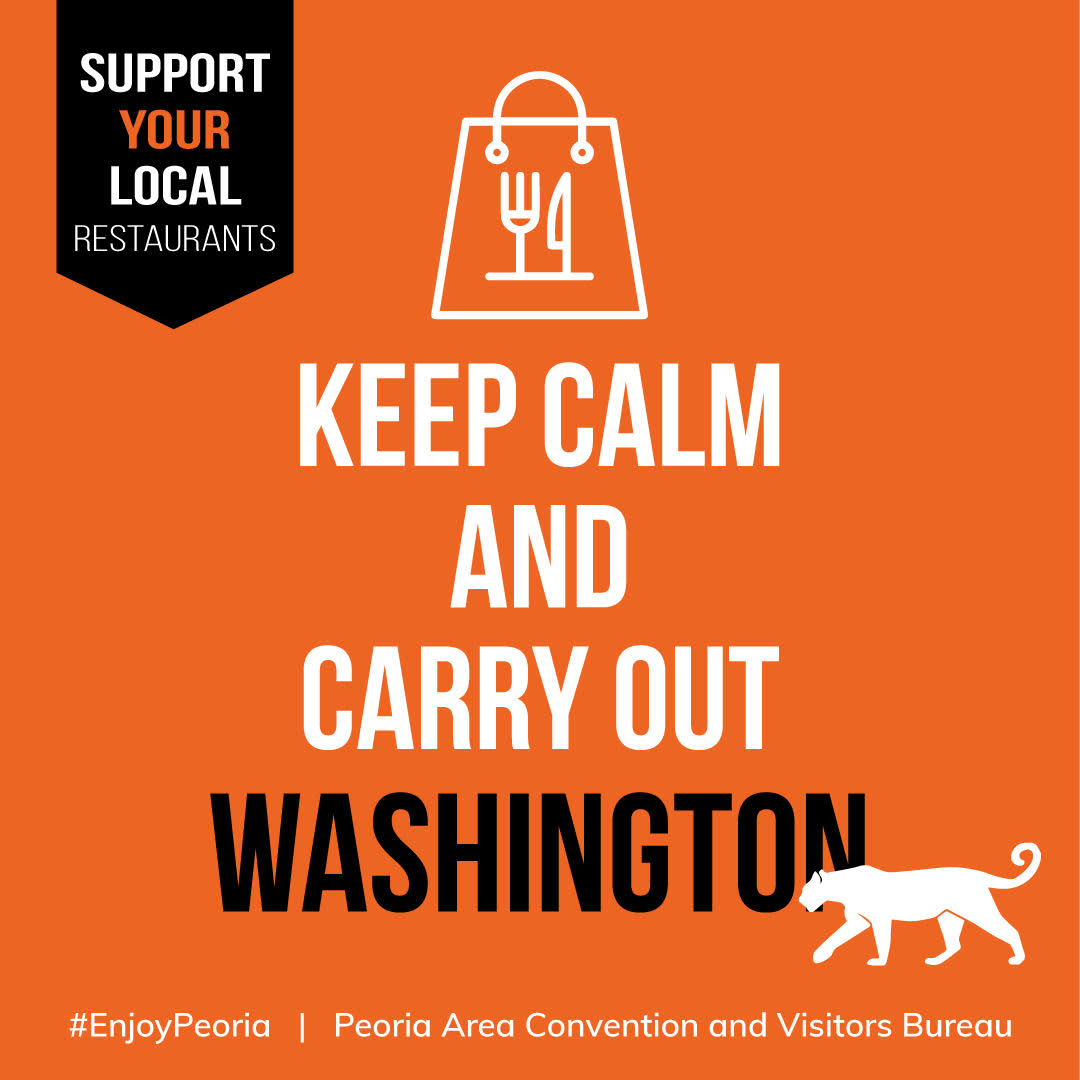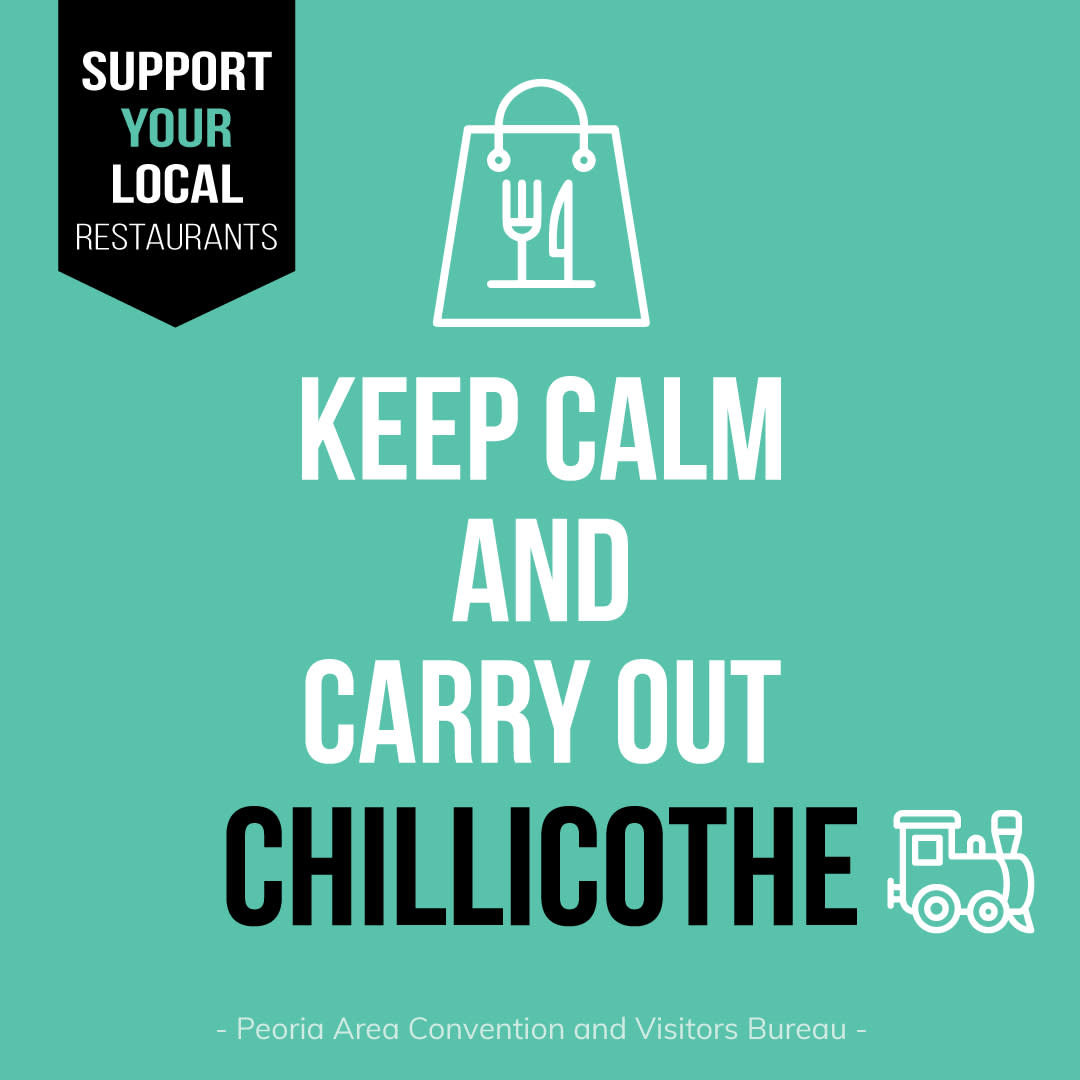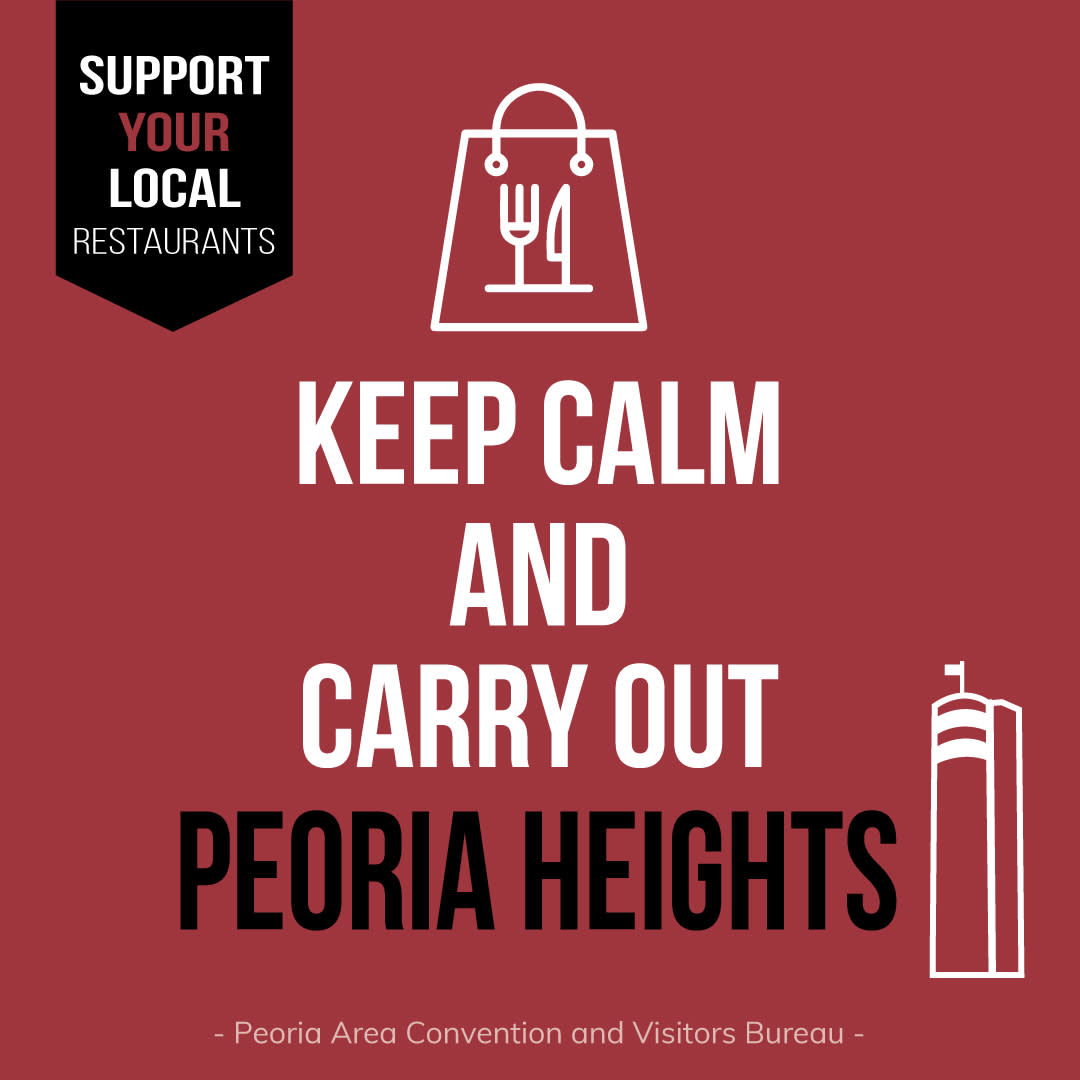 Virtual Tours & Rewatching the Enjoy Peoria: The At Home Sessions
With the current state of closures, it makes it harder to explore your surroundings like checking out the newest exhibit at the Peoria Riverfront Museum or enjoying the warm weather at the Peoria Zoo. Luckily, our amazing central Illinois partners have made it possible for you to experience all they have to offer, right from the comfort of your couch through virtual tours and activities that we've put together for you.  
Are you missing listening to live music at your favorite bar? Enjoy Peoria in conjunction with ArtsPartners of Central Illinois created the Enjoy Peoria: The At Home Sessions, which featured local central Illinois artists. The Enjoy Peoria: The At Home Sessions brings great live music right to your living room. Currently, there are 11 Volumes of the At Home Sessions and while there are no plans for more sessions, you can rewatch all of them on our website. 
---
The Peoria Area Convention and Visitors Bureau continues to monitor the latest developments regarding the Coronavirus (COVID-19) regionally and any potential impact it may have on our day-to-day operations, incoming conventions and events throughout the Peoria area. The health and safety of our region's residents and visitors is always our top priority.