The Basketball Tournament (TBT), a 64-team, $1 million winner-take-all event televised live on ESPN, today announced that Peoria, Illinois will serve as one of the regional sites for the 2021 event.  The Bradley University Alumni Team, Always A Brave, will be joined by the University of Illinois alumni team, House of 'Paign, as the two featured squads in the 16-team Illinois Regional, which will be held July 24-28 at the Peoria Civic Center's Carver Arena.
TBT is returning to Peoria for the first time since 2017 when Always A Brave hosted the 16-team Midwest Regional at Bradley's Renaissance Coliseum.
House of 'Paign, who made its TBT debut last summer in the event's 24-team "bubble" in Columbus, Ohio, was one of the event's most popular entrants. The Illini alumni team knocked off defending champion Carmen's Crew, the Ohio State alumni team, en route to an appearance in TBT's quarterfinals.
"The House of 'Paign fan base online was incredible last summer and we immediately knew we had to return to Illinois the first chance we got," said TBT founder and CEO Jon Mugar. "So we're excited to partner with our friends at Bradley University to host a regional. We expect an incredible field, anchored by alumni teams from notable Midwest programs outside of just Bradley and Illinois."
"As a first-year participant, last year's TBT was as memorable and exciting as we could've hoped for," House of 'Paign general manager and head coach Mike LaTulip said. "The support from the Illinois basketball program and fan base was tremendous, and a major reason why we are able to bring this great event to Peoria. The opportunity to play in front of fans donning the orange and blue once again is something that is beyond special and never taken for granted. We're currently in the midst of forming this year's House of 'Paign roster. We'll be bringing back some familiar faces from last year, while also adding some more Illini alums. Year two is here and we couldn't be more excited. I-L-L!"
Always A Brave, a staple of TBT's field during the early years of the event, makes its return to the 64-team field for the first time since 2018. The Bradley alumni team's best finish came back in 2016 when it made a run to TBT's semifinals.
"The Basketball Tournament is a high-level event that has provided a great opportunity to reunite Bradley Basketball alumni with the current team and our great fan base," said Bobby Parker, Bradley Associate Athletics Director and Always A Brave general manager during the team's previous three TBT appearances.  "TBT is run by a great team that has built an innovative and entertaining event and we are excited to bring The Basketball Tournament back to Peoria."
Early commitments for the 2021 Always A Brave roster include Auston Barnes (2013-15), Tony Bennett (2004-06), Darrell Brown, Jr. (2016-20), Nate Kennell (2016-20), Walt Lemon, Jr. (2010-14), Luqmon Lundy (2017-19), Patrick O'Bryant (2004-06) and Donte Thomas (2014-18).  Former Bradley point guard and Always A Brave veteran player Daniel Ruffin (2003-08) will serve as head coach with Chuck Buescher '67 once again serving as an assistant coach.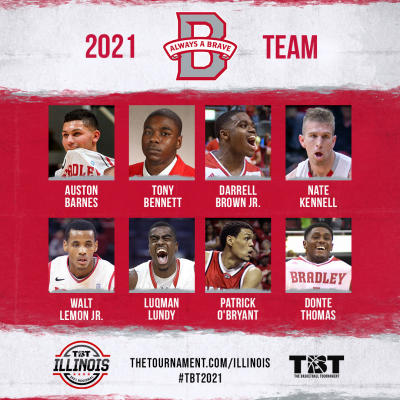 Additional roster announcements for both Always A Brave and House of 'Paign will be made at a later date.
Alongside Always A Brave and House of 'Paign, fourteen other teams will compete in the Illinois Regional from July 24-28, with all games shown on the ESPN family of networks. First-round games at Carver Arena will be played Saturday, July 24 and Sunday, July 25. Second-round games will all be played Monday, July 26, and two third-round games will be Wednesday, July 28.
Two teams from Illinois, as well as six other teams from TBT's three remaining regionals, will advance to Championship Weekend at the University of Dayton Arena in Dayton, Ohio, from July 31-Aug. 3. 
TBT 2021 once again will feature an open application process, allowing any team or group of players in the world to apply through TheTournament.com from May 1 - June 15. The 64-team, single-elimination bracket will be released on June 28. The field is expected to consist of international pros, college alumni teams, ex-NBA players, future NBA players and others. The 63 game event will take place July 16 - August 3. 
For the fourth year in a row, TBT games will feature the Elam Ending, the end-of-game format adopted by the NBA All-Star game for the past two years that eliminates the game clock after a certain point and features teams playing to a Target Score.
Regional Host Cities
Wichita, Kan. – headlined by AfterShocks (Wichita State alumni)  – July 16-20
Charleston, W.Va. – headlined by Best Virginia (West Virginia alumni) and Herd That (Marshall alumni) – July 17-21
Columbus, Ohio – headlined by Carmen's Crew (Ohio State alumni) and Red Scare (Dayton alumni) – July 23-27
Peoria, Ill. – headlined by Always a Brave (Bradley alumni) and House of 'Paign (Illinois alumni) – July 24-28
Championship Weekend in Dayton
Quarterfinals – Saturday, July 31 
Semifinals – Sunday, Aug. 1 
$1 Million, Winner-Take-All Championship – Tuesday, Aug. 3 
Tickets for TBT summer events can be found at thetournament.com/tickets. Tickets for the Illinois Regional will be sold at limited capacity beginning April 21, in accordance with all local health and safety regulations. Further tickets may be released at a later date, pending updated guidelines and availability. 
For venue-specific safety protocols, please visit thetournament.com/regions.