Teamwork is a vital part of any community, and if you're looking for things to do with a group you've come to the right place. The Peoria area is filled with opportunities that require you to work with others and will help you to grow relationships within a team. Visit any of these locations with your group for an enjoyable team building experience!
Escape 60
Escape 60 in Peoria gives groups the chance to work together and think on their feet during a live escape room adventure. Choose from a number of escape rooms with different tasks and show off your problem solving skills in a high pressure environment. You may have to find a serial killer, disarm a missile that's about to explode, or save all of mankind! 
Escape Town Peoria
Also a location providing the area with escape room adventures, Escape Town Peoria encourages groups to take on a challenge and work together to break out of an interactive and creative escape room. Pick a room theme with options ranging from a party house to a wild west jailbreak, and get ready to use your critical thinking skills. 
Round1
Your group is guaranteed to have fun at Round1, a destination in Peoria known for arcade games and excitement. Get to know your team members during a game of bowling, billiards, ping pong or darts. Don't be afraid to sing your heart away during a round of karaoke, or enjoy their kids zone play area and some pizza or wings!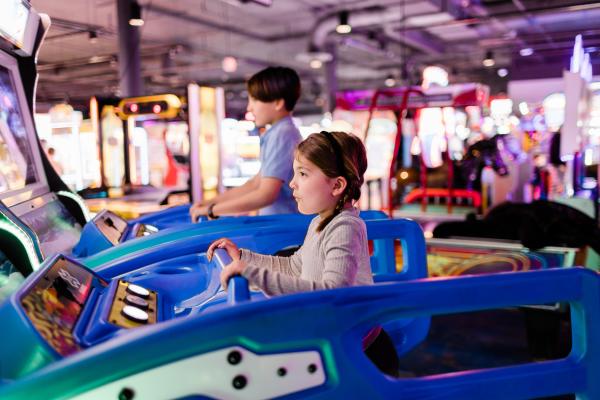 Pekin Park District 
Does your group have a love for learning? The Pekin Park District is the perfect destination for adventuring and programs that will not only get you moving but will teach you new skills. With hiking and biking trails, ice skating, horseback riding, athletic fields and more, there's plenty of opportunities for fun and discovery. Enjoy a game of golf or mini golf, or break out of your comfort zone by renting paddle boats and boating on the lagoon!
Lick Creek Golf Course
Considered to be one of the best golf courses in Central Illinois, Lick Creek Golf Course in Pekin is an ideal destination for a team outing. Put your golf skills to the test and take part in some healthy competition!
Parkview Golf Course 
Open year round with 18 holes, Parkview Golf Course is another popular course in the area with some hills for added challenge. Learn all about your team while playing a round and showcasing your golf knowledge. 

Greater Peoria understands the importance of collaboration and teamwork in our region. Make one of these destinations your next spot for a team building activity or some group fun.