The Peoria Area Convention and Visitors Bureau (Enjoy Peoria) will host the 5th annual Santa Cause 5K at Northwoods Mall in Peoria on Saturday, December 14.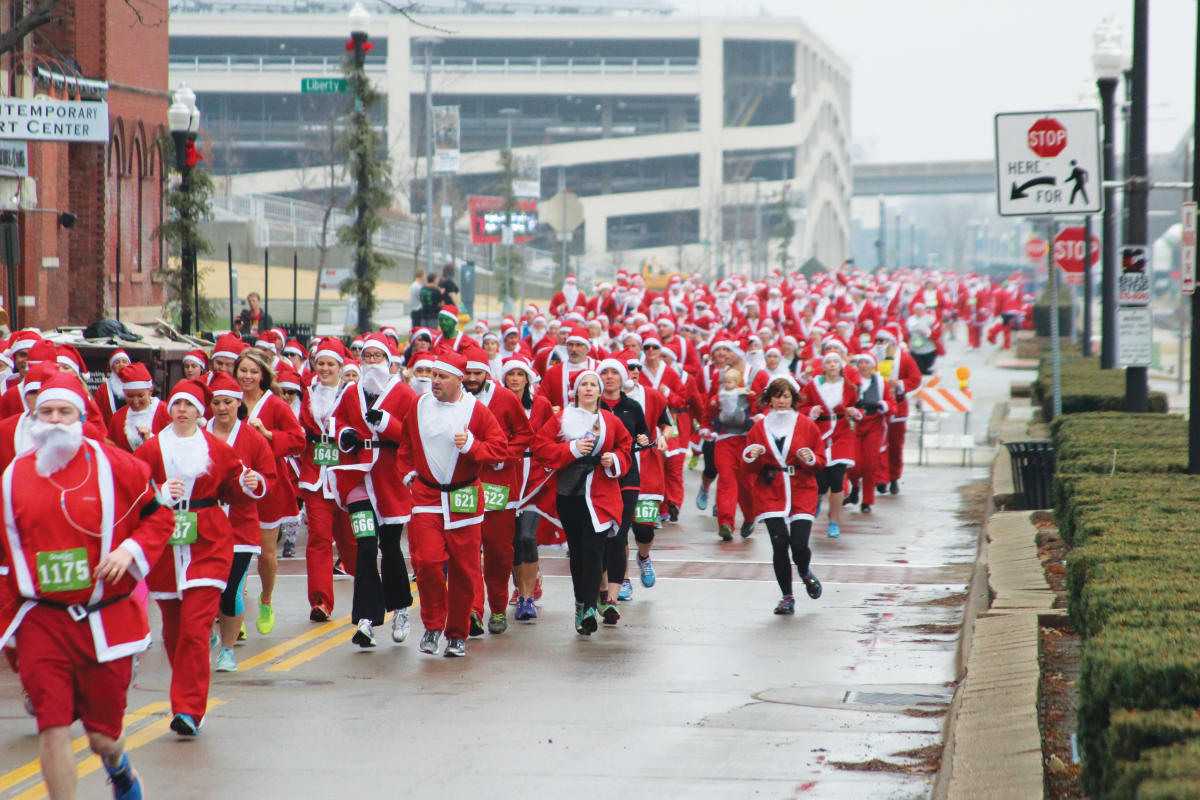 This year's race will start at 8:00 a.m. and is sponsored by WMBD, Humana, Kouri's Pub and Northwoods Mall. A portion of the proceeds from this year's race will benefit the Crittenton Center.
The Santa Cause 5K is a great activity for the whole family to participate in during the holiday season. Registration includes a Santa suit, a collectible Christmas ornament, sponsor swag bag and a race bib with professionally time results by Shazam Racing. There also will be an on-site hot cocoa and goodies, medals for top runners and participants will receive one free drink at Kouri's Pub on Sterling Avenue after the race (21+ will have an alcoholic option). 
"Peoria's favorite holiday road race is upon us once again," said Enjoy Peoria President/CEO J.D. Dalfonso. "The sight of 250-plus runners dressed as Santa Claus separates this race from any other in the region. Coupled that with the fact that a portion of the proceeds go to the Crittenton Center, there's no doubt hearts will grow three times their size." 
"Northwoods Mall is thrilled to be hosting this year's Santa Cause 5K," said General Manager at Northwoods Mall, Ryan Whalen. "Not only is it a great way to stay active during the holiday season for a wonderful cause, it gives the runners the chance to see all the shopping and dining options we have to offer here!" 
Frequently Asked Questions
Where do I pick up my race packet? 

Runners can pick up their race packet from 9:00 a.m. - 6:00 p.m. on Friday, December 13 on the upper level of Northwoods Mall near the food court. 

Can I register the same day?

Yes! Race coordinators ask that runners arrive early to allow extra time to register and put on their Santa suit. ???????

Where do I park at Northwoods Mall? 

The entirety of the parking lot at Northwoods Mall will be available for parking. The starting point of the race will be marked by a large inflatable arch. 

Will bathrooms be readily available? 

Yes, the bathrooms inside Northwoods Mall will be available. 

When will awards be presented? 

The award ceremony hosted by Santa Claus himself will take place immediately following the completion of all participants. The ceremony will be on the lower level inside Northwoods Mall in the atrium in front of Round1. 

Where is the after-party?

The after-party will take place at Kouri's Pub on Sterling Avenue. 

Can I bring my dog to run the race with me? 

Unfortunately, animals are not allowed to participate. 

Can kids run this race? 

Absolutely! Child size suits will be available. 
To register, visit www.peoriasantacause.com. 
 
---
For more information on events going on in Central Illinois check out our website www.enjoypeoria.com or consult our Experience Guide.