Now that spring has arrived, it's time to get outside and take advantage of this beautiful weather! Luckily, the Peoria area is packed with great trails and hiking spots where you can not only be active but spend some time enjoying nature. Read on to learn about some of our favorite spots for hiking and outdoor adventuring in the Peoria area.
Forest Park Nature Preserve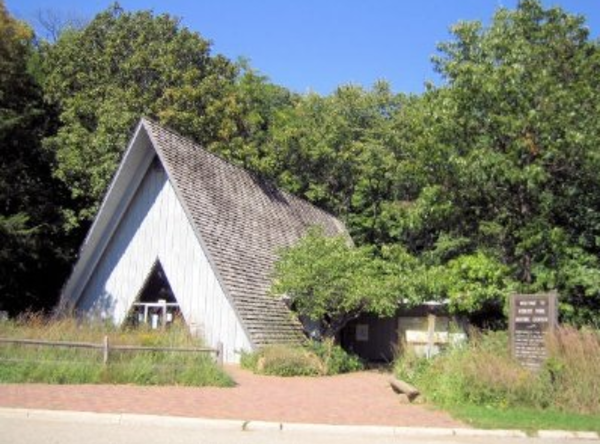 With over seven miles of trails, it's easy to spend an entire day at Forest Park Nature Preserve. They also offer classes for adults and children throughout the year, covering all kinds of topics from bats to bugs. They even offer guided hiking tours.
Spring Creek Preserve
The Spring Creek Preserve consists of 262 acres of wooded bluffs, bottomland, and old farm fields and is managed as a natural area with hiking trails.  Located in Washington, IL, the preserve is home to many species of birds, animals, butterflies, trees, shrubs, and wildflowers. The park is rather new and is still under development, but several hiking trails are now mowed and maintained and are accessible from the parking lot.  
Rocky Glen Park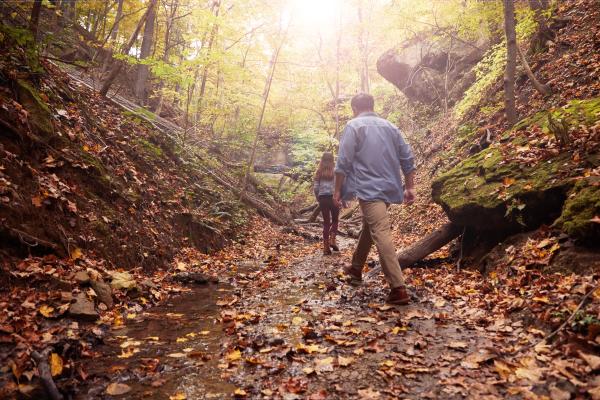 Truly a hidden gem in West Peoria, Rocky Glen is a great place to hike and see unique sandstone rock formations, including the popular "bowl" or "Horseshoe Bottoms." Plenty of local lore and stories swirl around this historic place to explore near Kickapoo Creek. Often referred to as a smaller Starved Rock, don't forget to check out the small waterfalls along the cliffs.
SandRidge State Forest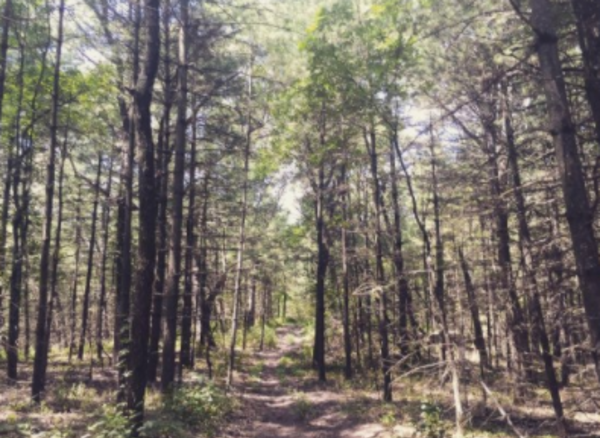 With 44 miles of marked trails and 7,200 acres of forest, SandRidge features woodlands, open fields and unique sand prairies to explore. The forest is perfect for hikers, backpackers, horseback riders and even snowmobilers. Located about 45 minutes south of downtown Peoria, the trails are matched perfectly with a day trip to explore nearby historic Havana and the Emiquon National Wildlife Refuge.
Illinois River Bluff Trail
A beautiful sanctuary for hiking the steep river bluff hills of central Illinois. The trail connects four Peoria area parks Camp Wokanda, Robinson Park, Green Valley Camp, and Detweiller Park. It's the perfect way to get to know lots of area parks.
Chillicothe Park District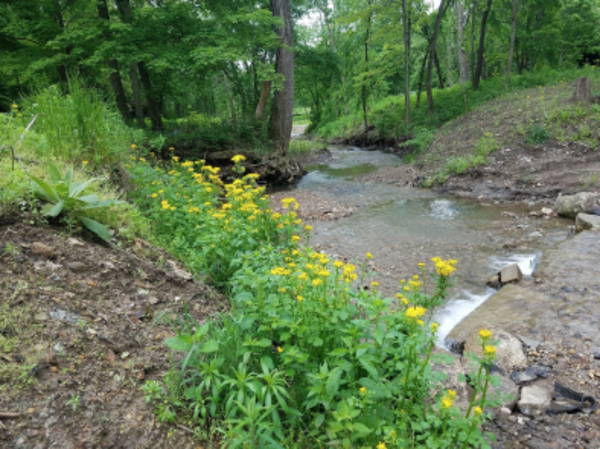 Chillicothe is full of unique hiking destinations. Check out Moffitt Nature park for a variety of hiking trails, open grass space, and forest. Visit Coal Hollow Park for forty acres of river bluff land full of hiking and walking trails and beautiful nature.
Rock Island Trail
Rock Island Trail was once a passenger and freight railroad trail and is now more than 26 miles of uninterrupted nature on the Rock Island Trail. Located in the Grand Prairie Division, a vast plain formerly covered with tall prairie grasses, the trail has reverted to nature, with much of the prairie returning. 
Peoria Park District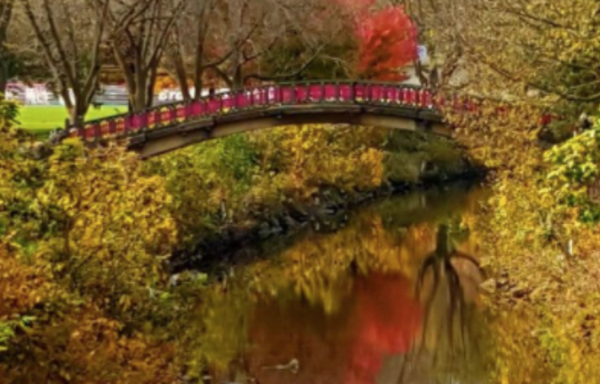 Peoria Park District is full of hiking opportunities. Stadium park has a .45 mile paved loop for hiking. Sommer Park North has 1.25 miles of paved, but not-so-level hiking opportunities and Charter Oak Park has 0.6 miles of paved hiking trails. Nature lovers will love exploring Detweiller Park, which has 5+ miles of hiking trails traversing the Illinois River bluffs. Visit Bradley Park for beautiful scenic views and some great hiking spots.
Ulrich Wildlife Preserve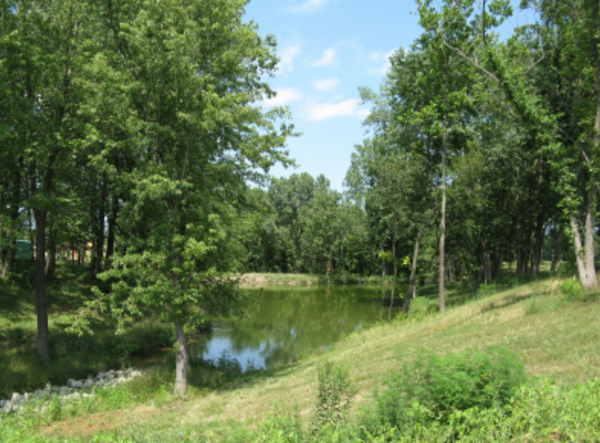 Located in Morton, Ulrich Wildlife Preserve is a beautiful area with many hiking and walking trails. The trails have a creek running through them, making this a great location to bring kids to play!
McNaughton Park
McNaughton Park in Pekin has a variety of hiking and walking trails winding through woodland and a meadow habitat for native species. The land supports about 15 species of animals, 80 species of birds and a wide spectrum of plant life. A large portion of this park is within the Land and Water Reserve by the Illinois Nature Preserves Commission.
No matter where you are in the Peoria area, there's sure to be a hiking opportunity close by! Get outside and get some fresh air! Check out any of these beautiful trails and parks to enjoy the spring scenery and get some exercise.