Miranda's Bella Boutique 
Maria del Rosario Miranda, Owner
3113 N. Prospect Rd Peoria, IL 61603
---
Maria del Rosario Miranda was born and raised in Chicago but has called Peoria home since 2004. She loves the calm and charming atmosphere the city has to offer. Those reasons made it very easy for her and her husband, Luis, to choose Peoria as the place where their children would be raised and where they would start their business. 
Miranda's Bella Boutique is the second business the couple owns in Peoria. The inspiration for the boutique came from her love for Mexican culture and her passion for keeping traditions alive. One of those traditions came 12 years ago when Maria and Luis were chosen to be godparents at a "Bautismo" or baptism. This is one of the seven religious sacraments of the Catholic church where an infant is initiated into the spiritual community of the church. This meant the couple would have to provide the special attire the infant would wear during mass.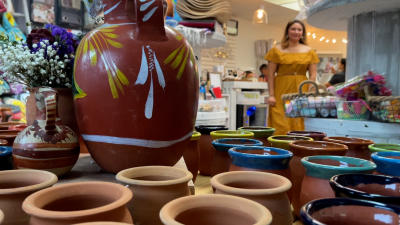 With no local choices in town, Maria had to take the drive to Chicago. Maria saw this opportunity and realized that the Hispanic community was missing a store in Peoria that supplied necessities for traditional celebrations. 
The doors to Miranda's Boutique opened in August 2021. The richness of Mexican culture is seen throughout the boutique. Timeless traditions of Mexican-Artisan-made pottery can be found all around the store. Maria hopes to help younger generations keep traditions alive by providing them with access to everything they need for special occasions celebrated in the Hispanic community. 
She's also thrilled to provide Peoria the opportunity to empower Mexican artisans to continue their craft for generations to come by purchasing their art in her boutique.