The New Brand: DISCOVER PEORIA 
With our roots anchored in the year 1680 when Fort Creve Coeur was established on the banks of the Illinois River, the Peoria area is the oldest European settlement west of the Allegheny Mountains. Our history is unmatched in the Midwest and we should be proud of the levels of innovation and entrepreneurship that have grown from our citizens. Pulling our history into our future, we were inspired by the likes of Whiskey City, bicycle manufacturers, the Illinois River valley, penicillin, sports traditions, Caterpillar and so much more that has shaped who we are today.
And what we discovered was that it was time to Discover Peoria again. Time for what was old to be new, what was forgotten to be celebrated, what was new to be celebrated. To embrace our presence as the "Urban Heart of the Prairie State" and as "Illinois' River City". Starting July 9, 2020, we will launch the new brand: Discover Peoria.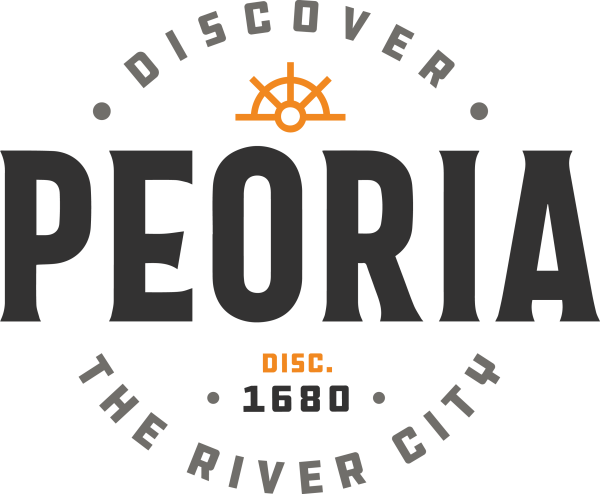 Important Brand Aspects 
In creating the Discover Peoria identity, we wanted a message that could cross all of our marketing platforms. With that, a fully redesigned website will launch on August 27, 2020, with an emphasis on storytelling, a comprehensive calendar of events, community engagement, and, of course, the visitor experience. The website will be the informational hub for the PACVB and will be where all our marketing materials point prospective visitors and residents to get more information on our community.
In addition, the branding will be across platforms, including our newly redesigned Discovery Guide (and evolution of the traditional visitors' guide). We will launch new social media platforms for the Discover Peoria brand that will focus on inspiration and storytelling, while the Enjoy Peoria branded social media channels will remain in effect and take on a more traditional advertising approach for our members/partners.
The brand also will extend to our tradeshow and conference sponsorships and recruitment of new business in the meetings and sports markets. Externally, we have already seen great success with our Meet in Whiskey City campaigns which dovetail nicely with the new emphasis on our history and legacy as a community.
As we look forward to the next 10 years, we see great potential for our community. In 2030, our region will celebrate 350 years since the first explorers from Europe discovered the beauty of the Illinois River valley. We know that this pivot in our branding and marketing our community will inspire new visitors, our residents and new businesses to invest in and create memories in Peoria.
Brand Visuals
Below you will find a breakdown of the new Discover Peoria identity put together by our partners at SimpleView. 
To download the images to get a closer look at the breakdown of the brand visuals:
Click on the image you would like to download 

A new window will open where you can then download the image  
---
For more information on events going on in Central Illinois check out our website www.enjoypeoria.com or consult our Discovery Guide. 
Need Our Logo(s)?
Please be sure to abide by our brand guidelines above when using our logos.
Contact marketing@peoria.org.