Coolest Places To Hang Out
Planning a trip to the Peoria Area and not sure what to do? Don't worry, this article has your back. With plenty of hip bars, fabulous restaurants and stunning parks, this list has narrowed it down to 10 of the coolest places to hang out in the Peoria Area.
Downtown Washington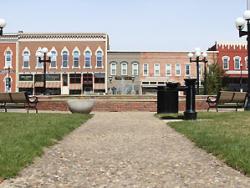 Approximately 18 minutes from Peoria is downtown Washington, which is widely recognized for its historic architecture and shopping district. Surrounded by charming red brick buildings and a water fountain in the middle of the square, downtown Washington is one of the coolest places to hang out since visitors can easily walk around without hopping into their cars. Travelers can browse through a hodgepodge of shops like Brunks Sports Center, Lori's Kitchen Store, Step Back in Time and Holland's Mercantile. Come hungry, as you will find an abundance of cozy cafes and restaurants to dine at in-between shopping breaks. Craving Italian? Michael's Italian Feast or Monical's Pizza will do the trick. Kick back with a cold brew at Kep's Sports Bar & Grill, or enjoy delicious homemade pies, a mouthwatering breakfast and big portions at Denhart Baking Company and Restaurant, located inside an 1874 downtown bank building.
Art at the Bodega
When guests visit Washington, they can get creative at Art at the Bodega, especially if they're traveling with a group. The art studio has an enticing atmosphere where guests can put their painting skills to the test in a party-like environment. Art materials are supplied, music is played and snacks are available— you can even BYOB. Each event typically lasts two to three hours as an instructor assists the class in painting a specific subject, creating amazing results on canvas.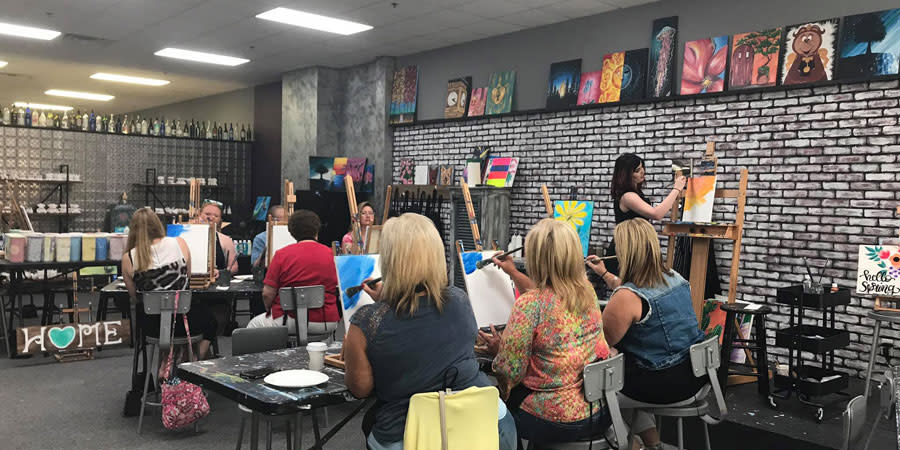 The Cookery
A few minutes south of Washington is Morton, a small, sleepy town that has its own unique school—a cooking school. Located on Main Street, The Cookery, Inc. is a one-of-a-kind place where visitors can brush up on their kitchen skills. Attendees can learn the art of Mediterranean cooking, cake decorating, sausage stuffing and much more. Kids can join the fun too. There are several scheduled cooking courses reserved for the kids, where they can learn all about baking bread or making pizza. The Cookery also offers quirky-themed courses such as Cookies for Canines, where die-hard dog owners can learn all about making delicious treats for their furry ones. Ticket prices vary depending on the courses.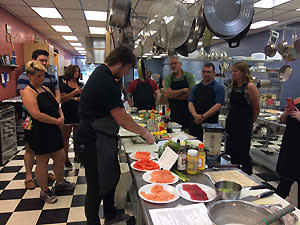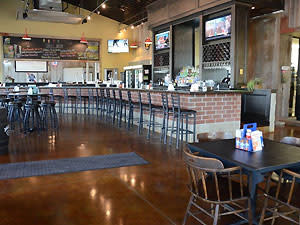 Seasons Gastropub
When exploring Morton, it's advised for visitors to save their appetites and go for a hearty meal at Seasons Gastropub, where juicy burgers, delicious sandwiches and healthy salads await them. This new gastropub occupies a newly renovated space that gives it an urban-meets-old-country look. A spacious bar that seats more than 20 guests is a popular, local hangout for patrons to enjoy a beer on tap. When the weather is lovely, diners can head outside to the beer garden patio, where they can enjoy the warm sun with their cold beer and delicious meal.
Maquet's Rail House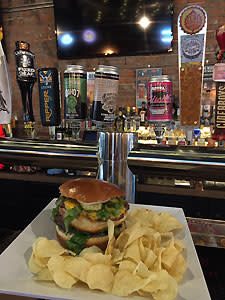 In Pekin, 20 minutes south of Peoria, Maquet's Rail House makes for a spectacular hangout. Expect to find a long bar with several flat-screen TVs and plenty of seating. Patrons can snack on tasty appetizers like potato jalapeño bites and fried pickles to go with their cold beer on tap. The restaurant's narrow layout and exposed silver beams make diners feel like they are eating in a cable car. As night falls, the vintage beer signs glow over the booths, making it a cozy and hip environment for diners. Guests can order a wide range of dishes like the smokehouse wrap, veggie burger, Cobb salad and the signature half-pound rail house burger. For an Instagram-worthy meal, order the oversized pork tenderloin sandwich.
Peoria Riverfront
Check out the stunning river view at Peoria Riverfront while strolling along the walking trail that parallels the Illinois River where guests can view the Murray Baker Bridge. Along the way, visitors will find restaurants and shops they can easily navigate. For families traveling with kids, an on-site, nautical-themed playground overlooking the water is available for little ones to enjoy while parents relax and admire the view from the comfort of benches. Make it into an educational trip and visit the Peoria Riverfront Museum which features several rotating exhibits, which highlight the science behind certain subjects where insects, lights and more are featured. The Dome Planetarium is the real star of the Museum where visitors can relax under the digital galaxy.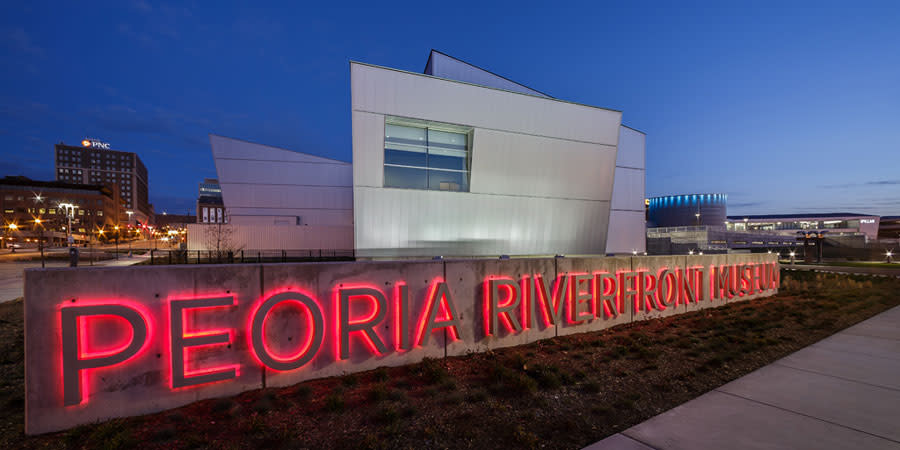 Dozer Park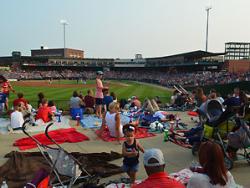 Visitors can show their support for a local minor league baseball team at Dozer Park in Peoria, approximately two blocks away from the river. The pristine baseball field hosts a series of scheduled games that the public is welcome to enjoy. The Class A Affiliate of the St. Louis Cardinals, the Peoria Chiefs team often plays on weekdays and weekends, so their chances of seeing them play while they're in town is greater. The stadium is so spacious that visitors can easily buy their tickets at the entrance and sit comfortably with a great view.
Levee District
On the other side of the river is East Peoria, home to the Levee District. The district acts as a downtown area for East Peoria and is full of shops such as Target, ULTA Beauty and Diva Nails. District restaurants include Tequilas Mexican Bar & Grill, Noodles & Company and Johnny's Italian Steakhouse. Guests can opt to extend their visit by staying at the Holiday Inn Hotel and Suites, within walking distance of the district.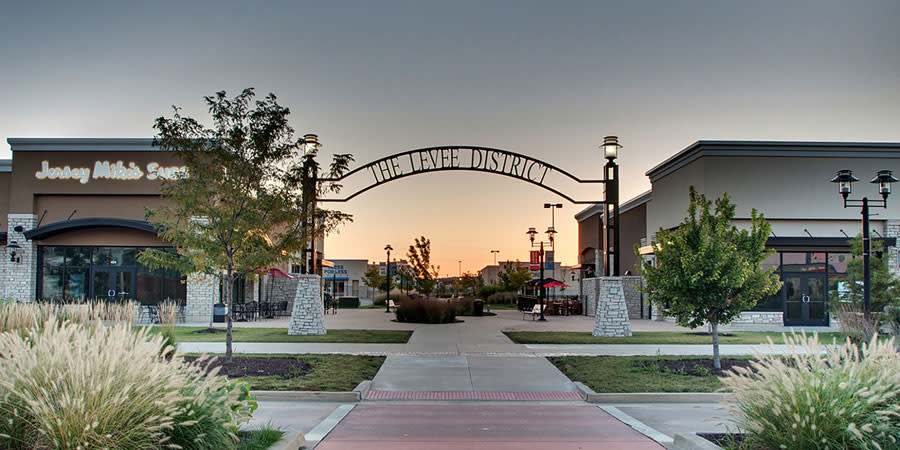 Pekin Park District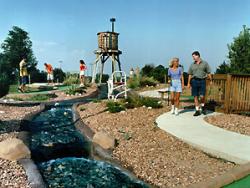 Vacationers can get their dose of nature at Pekin Park District, which stretches across 2,200 acres. Whether they're into skateboarding, golfing or ice-skating, the district has multiple designated areas for them to practice their favorite outdoor activities. Golf fans, as well as first-timers, can enjoy pristine courses such as the Parkview Golf Course and Lick Creek Golf Course. Magic Dragon Golf & Games keeps families with kids entertained for hours, or families can expand the fun to the water when they rent a dragon-shaped pedal boat and explore the lagoon in the district. Tennis and racket ball courts are also available on the premises.
Obed & Isaac's Microbrewery and Eatery
Take a step back in history at Obed & Isaac's Microbrewery and Eatery. This historic 1889 church in downtown Peoria is now home to this family-friendly upscale pub. Enjoy handmade craft beers and ciders produced right here in Peoria, and upscale pub fare with a twist to complement your palate. Once you are done marveling at the original woodwork, chandeliers and stained glass windows, be sure to check out their Bocce Garden Grill! It includes two bocce ball courts and oversized outdoor games. Did we mention it is also dog friendly? They even make their own doggie treats for your pooch!