Family Fun
Knocking it out of the park in Peoria, Illinois
BY QUINCY KOETZ
Olivia counted down the days. Her fast-pitch 14-and-under softball team had earned a place in a tournament at the Louisville Slugger Sports Complex in Peoria, Illinois. Anticipation filled the car as we drove downstate from Chicago.
Olivia is my niece. My sister, Cheri, invited us to visit Peoria since we live so close. Sis is one of the team's most active parents, and I knew she would be preoccupied by her duties with the team and might need supervision for her two younger boys, Ethan and Joey.
Meanwhile, my wife and I wanted to spend more time with our family, and a few years had passed since our last trip together. In an effort to help my sister and score some cool aunt and uncle points, Dee and I took time off to make the trip. I'm so glad we did!

FIELDS OF DREAMS
The brand-new Louisville Slugger Sports Complex looked utterly Olympic in size and style. It's basically the Wrigley Field of fast-pitch softball—I've never seen a larger complex dedicated to youth sports. Olivia was over the moon.
Even the boys got caught up in the drama of the tournament, their eyes glued to the field when their big sister played ball. The players' energy electrified the crowd for four straight days. But time at the ballpark was only part of our adventure.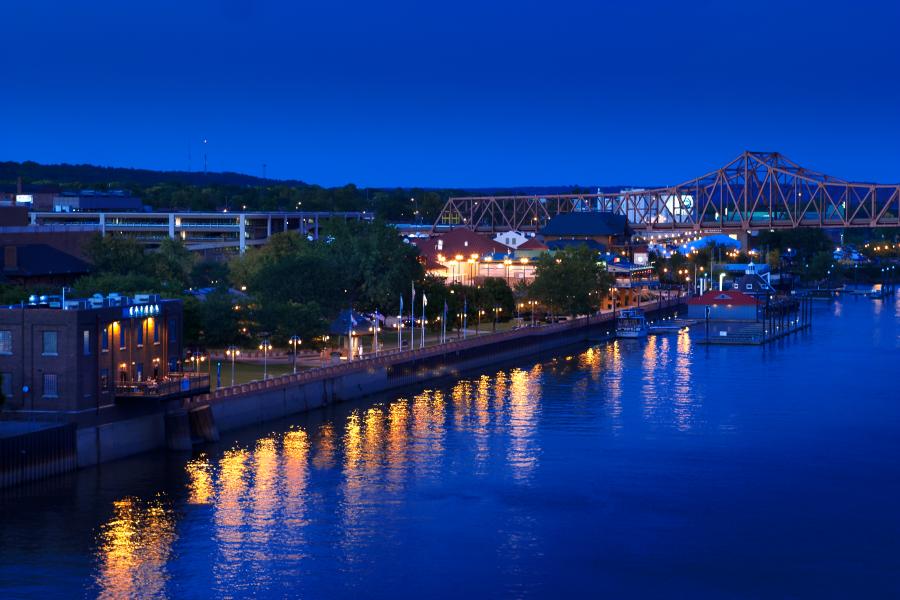 ILLINOIS RIVER BLUFF TRAIL
Between games, we soaked up nature in the great outdoors. Peoria gracefully overlooks the Illinois River, and the nearby towering bluffs and forests are far from typical for the Midwest.
Everyone loved our three-mile jaunt on the Illinois River Bluff trail. Ethan and Joey became explorers, looking out for wildlife amid steep hills and ravines. They ran up and down the hills, euphoric in their natural surroundings. They asked me to take them on hikes again, so I think I earned my stripes as the cool uncle.
WILDLIFE SAFARI
Ethan's favorite subject in fifth grade is science; out of nowhere, he will start spouting off the periodic table of elements or explaining the difference between cytoplasm and mitochondria. My sister is always telling me about the latest uncommon pet that Joey wants—last year he asked for a ferret for Christmas. The Wildlife Prairie Park brought both of the boys closer to the animal kingdom.
Visiting the wildlife park is like going on a safari. Amazingly, nearly all of the species featured in the park once roamed the Illinois plains. The boys stood within 10 yards of a black bear and fed a bison 20 minutes later. Dee's childlike glee came out when she got close to the river otters. We took dozens of pictures that the boys said they couldn't wait to show their classmates.

A CYCLE BUILT FOR FOUR
After the tournament ended, Cheri and Olivia went to a team pizza party. Meanwhile, Peoria's downtown and lively waterfront begged for exploration. Dee, Ethan, Joey and I drove over, passing through High Street, where we saw ornate and well-preserved turn-of-the-(last)-century mansions graced with seemingly ancient oak trees. Farther on, the boys saw people cycling past on four-wheeled contraptions and squealed with delight. Dee asked one of the riders about the vehicle as it rolled past and found out they're called "quadricycles"—basically, a four-wheeled bicycle. Some had two seats and some had four—perfect for our little group! World on Wheels cheerfully rented us a four-seater for an hour-long riverfront ride.
How fun it was to pedal along on a beautiful sunny day through the bustling city! We wove through the beautiful warehouse district, with its grand, multistory brick buildings that have been converted into loft apartments, shops and restaurants. I captured a few pictures and posted them to Instagram. But a friendly passerby snapped the winner of the four of us, with our old-timey transportation in front of even older buildings—worthy of a place on our Christmas card.
As we drove back after our cycling adventure, we stumbled across Las Delicias Mexican Ice Cream Parlor, where we had the creamiest ice cream on the planet. The staff was awesome, joking around with Ethan and Joey, "Are you old enough to have avocado ice cream? Let's see some I.D." And seriously, that house-made, creamy, frosty ice cream alone is worth the drive to Peoria. So, so good!
On reuniting with their mom, the boys recounted the adventure with characteristic enthusiasm. Clearly the trip left its mark as they tried goading their mother into buying a quadricycle.
"Thanks a lot, bro!" Cheri chided me. Fortunately they started scheming about building one of their own.
"Hey, that sounds educational to me," I said holding my hands out in the international gesture of innocence. "And it might require further research back along the waterfront."
That garnered a laugh and a couple of yeah's!
Though Oliva's softball tournament was the intended highlight of the trip, spending time with the whole family was the best part. Despite the wide age range, everyone found something to enjoy. On our drive back to Chicago, I asked Dee if we solidified our cool aunt and uncle status.
Dee winked and said, "We knocked it out of the park!"