Top Things To Do In Summer
A big city with a small-town feel, Peoria, Illinois anchors the greater Peoria area and lies halfway between Chicago and St. Louis. Aesthetically, few places in the area can compare to Peoria. In fact, President Theodore Roosevelt christened Peoria's Grand View Drive the "world's most beautiful drive." Travelers enjoy panoramic scenic views of the Illinois River Valley, as well as numerous historic homes along the 2.52-mile route. The only linear park on the National Historic Register, you'll find playground areas, a sand volleyball court, a ball diamond, picnic benches and a large picnic shelter available for rent, complete with electricity and lights (peoriaparks.org).

Taking a cruise along Grand View Drive is just one of the many cool things to do in Peoria this summer, and many of them can be done while enjoying beautiful views of the Illinois River and River Valley. Here's a look at some of the other top things to do in the Peoria area.
Outdoor Activities Near Peoria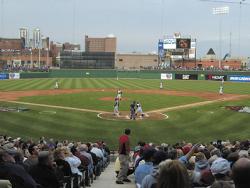 If you like spending time outdoors, head to Peoria. First, you can plan to see a lot of America's favorite pastime this summer at Dozer Park, where Minor League Baseball's Peoria Chiefs play, as does the Bradley University baseball team. Tickets to Chiefs games are relatively inexpensive, and the schedule includes lots of fun promotions for home games the kids will like including fireworks, poster and t-shirt giveaways, splash day, $1 hot dog nights, Jimmy Buffet night, princess dress-up night and more.
For more outdoor fun, visit Bradley Park, established in the late 19th century. It's full of outdoor activities, from baseball diamonds and Frisbee golf to shuffleboard courts and horseshoe pits. Bringing your dog along? There's a dog park here, too.
A Peoria Heights family favorite, Forest Park Nature Center occupies 540 acres amid forested bluffs along the Illinois River. Hike trails through woodlands and prairie, tour a natural history museum and bird observation room, browse books and nature items at the nature store, or enjoy music and educational programs.
Operating for more than a century, the Pekin Park District encompasses numerous welcoming and beautifully landscaped green places to relax, along with paddle boating, horseback riding, miniature golfing and hiking. There are several golf courses, a memorial ice rink and a racquet and health club. At the three-acre Dragonland Water Park, you'll find a pool, beach, sand volleyball courts, water slides and water equipment.
Peoria Animal Encounters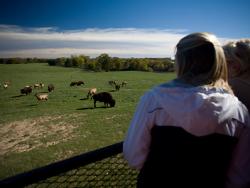 Hannah City's 1,800-acre Wildlife Prairie Park hosts more than 50 native Illinois species, including an 80-acre prairie area with bison and elk. You may also see bobcats; cranes, eagles and owls; black bears, foxes and much more. After a busy day of fishing, mountain biking or hiking, enjoy unique onsite overnight accommodations where you can stay in cabins, silos, stables or a caboose.
Nationally accredited and located in Glen Oak Park, the Peoria Zoo is dedicated to 'raising public awareness and commitment to conservation.' Visit the Africa exhibit with its Zambezi River Village and African grasslands simulation; full of lions, rhinos, striking Red River Hogs and mandrills, zebras and much more. See the Asian Trail, the Australia Walkabout and the Tropics Building – housing armadillos, meerkats, tarantulas, sea lions, and other species.
Exploring East Peoria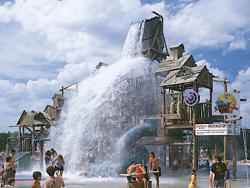 Located just across the river from downtown Peoria, East Peoria is a city with a new downtown shopping district, The Levee District, as well as the Par-A-Dice Hotel Casino and EastSide Centre Sports Complex.
For a closer look at Peoria's environment and history, follow the paved southern Rock Island Trail for 13 miles, starting at the Peoria Riverfront; or travel along the 20-mile crushed rock northern trail, starting in Alta and continuing to Dunlap, Princeville, Wyoming and Toulon. The trail starts and ends at the stunning Peoria Riverfront Museum, or you can visit the Caterpillar Visitor Center along the southern trail. Finally, take the northern route to see picturesque small towns, Midwestern farmland and woodlands.
Unusual Peoria Activities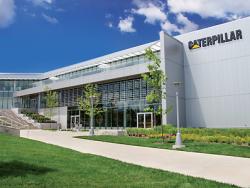 The Peoria area features several unusual activities that appeal to different tastes. From early tractors to internationally known manufacturer of farming equipment, you'll learn plenty about Peoria-based Caterpillar at their Caterpillar Visitors Center, where massive equipment plus vintage and current photographs depict this company's rich history.
Peoria's Warehouse District is home to Sculpture Walk Peoria, one-year installations that feature more than a dozen large-scale works of art, crafted by sculptors from multiple states. Organized tours, people's choice awards and education are part of this popular program. From fabricated and painted sheet aluminum, to painted or welded steel, locust wood or granite, each sculpture is a one-of-a-kind art piece.
Recreational Drink & Food
With a 30-mile panoramic view, the lovely Mackinaw Valley Vineyard lies near Peoria, in Mackinaw, Illinois. It features 86 acres, and more than 20 wines made from French American hybrids and native grapes. Several wines have won bronze and silver medals at the New York Finger Lakes International Wine Competition, and the Illinois State Fair Wine Competition. Taste three samples for no charge and return for The International Music, Wine and Craft Beer Festival on Memorial Day weekend.

Rustic and welcoming, Tanners Orchard opened in 1947 and encompasses 11,000 trees, 17 apple varieties, and more than 20 acres of pumpkins. Children love the corn maze, farm animals and playground, in addition to wagon rides and an Apple Express train. Sweet treats include apple cider donuts, caramel apples and homemade fudge; check the web site for lunch hours.
Shopping Fun in Peoria
Shopping enthusiasts have plenty of diverse choices throughout the Peoria area. Operating in East Peoria's downtown, the Levee District houses numerous brand name stores and restaurants, from Target, Costco and Gordman's to Chipotle, Panda Express and Red Robin. There are plenty of special events here, with parks, a casino, river activities and a nearby museum. 
Peoria Heights provides loads of enticing locally owned shopping, amid historic buildings. Whether you purchase upscale fashions at A Perfect Pear Boutique, Fair Trade coffee and gifts at Global Village Peoria, premium oil and balsamic vinegar at Olio & Vino or custom pieces at Pettet Jewelry Designs and Pumpkin Glass Artisan Jewelry & Beads, you'll enjoy this cozy shopping district.
The Junction City Shopping Center in Peoria opened in 1956 as the town's first retail destination focused on local boutiques. Stores have changed over time, but the original focus on the shopping center has not. Today you can find great dining from wood-fired pizza to sushi, home stores, beauty studios, wellness shops, women's boutiques and more.
The Shoppes at Grand Prairie is another popular shopping spot in Peoria. The outdoor center is anchored by Bergner's, J Jill and Dick's Sporting Goods, and it also includes well-known shops and restaurants you can find at many major shopping centers. But the Shoppes at Grand Prairie also has gorgeous outdoor landscaping, fun animal sculptures, the Caterpillar children's play area and regular weekend entertainment.

Finally, buildings from the 1800s house dozens of shops in downtown Washington's charming historic square, with six commercial blocks surrounding a central park and a seasonal fountain. Shop Washington Square for sporting goods, children's clothing and quilting supplies, as well as fine jewelry and kitchen gadgets.
For more ideas for summer fun in the Peoria area, request a copy of our visitor's guide today.