Public Art
Portraits of Peoria
Big Picture Peoria 2021 public art endeavor is honoring notable past Peorians who changed our community and changed the world. Local artists are chosen to create original works of art, which in turn are turned into larger-than-life portraits displayed on the Central Building at the corner of Main and Adams Streets in Peoria, IL.
Portraits of Peoria is a collaborative project involving Big Picture Peoria, Discover Peoria, and ArtsPartners of Central Illinois. We thank Sharon and John Amdall, the City of Peoria, and numerous private donors to the Big Picture Initiative for sponsoring the project.
Our goal is to encourage residents of central Illinois to feel pride in our community, recognize the impact Peorians have had on the world, and honor some of the major influencers who called Peoria home. 
Betty Friedan by Eliza Von Zerneck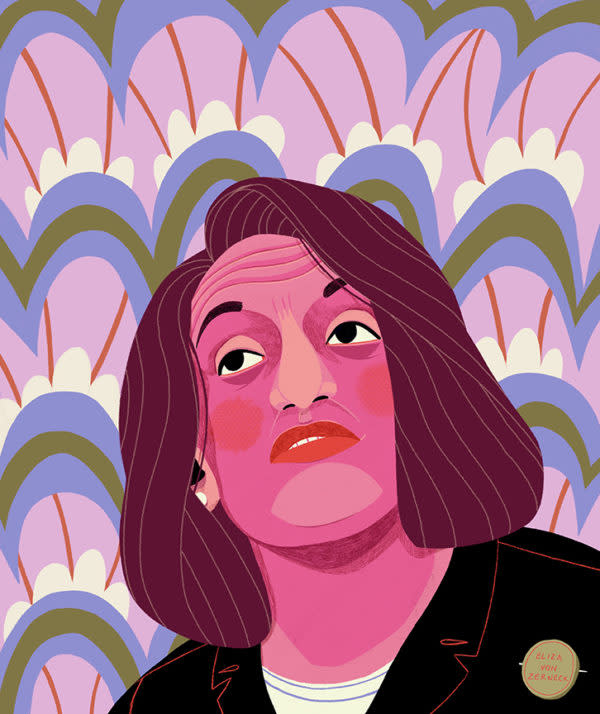 Betty Friedan, 1921- 2006
Friedan was one of the early leaders of the women's rights movement in the 1960s and 1970s. She was a journalist, activist, and co-founder of the National Organization for Women. Friedan is created for starting the contemporary feminist movement and changing the course of history.  In 1963, Friedan's book The Feminine Mystique became a best seller and gave voice to millions of American women frustrated with their limited traditional gender roles. The book made an enormous impact, triggering a period of change that continues still.
Friedan continued writing and published The Second Stage, It Changed by Life: Writings on the Women's Movement, Beyond Gender, and The Fountain of Age. The National Women's Hall of Fame says of Friedan, "Through decades of social activism, strategic thinking and powerful writing, Friedan is one of contemporary society's most effective leaders.
Learn more about Betty Friedan (link to  https://en.wikipedia.org/wiki/Betty_Friedan)
"The feminist revolution had to be fought because women quite simply were stopped at a state of evolution far short of their human capacity." 
― Betty Friedan, The Feminine Mystique
About the Artist
Eliza von Zerneck is a freelance illustrator and designer based in Peoria. She has a BFA in illustration from the Rhode Island School of Design. Like Friedan, she has roots in both Peoria and New York City, and she aims to inspire, educate, and delight those who interact with her work. She often explores subjects of gender and domesticity, with a focus on female portraiture. Her portfolio can be found on her website at elizavonzerneck.com.
Dr. Romeo B Garrett by Kevin Bradford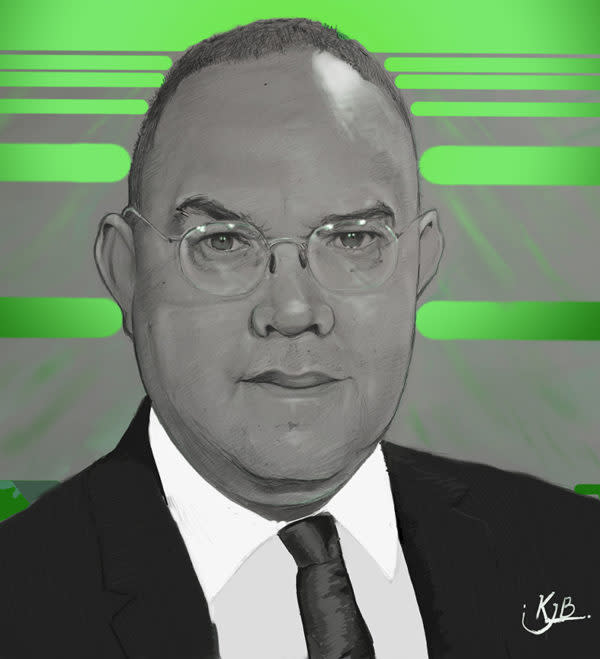 Dr. Romeo B. Garrett, 1910-2000
Garrett has the first Black to receive a master's degree and to serve as a professor at Bradley University. As a young man, Garrett was aware that there was little information about Blacks in both history books and in the public eye. He created extensive documentation of the accomplishments of Blacks in all fields. As a teacher, Garrett worked hard to increase awareness of other cultures and motivated students to study Black history. He promoted the inclusion of all people, especially Black people.
Garrett wrote "Famous First about Negroes" and "The President and the Negro." More than 400 students have attended Bradley with help from the numerous scholarships created in Garrett's honor. Learn more about Dr. Romeo B. Garrett (link to https://www.bradley.edu/campuslife/odi/garrett-center/history/)
"I have an appreciation for all people, regardless of race. I want to see improved race relations – the day when there will be no prejudice. I want to see the brotherhood of man. I am a man who loves all people; white, black, young, and old. We must be patient and we must love all people regardless of race," Dr. Romeo B. Garrett
About the Artist
Kevin J Bradford is a traditional artist and self-taught digital artist. Bradford has experience in pen, color pencils, watercolor, and oil paint. He has been a creator for over 15 years. In 2017, Bradford left his full-time job in 2017 to invest in himself and work part-time to allow himself time to create and complete commissions.