Peoria Scavenger Hunt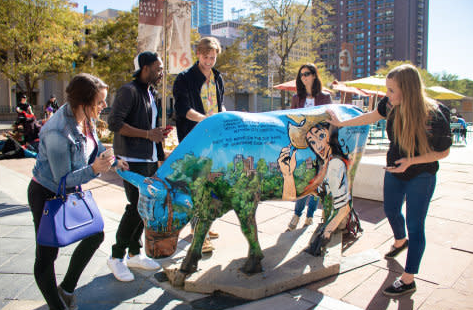 Looking for small group activities that take you beyond the four walls of your local watering hole? Let's Roam is here to help. Sign up for a Peoria scavenger hunt and put on your best Nick Cage impression as you seek out the national treasures hidden in Peoria. The hunt will guide you through the cultural, historical, artistic, and zany Peoria sights as you and your team contend for scavenger hunt glory. One of Illinois's oldest settlements has sculptures at every turn. On this fun-filled Peoria scavenger hunt, you will make a loop around downtown and the riverfront in search of storied buildings and public art. Some epic highlights for this hunt include The Courthouse Plaza, The Civic Center and The Peoria Riverfront Museum. 
The hunt will have you searching plaques, statues, and art to solve riddles that can only be found on location. If you can't find the answer you'll be guided to the next location. You must work with your team to answer trivia questions and complete photo challenges to earn points and see if you can beat the Peoria high score! You can do our interactive scavenger hunt at any time. Get ready to Discover the unique art and history of Peoria!
Starting Area: 153 NE Adams St, Peoria, IL 61602
Walking Distance: 1.2 Mi (1.93 KM)
Time: 1.5-2 Hours