Farms, Orchards & U-Picks
As the days grow shorter and the air grows crisper, the signs of fall are right around the corner. But the end of summer doesn't have to mean the end of fun! Start your fall off by going to one of the many local U-Picks and Orchards right here in Central Illinois! 
Ackerman Family Farms, LLC
Located right outside of Peoria in Morton, IL, Ackerman Family Farms offers a fun time for the whole family! Whether it's trying to find your way around the corn maze, saying hi to the farm animals, or sitting back and enjoying a hayrack ride you can spend the whole day at Ackerman Family Farms! They also offer a beautiful selection of mums and ornamental corn. There is also a gift shop stocked with local, state, and regional food product and home decor. You won't be leaving empty-handed! 
Ackerman Family Farms opens up for their fall season on August 29th and are open Monday - Saturday from 9:00 AM to 6:00 PM and Sundays Noon to 5:00 PM.
They are located at 27158 US Hwy. 150, Morton, IL 61550 and can be reached at 309.266.7459. Visit them Ackerman Family Farms on Facebook for more info!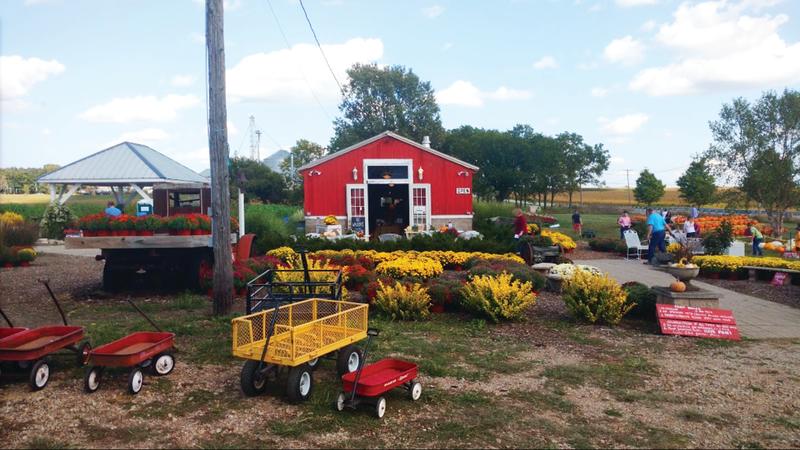 Tanners Orchard
For 70 years, four generations of the Tanner family have been bringing fall fun activities to the Peoria Area! Located near Speer, IL, Tanners Orchard offers a bakery serving noon lunches, a large country farm market, gift shop, wagon rides to the orchard for pick your apples and pumpkins, a corn maze, and the Back 40 Fun Acres with farm animals. This is for sure a can't miss fall activity! 
Tanners officially opened up on July 29th but all the different fun activities vary depending on the attraction and month. For their full hours and pricing visit Tanners' website! 
They are located at 740 State Route 40, Speer, IL 61479 and you can call them at 309.228.9162.
Arends Orchard
Arends Orchard has been open in Central Illinois since 1956 and offering everything from delicious fruits, fall veggies, raw honey, and freshly made cider all grown and made on the farm! Located in Laura, IL, Arends Orchard is only a short drive from Peoria and the surrounding communities. They offer 18 different varieties of apples that you can purchase by the half-bushel, peck, or quarter peck. 
Arends Orchard is open from July 1st through December 15th and is open daily from 8:00 AM to 6:00 PM. 
You can visit this beautiful orchard at 22001 North Highway 78, Laura, IL 61451 and can be reached at 309.446.3034. You can also read more about everything they have to offer on their website. 
 
Christ Orchard
Christ Orchard is family owned and operated orchard located near Elmwood, IL and has been open since 1977. This orchard includes apples, pure honey, apple cider, pumpkins, varieties of corn, fall veggies, mums, straw, yummy fruit butter/preserves, and so much more! Christ Orchard also offers a variety of farm animals that play an important part in the farm! Starting on August 31 until about mid-October you can even pick your apples in the orchard. 
Christ Orchard is open August through November. 
August Hours: Monday - Saturday, 8:00 AM to 6:00 PM
September - October Hours: Monday - Saturday, 8:00 AM to 8:00 PM
November Hours: Monday - Saturday, 8:00 AM to 6:00 PM 
Christ Orchard is located at 4321 N Texas Rd, Elmwood, IL 61529 and can contact them at 309.446.3324. Stay up to date on what is happening on the orchard when by visiting Christ Orchard's website! 
 
Orchard Hill Farm & Country Store
Orchard Hill Farm was first established in 1933 but in 2016 was purchased by a husband and wife team who have put their heart and souls into making the farm an amazing experience for everyone who visits. Located just outside of Lewistown, IL you can find apples, peaches, jams/jellies, baked goods, cider, and even local wines! Along with their yummy treats, Orchard Hill also offers a corn maze and fun events to bring the family to! 
Orchard Hill is open 9:00 AM to 5:00 PM starting at the end of July thru Halloween. 
July: 21st & 22nd and 28th & 29th
August: Monday-Tuesday, closed Wednesday, Thursday-Sunday
Labor Day thru Halloween: Monday-Sunday
Some special events take place outside the normal hours so make sure to check Orchard Hill out on Facebook or call them at 309.547.3221. You can also visit their website. Orchard Hill is located at 16853 Co Rd 9, Lewistown, IL 61542. 
 
Partridge Point Orchard
Partridge Point Orchard is a U-Pick apple orchard conveniently located 3 miles North of Metamora, IL. They have nine varieties of apples consisting of over 800 apple trees ripening throughout the season so you can pick throughout fall. Partridge Point also sells great local honey! 
Partridge Point will open in the middle of September when the apples are at their sweetest and will be open Monday thru Saturday 9:00 AM to 6:00 PM and are closed on Sundays.  
Visit Partridge Point's website for all the information on picking your apples this fall. You can reach Partridge Point at 309.367.4052 and they are located at 807 Partridge Point Road, Metamora, IL 61548. 
 
Pleasant Row
This small but full of life orchard, Pleasant Row is just waiting to be explored! With around 800 trees with both new and old varieties of apples, you can pick from plus peaches, cherries, and beautiful fall decorative produce! 
Pleasant Row is open Monday - Saturday 9:00 AM to 5:00 PM and on Sundays Noon to 5:00 PM. 
They are located at 21649 North Illinois 97 Highway, Cuba, IL 61427. You can call them at 309.785.5098. 
 
Roth Pumpkin Patch, INC
Located in the "Pumpkin Capital of the World" Roth Pumpkin Patch is a multi-generational farming family that offers 150 acres of fun! While Roth Pumpkin Patch does specialize in pumpkins you can also find a variety of vegetable crops and fruits! You can pick out your pumpkins, gourds, and mums at their Outdoor Market and don't forget to stop by the gift shop where you can find a variety of Illinois jams, jellies, salsas, and fall decorations! Along with the famous pumpkin patch, you can also visit The Red Barn Christmas Tree Farm and Christmas Gift Shop. 
Roth's Pumpkin Park and gift shop open up on September 15th from 1:00 PM to 6:00 PM. Then are open Monday - Saturday 9:00 AM to 6:00 PM and Sundays 11:00 AM to 6:00 PM. 
They are located at 1811 W. Jefferson St., Morton, IL 61550. You can learn more about Roth Pumpkin Patch on their website or call them at 309.242.5893.
---
For full information on events happening in the Central Illinois area be sure to check us out at www.enjoypeoria.com or consult our Experience Guide.