The inaugural Bridge-to-Bridge River Drive festival will be held in four Illinois River communities on Sept. 18-19, showcasing some of the best kept secrets regarding the fun that can be had right here in central Illinois, as well as the majesty of the natural landscape and the coming promise of autumn.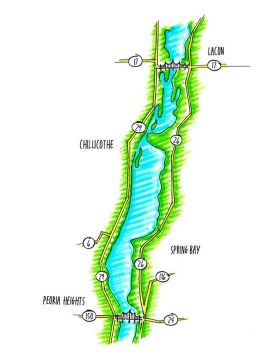 Peoria Heights, Chillicothe, Spring Bay and Lacon are participating in the Saturday-Sunday event, with activities ranging from concerts and makers markets to a disc golf tournament and airplane rides, among other festivities sure to appeal to a wide variety of tastes. And, of course, there's the scenery.
"We don't think the Route 29 and Route 26 corridors take a back seat to anyone in the Midwest in terms of the sheer beauty of the countryside here, between the forested bluffs and the reason these communities exist in the first place – the river," said event co-founder Jane Johnson of the 52-mile river loop.
Johnson and Julie Bielfeldt, of Lacon and Peoria Heights, respectively, and both members of the Peoria Heights Arts Collaborative, initially came up with the idea for the festival and drive as a way to introduce – or reintroduce, as the case may be -- visitors to a side of these communities with which some may not be familiar.
The concept also is an outgrowth of the Riverview Coalition, a loose affiliation of river communities north of Peoria on both sides of the river created to bring more attention – and visitors -- to them by making their charms a little less hidden and by working together to market and increase those offerings. That effort initially is being underwritten by entrepreneur and philanthropist Kim Blickenstaff, a native of Spring Bay.
"They are wonderful places to live, but they also can be wonderful places to play and stay," said Bielfeldt. "They may be laid-back, in their own way, but they also know how to have a good time. We're hoping to forge a new tradition with B2B."
Once the word went out, they soon found eager partners. Committees were put together in each of the communities to come up with a schedule of events. Many towns in this part of central Illinois have their own signature festivals, of course, but this collaboration of communities is a little different.
"The closest parallel would probably be the Spoon River Scenic Drive in October, but we'll have our own unique spin on things," said Johnson.
The result is a weekend of entertainment that could keep visitors occupied in one community or, ideally, have them getting a taste and tour of all four.
For example, Chillicothe intends to spread out its events between Three Sisters Park, Shore Downtown Chillicothe, Town Theatre Acres Park, its historic 2nd Street Business District and other destination businesses such as The Mill and Picket Fence, which will have a grand opening under new ownership, said Chillicothe's Economic Development Director Amanda Beadles. Also featured will be a craft fair with live music, a Pheasants Forever fishing tournament at City Docks, and a "Community Games" event at Three Sisters, including the Ryan Owens Memorial 5K Run, a disc golf tournament, a Fireman's Challenge and more.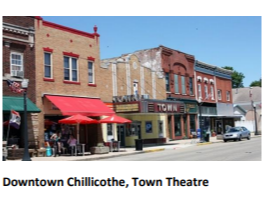 Lacon will be literally packed with activity, including an All-Engine Cruise-in, a makers market, food trucks, bands, a flea market, an antique car show, airplane rides and more. Bridge over beautiful waters, Lacon Spring Bay has a lot on its platter, as well, said Patty Keller Atherton, who is co-chairing the effort there. That would include the Mayfield Fishing Benefit, an antique boat show, a band fest, a concert featuring Sankoty Lakes resort, Spring Bay Cousin Eddie and a pancake breakfast.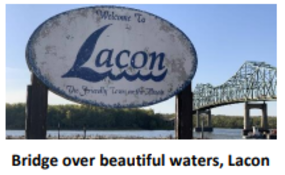 And, of course, if you want great food and shops and art and views, Peoria Heights has arrived and then some. Expect a fashion show, a rummage sale, an art fair, a concert featuring "Revels in Red," and a brunch with live Irish music at W.E. Sullivan's Pub. 
The schedules are still evolving, so anticipate that more events will be added as Bridge to Bridge gets closer to showtime. Follow Bridge to Bridge on Facebook and on the websites for the Peoria Heights Arts Collaborative and the Riverview Coalition.
"I think that what people will discover is that there is a real resurgence happening in these communities," said Johnson.
There is one day of overlap with the Morton Pumpkin Festival – Saturday, Sept. 18 -- one of the highlights of the festival season in central Illinois.
"We don't really view ourselves as competing with the Morton Pumpkin Festival," said Johnson. "We'd love it if local folks took the weekend to enjoy both. Dig in to one of those delicious pumpkin pancakes or a scoop of pumpkin ice cream, and then take a drive north and work off those calories – and maybe add a few more – in our B2B communities. There's plenty for everybody."