The last public address from Paul Herzog, capping 45 seasons and 660 games of announcing the Bradley Braves Men's Basketball games. Herzog was hired for the job back in 1976, but as much as his voice and professionalism was a perfect fit for the job, it was his pride and passion for Bradley University that kept him dedicated to this volunteer position. This story helps highlight Paul's story and showcase yet another example of community pride, this time through long-time PJStar reporter, Kirk Wessler— a master of the pen, highlighting a master of the mic!
How much does Paul Herzog love Bradley University?
Well, his firstborn child is named Bradley. On this, Paul insisted and his wife, Colleen, consented.
Then came the Herzogs' second child, a daughter. Paul wanted to name her Lydia, in honor of university founder Lydia Moss Bradley. Not happening, Colleen said. So Paul relented, agreeing to call her Alyssa.
But his devotion to Bradley never relents. A 1974 graduate, Herzog has given thousands of hours to his alma mater, serving on numerous committees, chairing the national alumni association, directing the Central Illinois alumni chapter, presiding over the Bradley Braves Club booster organization and – most visibly – providing the public address voice for BU men's basketball home games since 1977.
And he's done every one of those 660 Bradley basketball games – including 620 in a row at one point, plus 384 Illinois High School Association boys state basketball  tournament contests at Carver Arena – for free.
"My pay was the enjoyment of doing it," Herzog says.   
All things have an expiration date, though, and Herzog's career at the microphone ended February 19, when the Braves defeated archrival Illinois State. True to form, Herzog's finale was full of purpose.
After he had announced 652 Bradley games, the pandemic caused Herzog to skip the 2020-21 season, during which no fans were allowed to attend games. Having retired to Florida after a successful career as a financial planner in the Peoria area, Herzog took time to reflect and decided not to continue commuting for games. This season would be his last. But working the entire season would have ended his career at 666 games.
"I told Bradley that's a bad number," says Herzog, a devout Catholic. He countered with an offer to announce eight games, finishing with the ISU contest. That would bring him to 660.
"Willie Mays was, and still is, my baseball idol. He had 660 career home runs. It's a nice round number, and it means something to me."
And so it was that during a brief ceremony at center court during the Bradley-ISU game, Herzog received a Bradley jersey with the number "660" on it – and a warm standing ovation from the crowd, many of whom have never known another "voice of Bradley basketball."
Bob Leu manned the courtside microphone from 1938-70. Leu was followed by Frank Bussone (1970-76) and one season by Dave Snell, who moved on to become the radio voice of the Braves on WMBD 1470.
When Joe Dalfonso became Bradley sports information director in 1977, he needed a replacement for Snell. Herzog, who was working for PJS Publications at the time, had been handling PA duties for Bradley junior varsity games at Robertson Field House since his days as a student. 
"So I asked him," Dalfonso says. "And he happily said yes."
Until the pandemic hit, Herzog needed a replacement only three times. His full-time job in the early days demanded he attend a trade show out of town in mid-winter, so he missed one game each of his first three seasons. And what memorable games they were: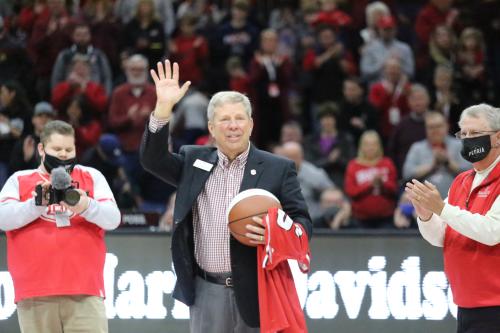 February 1, 1977 – Roger Phegley scores 46 points as Bradley falls, 107-106, to No. 2-ranked UNLV.
January 28, 1978 – Bobby Humbles hits a last-second shot to give Bradley a victory over Wichita State.
January 27, 1979 – Bradley coach Dick Versace gets ejected during a one-point loss to West Texas State.
When you've done over 600 games, though, memorable moments abound. There was the night in Herzog's first season, when Bradley blew a 28-0 lead and lost to New Mexico State. The seven-overtime loss to Cincinnati in 1981. Victories over West Texas in 1980 and Illinois State in 1988 for Missouri Valley Conference championships that sent the Braves into the NCAA tournament. Various and sundry heroics by 1988 national Player of the Year Hersey Hawkins. Aaron Zobrist 3-pointers that fell with such regularity in the '90s that Herzog began calling them with his signature "Thuhhhhh-reeeeeeeee!"
All announced with professional aplomb, mingled with a mostly appropriate level of home-team booster excitement.
And a few memorable gaffes.
Like the night in 2009, when the Braves appeared beaten. As the clock ticked off the final second, Herzog monotoned: "Final score, Oakland 75, Bradley 73." But as he spoke, a full-court prayer thrown by BU's Chris Roberts was airborne, the horn sounded – and the ball swished through the net for a 76-75 Bradley victory.
Or the night in 1978, when Herzog went through his pregame welcome to the crowd: "On behalf of university president Martin Abegg, athletic director Ron Ferguson and head coach Joe Stowell …"  Except Stowell had been fired the previous spring, and this was Dick Versace's opening night as the new coach.
Alerted to his mistake, Herzog approached Versace after the game to confess what he'd done.
"I announced Joe Stowell," Herzog said.
"No, you didn't," Versace replied. "No one's that stupid."
There was one game against ISU in the late 1990s, and … we'll let Herzog tell this one.
"First half, things were going poorly for us. About three minutes left in the half, I did a quick recap. 'Each team has four timeouts left, Bradley has the possession arrow. Team fouls: Bradley eight, ISU ONLY one.' The crowd murmured a loud roar. Kevin Stallings, the ISU coach, was staring daggers at me. Rick Greenspan, the ISU athletic director, was pointing at me and screaming. 
"By the time the game ended, the fouls were even, Bradley won the game and I won a personal letter from MVC commissioner Doug Elgin reprimanding me for what I'd done."
And  there was the all-timer, in the 1980s when Willis Reed was the coach at Creighton. Bradley was on a roll, running and gunning and dunking and burying the Bluejays. Bradley's Voise Winters swung on the rim after a thundering dunk, and Reed jumped onto the court, yelling at the officials, raising his arms and forming the letter "T" with the palm of one hand atop the fingertips of his other, demanding a technical foul.
Herzog saw it differently.
"Timeout, Creighton!" he bellowed into the microphone as the crowd went crazy.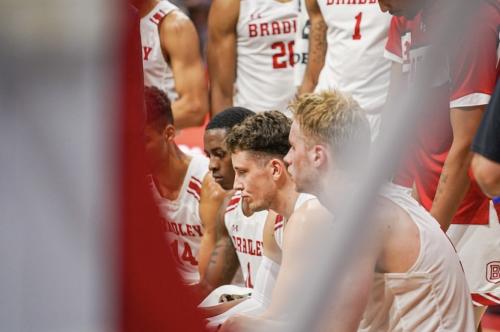 Whistles blew. Play came to a halt.
"I didn't call a timeout," an infuriated Reed said.
Who called the timeout? Game officials wanted to know.
"I guess I did," Herzog said.
"Charge it to him," one official said, pointing at Herzog and establishing an unofficial entry in the NCAA record book for timeouts called by the PA announcer.
Best thing about the funny stuff is that it fills an excellent career with unforgettable color – and serves to remind we are all lovably human.
"Focusing on his mistakes over 45 years is like pointing out five pitches an umpire gets wrong out of two or three hundred," Dalfonso says. 
From the beginning, Herzog was a portrait of professionalism. Dalfonso asked him to be on hand an hour before tipoff that first opening night, and Herzog never arrived later. His attire was as dependable as he: Even in an era when coaches are likely to do their thing in sweatsuits, Herzog's voice boomed from a man neatly wrapped in a coat and tie.
"His longevity and passion really stand out," Snell says. "Just look at all the generations. When he started out, a lot of these fans were kids and got their first experience with Paul at the mic. Now they've grown up and had kids and grandkids – and he's still there."
"If there was a Mount Rushmore at Bradley, he'd be on it," Dalfonso says. "We've been blessed."
Paul Herzog Photo: Bradley University, Bill Slayer
Bradley Men's Basketball Team Photo: Zach Larson Sports