If you're looking for something to satisfy that hankering for sugar, we've got you covered! Indulge in some of our favorite local spots to support our communities and satisfy your sweet tooth.
1. Triple Dipple's Treats and Delicacies- Chillicothe
Cheesecake lovers, this one's for you! Triple Dipple offers a variety of satisfying flavors for everyone to enjoy. Their claim to fame? The irresistible and unique Sweet Tater Cheesecake, a combination of cheesecake and sweet potato pie. Yum!
2. Sweet Bean Coffee and Treats- Pekin
Sweet Bean stocks a variety of freshly baked treats each day, including their stunningly decorated sugar cookies that are just as satisfying to eat as they are to look at. With a rotating menu of delicious treats, we won't blame you if you need to stop by for something new, every day of the week!
3. LeBakery- Peoria
From classic pastries and breads to delectable pies and cakes, LeBakery has something on the menu for everyone. Their extensive menu is a testament to LeBakery's commitment to help Peoria celebrate any and every occasion. Try their fresh croissants!
4. Four30 Scones- Morton
Looking for something to pair with your coffee or tea? Four30 Scones has you covered with a mouthwatering variety of sweet and savory scones. We recommend ordering by the dozen!
5. Tadoughs- Pekin
Start your morning off right with Pekin's famous Tadoughs, scrumptiously sweet donuts made from potatoes! Get there early to snag a box for the whole family and enjoy the classic donut taste with a delicious twist!
6. Minonk Chocolate Company- Minonk
Since 1915, Minonk Chocolate Company has continued to craft delicious, melt-in-your-mouth chocolate candies with the same time-tested recipe. If you love chocolate, you'll want to order the classic tastes of Minonk Chocolate Company by the pound!
7. Trefzger's- Peoria
Pay a visit to the oldest bakery in Central Illinois for the flavors that have kept our sugar cravings satisfied for over 160 years. Participate in a Peoria tradition and satiate those cravings with cupcakes, cookies, pies, and more. We recommend the heavenly angel food cupcakes!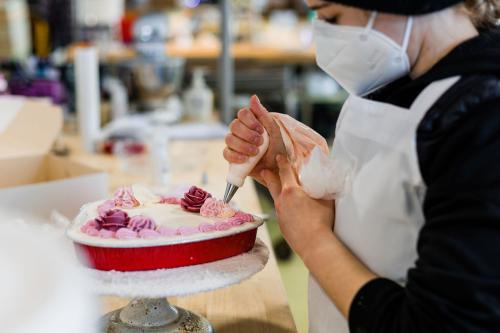 8. Sweet CeCe's- Peoria
Life sure is sweet with Sweet CeCe's! There's nothing better than self-serve frozen yogurt piled high with sweets of every kind. There's no stopping that smile as you create your own delicious desert. Kids love this fun and delicious activity, and you will too.
9. Hollands Mercantile- Washington
Who doesn't love an old fashioned candy store? Located in the historic Washington square, Holland's offers a variety of classic and modern treats for everyone's tastes. If you're not full yet, grab a bag of Holland's famous caramel corn!
10. Sucré Sweets and Socials- Morton
Sucré Sweets is what our sugar-craving dreams are made of! Indulge in anything your heart, or your sweet tooth, desires, from cookie dough to ice cream nachos, cotton candy, and even candy by the pound. This charming space is the perfect place for family and friends to celebrate the sweeter things in life.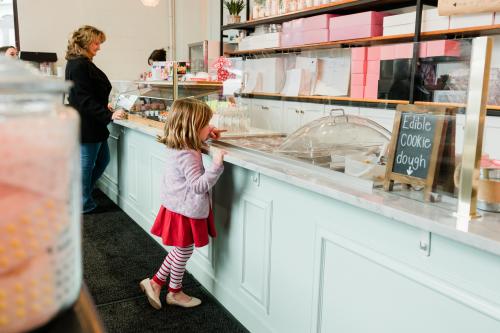 11. Maurie's Sugar Shoppe- Eureka
Caramels, chocolates, popcorn, and more can be found at Maurie's in Eureka! This Central Illinois institution has been a staple since 1941. Their irresistible homemade fudge hits the spot every time!
12. Yeni's Palarte- Peoria
I scream, you scream, we all scream for ice cream! Yeni's offers flavorful Mexican ice cream, food, and beverages for everyone to enjoy! Their variety of Mexican flavors and creative twists on ice cream classics, as well as their unique alcohol infused ice cream options, leaves ice cream lovers with endless options.
13. Carl's Bakery & Restaurant- East Peoria
You can't miss Carl's Bakery & Restaurant in East Peoria, just look for the giant rooster! Carl's offers some of the best donuts and pastries in town! Seriously sweet donuts, apple fritters, cinnamon rolls, and more can be found just next to this great photo-op.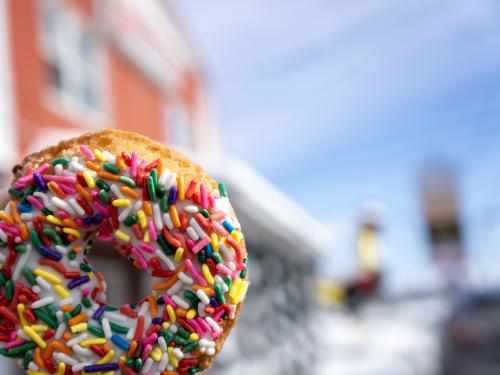 14. The Sweet Shoppe- Canton
The Sweet Shoppe is Canton's go-to spot for all things sugar. From hand-dipped malts to made to order sodas, old-fashioned sweets never tasted so good! The perfect place to gather for lunch, and to fill up on irresistible sweets.
15. The Confectionery- Morton
Whether you're hosting a special event or just craving some sugar, The Confectionary offers a variety of made from scratch goodies. You'll be dreaming about their delicious offerings, like their thumbprint cookies, all night long!
With endless options for delicious treats, it's no wonder the Greater Peoria Area  is the perfect place to call 'home sweet home'.