Transportation
Located in the Heart of Illinois, getting to the Peoria area is quick, easy and convenient. Whether you decide to take a bus or a plane, there are plenty of options to choose from.
Car
By car, Peoria is located along Interstate 74 and travel time is just a few hours from several metropolitan areas.
- Quad Cities, IA  -- 1.5 hrs. 
- Chicago, IL -- 2.5 hrs. 
- St. Louis, MO  -- 2.5 hrs. 
- Indianapolis, IN -- 2.5 hrs. 
- Madison, WI  -- 3.0 hrs.
- Milwaukee, W -- 4.0 hrs. 
- Des Moines, IA -- 4.5 hrs. 
- Louisville, KY -- 5.5 hrs. 
- Kansas City, MO -- 5.5 hrs. 
- Detroit, MI -- 7.0 hrs. 
- Nashville, TN -- 7.5 hrs.
Peoria Charter offers both one-ways and round trips in several different types of motorcoaches and executive minibuses. All vehicles are equipped with technology and amenities for passengers to ride comfortably. Destinations include:
- Champaign, IL. 
- Urbana, IL. 
- Chicago IL. 
- Schaumburg, IL. 
- Oak Brook, IL.
- Downers Grove, IL. 
- Matteson, IL. 
- Northbrook, IL. 
- Skokie, IL. 
- Peoria, IL. 
- Bloomington-Normal, IL.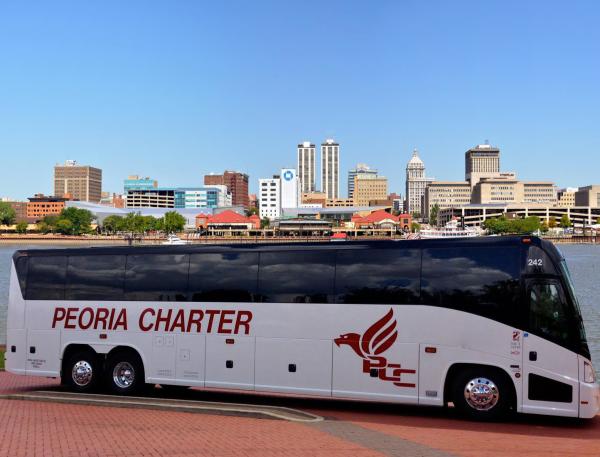 COVID-19 Information: Starting May 1st, 2020 Passengers are required to have a mask while on the bus. Passengers are responsible for providing their own mask. Passengers without a mask, will be denied boarding, NO EXCEPTIONS.
Taxi 
By taxi, Yellow Checker Cab offers rides in the Pekin and Peoria area making up Peoria's largest and longest running taxi service. These taxi cabs are ready at a moment's notice, perfect for shipping emergencies. Yellow Checker Cab also offers Sedan and SUVs for a more larger and comfortable experience.
Other Taxi options include Peoria's locally owned, Tri County Cab Company, Peoria Taxi Company, Big Daddy Cab Co and Elite Cab Service.
Uber
By Uber, know what your price with Uber's price estimator before you go so there's no surprises. Uber offers Economy rides in UberX, the more affordable option and in Comfort which gives riders extra legroom. There are also more luxury rides with professional drivers including options for riders with pets. Check out the Google map below for Uber rides available in the area.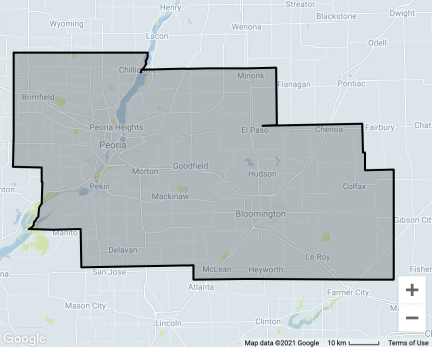 Airport
By airplane, travel to Peoria is convenient thanks to General Wayne A. Downing Peoria International Airport that boasts 10 direct flights from throughout the country. 
Allegiant Air    -- Las Vegas, Mesa, Orlando, Punta Gorda, Destin, St. Petersburg
American Airlines -- Chicago, Dallas, Charlotte
United Airlines --Chicago
COVID-19 Information: February 1, 2021 - The Metropolitan Airport Authority of Peoria, which operates and manages General Wayne A. Downing Peoria International Airport (PIA) and Mt. Hawley Airport (3MY), is following the guidance of the Center for Disease Control (CDC), the Illinois Department of Public Health (IDPH), Peoria County Health Department (PCHD) as well as our airlines and tenants to help protect our passengers from COVID-19 (coronavirus).
Bus
By bus, ride around the Peoria area with The Greater Peoria Mass Transit CityLink--running for over 50 years. This environmentally friendly option focuses on connecting its riders to all sorts of destinations in an efficient and safe manner. CityLink busses are also wheelchair accessible and allows service animals. Here is a list of important information for new riders.
Riding with CityLink means you get to choose from 20 different routes across the Peoria area with service to every major store in its service area. Below is a detailed map of all routes that are available.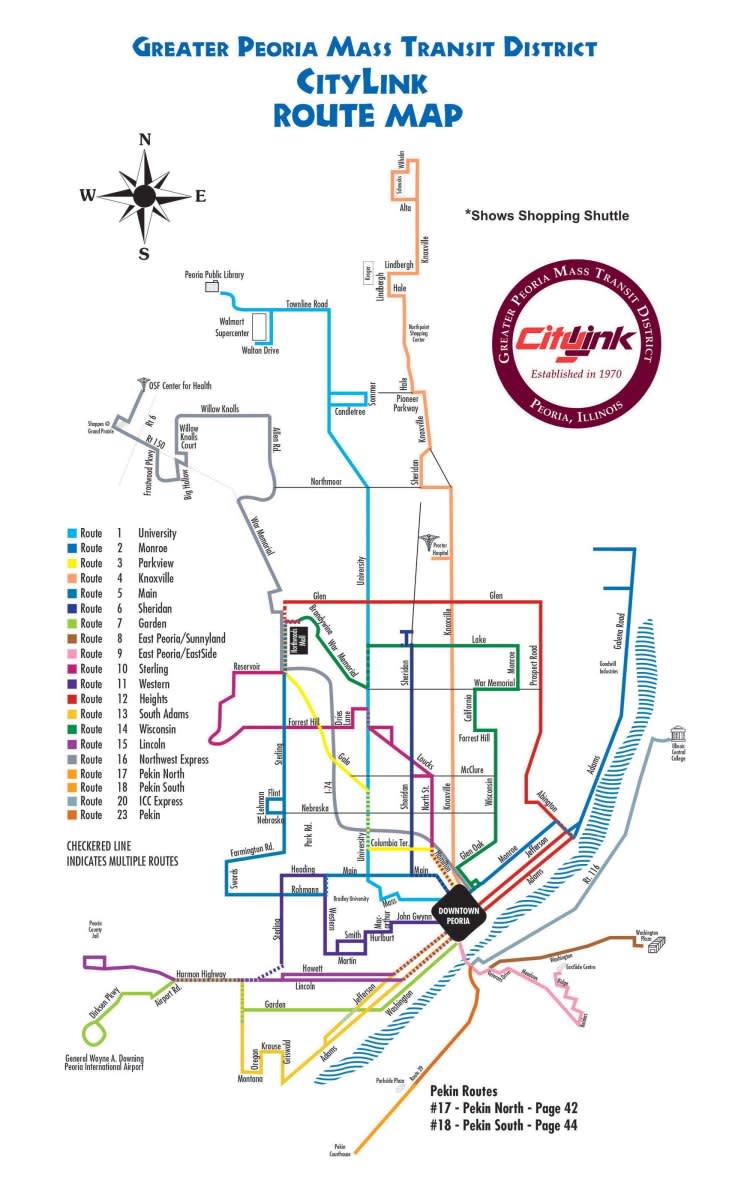 The Greater Peoria Mass Transit also offers CountyLink which operates as a door-to-door service meaning there are no fixed rotes or designated stops. Passengers are picked up from their home or a specified location and dropped off at another specified location. CountyLink service must begin or end in the rural part of the County; generally outside the Peoria City limits and the CityLink service area. CountyLink's service extends to 23 counties and 20 townships across Central Illinois.
COVID-19 Information: February 1, 2021 - The CDC issued a federal mandate requiring the wearing of masks by travelers on public transportation to prevent spread of the virus that causes COVID-19. Failure to comply may result in denial of boarding and removal from GPMTD vehicles or property or penalties under federal law.
Big City Shuttles also offers group transportation and party bus services across 12 different cities in the midwest. This affordable and comfortable group transportation option is perfect for groups visiting Peoria.

Now that you know all the transportation options available in Peoria, the next step is to plan your trip!